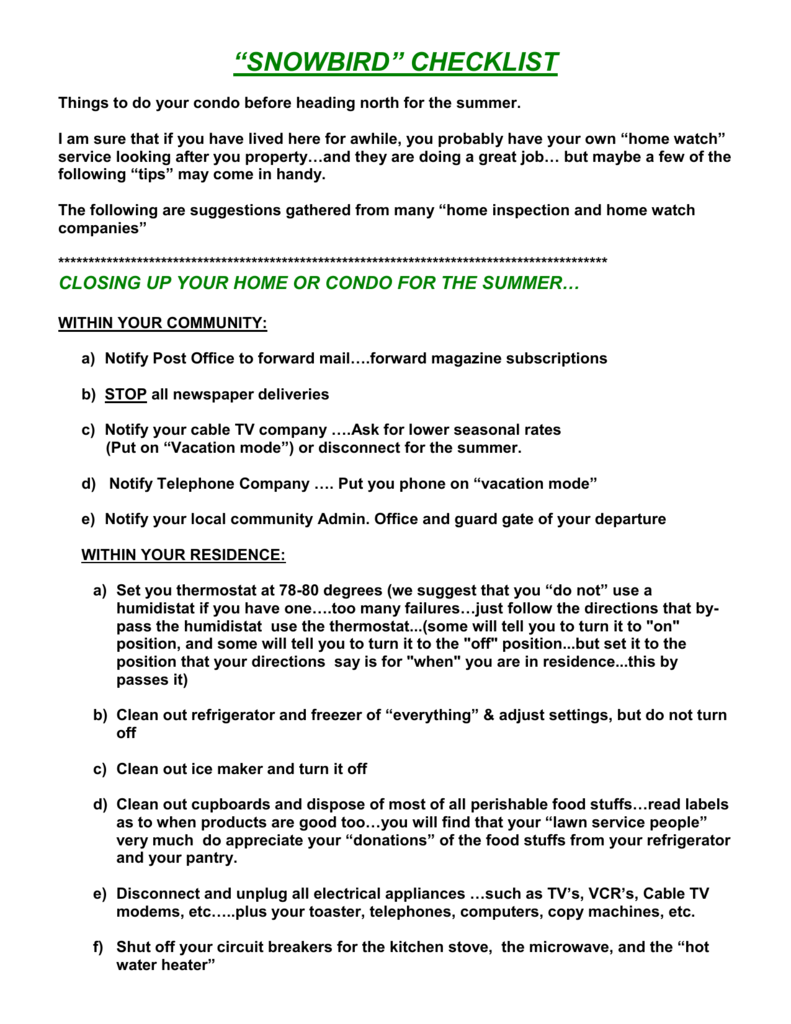 "SNOWBIRD" CHECKLIST
Things to do your condo before heading north for the summer.
I am sure that if you have lived here for awhile, you probably have your own "home watch"
service looking after you property…and they are doing a great job… but maybe a few of the
following "tips" may come in handy.
The following are suggestions gathered from many "home inspection and home watch
companies"
*******************************************************************************************
CLOSING UP YOUR HOME OR CONDO FOR THE SUMMER…
WITHIN YOUR COMMUNITY:
a) Notify Post Office to forward mail….forward magazine subscriptions
b) STOP all newspaper deliveries
c) Notify your cable TV company ….Ask for lower seasonal rates
(Put on "Vacation mode") or disconnect for the summer.
d) Notify Telephone Company …. Put you phone on "vacation mode"
e) Notify your local community Admin. Office and guard gate of your departure
WITHIN YOUR RESIDENCE:
a) Set you thermostat at 78-80 degrees (we suggest that you "do not" use a
humidistat if you have one….too many failures…just follow the directions that bypass the humidistat use the thermostat...(some will tell you to turn it to "on"
position, and some will tell you to turn it to the "off" position...but set it to the
position that your directions say is for "when" you are in residence...this by
passes it)
b) Clean out refrigerator and freezer of "everything" & adjust settings, but do not turn
off
c) Clean out ice maker and turn it off
d) Clean out cupboards and dispose of most of all perishable food stuffs…read labels
as to when products are good too…you will find that your "lawn service people"
very much do appreciate your "donations" of the food stuffs from your refrigerator
and your pantry.
e) Disconnect and unplug all electrical appliances …such as TV's, VCR's, Cable TV
modems, etc…..plus your toaster, telephones, computers, copy machines, etc.
f) Shut off your circuit breakers for the kitchen stove, the microwave, and the "hot
water heater"
g) Add a small amount of "olive oil" down your garbage disposal…..keeps it
lubricated for the months of non-use.
h) Clean and sanitize all toilets….pour a cup of "Clorox" into each bowl and
tank….place plastic wrap over the toilets themselves…..place a rolled up tissue on
top of the plastic wrap…so when you return in the Fall, and its late at night and you
head to the bathroom after a long trip…."forgetting that there is plastic wrap over
you toilet bowl". The tissue will remind you!
i) Tell you home watch about any "wet or damp" towels that may be left in your
residence on the day you depart…so they can "dry" them.
j) Strip beds and leave all bed linens and pillows on open shelves
k) Turn off water to your washing machine….
l) Clean and store lanai furniture
m) Open all interior closet or cabinet doors for better air circulation
n) Keep "all" fans going on the "low" speed
o) Check to see that all windows and glass slider doors are locked
p) Close all curtains and blinds to prevent sun damage to furniture
q) Select one table lamp…place in the living room area…put one of those florescent
"lasts forever" bulbs in it and turn it on….no timer needed.
r) Find a table radio that stays on….select a station that plays 24 hours….check it by
"unplugging" and replugging….if it automatically goes back on when you "replug",
then that is the radio to use…..turn it on and leave it on…at a normal volume.
s) Secure all "valuables"…..take home with you or put in safety deposit box.
t) If you leave a car in Florida, make sure your home watch has keys and is instructed
to start and drive the car around the community at least every few weeks.
u) Make sure "you" have your neighbors local tel.#s, cell phone #s ….and also their email addresses.
v) Have your air-condition service company come in pre your departure and service
your air-conditioning system…so its ready for the heavy Summer us
w) Provide your home watch and neighbors with your "cell#s"…your up North
address and tel. #s…and your e-mail address.
x) You will always get "mail" after the first few days that you have told the PO to stop
delivery…..make arrangement with your home watch service to "check your mail
box" until they are sure that no mail is coming….and if there is mail…how to get it
to you.
y) Leave a bottle of "Home Defense" spray on your kitchen counter (sold in all Publix
or Ace Hardware stores) for the home watch…they will use this during the summer
months in case they see ants, etc in your home.
z) You may want to keep one phone live "active" at your residence….and
"INSTRUCT" your home watch person to call you each time they visit your
residence… "once a week" they are to call your tel. number up north with a simple
short report…this way you are sure that someone is in "fact" checking "once a
week" on your home….and if there is a "problem", you are hearing about it
immediately.