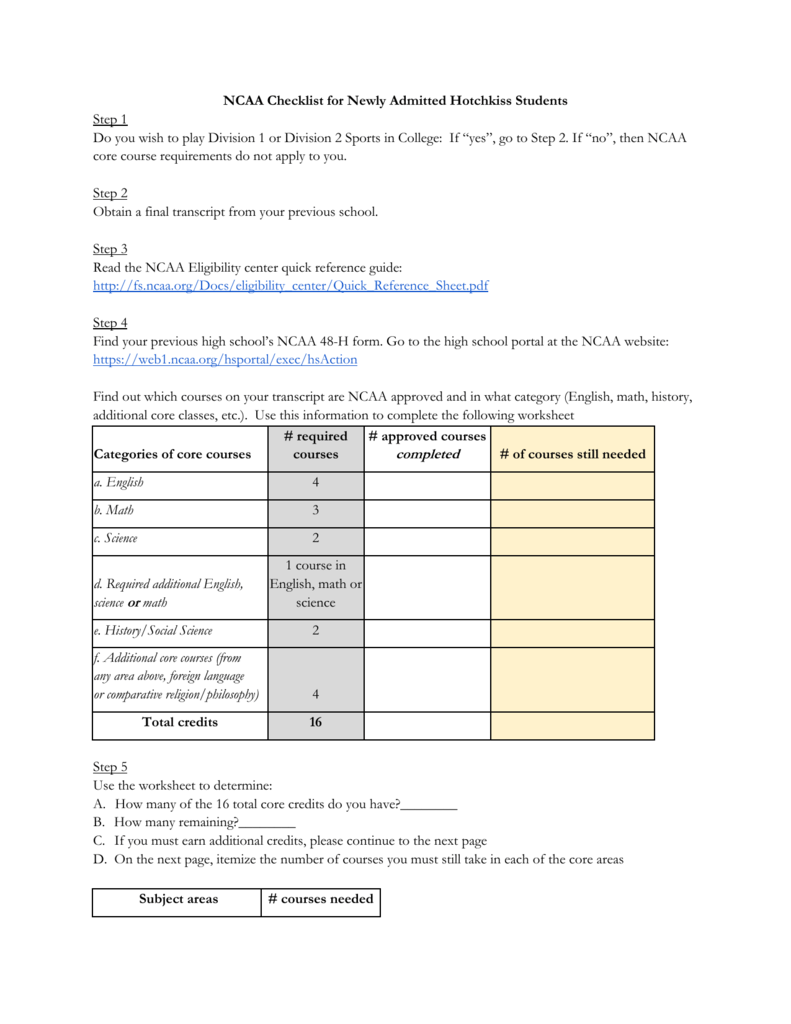 NCAA Checklist for Newly Admitted Hotchkiss Students
Step 1
Do you wish to play Division 1 or Division 2 Sports in College: If "yes", go to Step 2. If "no", then NCAA
core course requirements do not apply to you.
Step 2
Obtain a final transcript from your previous school.
Step 3
Read the NCAA Eligibility center quick reference guide:
http://fs.ncaa.org/Docs/eligibility_center/Quick_Reference_Sheet.pdf
Step 4
Find your previous high school's NCAA 48-H form. Go to the high school portal at the NCAA website:
https://web1.ncaa.org/hsportal/exec/hsAction
Find out which courses on your transcript are NCAA approved and in what category (English, math, history,
additional core classes, etc.). Use this information to complete the following worksheet
# required # approved courses
Categories of core courses
courses
completed
# of courses still needed
a. English
4
b. Math
3
c. Science
2
d. Required additional English,
science or math
1 course in
English, math or
science
e. History/Social Science
2
f. Additional core courses (from
any area above, foreign language
or comparative religion/philosophy)
4
Total credits
16
Step 5
Use the worksheet to determine:
A. How many of the 16 total core credits do you have?________
B. How many remaining?________
C. If you must earn additional credits, please continue to the next page
D. On the next page, itemize the number of courses you must still take in each of the core areas
Subject areas
# courses needed
English
Math
Science
Additional English, math or
science
History/Social Science
Additional core courses
Total credits needed
Step 6
The NCAA requires that the 16 core classes be met in the first eight semesters (4 years) of high school and,
starting with the class of 2016, 10 core-courses must be met before the seventh semester in high school.
Of these 10 courses, at least seven must be in English, math and science.
Please count every semester since you began 9th grade. If you repeated a grade or will repeat a grade, you
must count those semesters as well. If, for example, you are repeating the 9th grade at Hotchkiss, you have
completed 2 semesters of high school and you will have completed 4 semesters at the end of the repeat 9th
grade year.
Semesters in high school: ______
Will you/have you earned 10 credits before your seventh semester in high school? ________
Step 7
Will you be repeating any courses at Hotchkiss, particularly in mathematics or modern languages? If yes, meet
with Academic Office and College Office personnel during the designated time at Orientation in August.