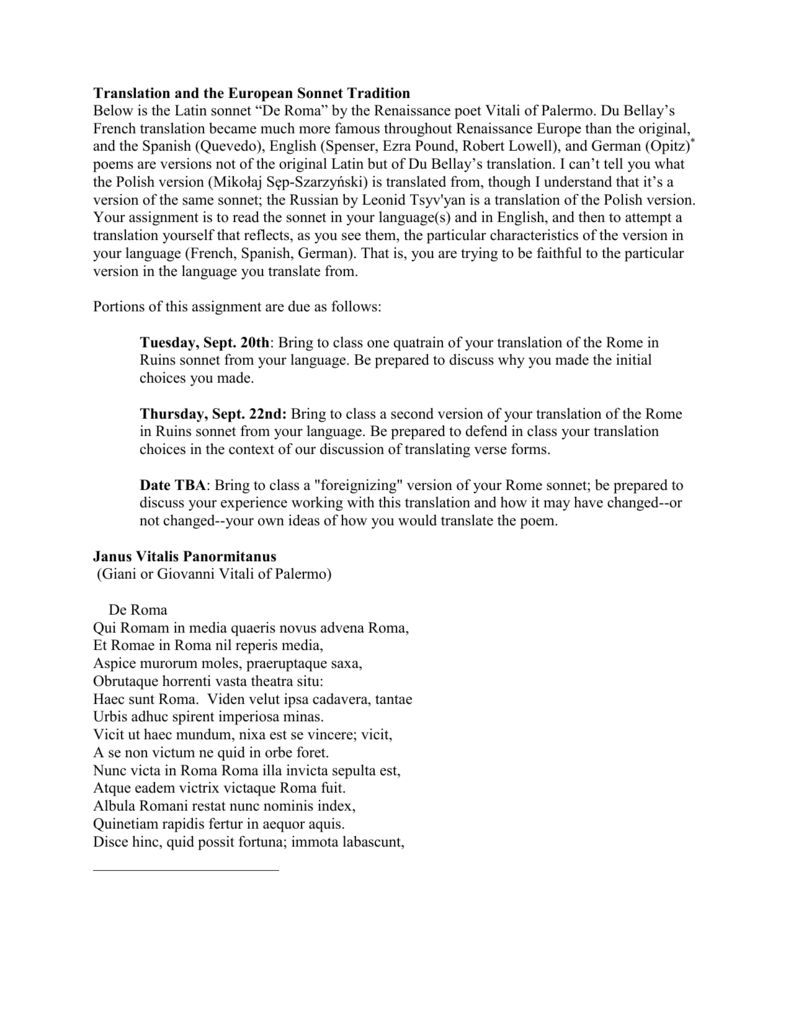 Translation and the European Sonnet Tradition
Below is the Latin sonnet "De Roma" by the Renaissance poet Vitali of Palermo. Du Bellay's
French translation became much more famous throughout Renaissance Europe than the original,
and the Spanish (Quevedo), English (Spenser, Ezra Pound, Robert Lowell), and German (Opitz)*
poems are versions not of the original Latin but of Du Bellay's translation. I can't tell you what
the Polish version (Mikołaj Sęp-Szarzyński) is translated from, though I understand that it's a
version of the same sonnet; the Russian by Leonid Tsyv'yan is a translation of the Polish version.
Your assignment is to read the sonnet in your language(s) and in English, and then to attempt a
translation yourself that reflects, as you see them, the particular characteristics of the version in
your language (French, Spanish, German). That is, you are trying to be faithful to the particular
version in the language you translate from.
Portions of this assignment are due as follows:
Tuesday, Sept. 20th: Bring to class one quatrain of your translation of the Rome in
Ruins sonnet from your language. Be prepared to discuss why you made the initial
choices you made.
Thursday, Sept. 22nd: Bring to class a second version of your translation of the Rome
in Ruins sonnet from your language. Be prepared to defend in class your translation
choices in the context of our discussion of translating verse forms.
Date TBA: Bring to class a "foreignizing" version of your Rome sonnet; be prepared to
discuss your experience working with this translation and how it may have changed--or
not changed--your own ideas of how you would translate the poem.
Janus Vitalis Panormitanus
(Giani or Giovanni Vitali of Palermo)
De Roma
Qui Romam in media quaeris novus advena Roma,
Et Romae in Roma nil reperis media,
Aspice murorum moles, praeruptaque saxa,
Obrutaque horrenti vasta theatra situ:
Haec sunt Roma. Viden velut ipsa cadavera, tantae
Urbis adhuc spirent imperiosa minas.
Vicit ut haec mundum, nixa est se vincere; vicit,
A se non victum ne quid in orbe foret.
Nunc victa in Roma Roma illa invicta sepulta est,
Atque eadem victrix victaque Roma fuit.
Albula Romani restat nunc nominis index,
Quinetiam rapidis fertur in aequor aquis.
Disce hinc, quid possit fortuna; immota labascunt,
Et quae perpetuo sunt agitata manent.
(Text from Renaissance Latin Poetry, compiled and edited by I. D. McFarlane. Manchester
University Press/Barnes and Noble: New York, 1980; originally found in Theodori Bezae
Vezelii poematum editio secunda [Geneva] 1569. 2nd part, p. 191-2. Thanks to Otto Steinmayer
of Sarawak, who found the text.)
Joachim du Bellay
Les Antiquités de Rome, #3
Nouveau venu, qui cherches Rome en Rome
Et rien de Rome en Rome n'aperçois,
Ces vieux palais, ces vieux arcs que tu vois,
Et ces vieux murs, c'est ce que Rome on nomme.
Vois quel orgueil, quelle ruine : et comme
Celle qui mit le monde sous ses lois,
Pour dompter tout, se dompta quelquefois,
Et devint proie au temps, qui tout consomme.
Rome de Rome est le seul monument,
Et Rome Rome a vaincu seulement.
Le Tibre seul, qui vers la mer s'enfuit,
Reste de Rome. ô mondaine inconstance !
Ce qui est ferme, est par le temps détruit,
Et ce qui fuit, au temps fait résistance.
According to Robert Paquin, Bellay probably read Vitalis poem in a collection of poetry
published in Venice in 1554 by Gabriel Giolito under the title Antonii Terminii Contursini
Licani. Innii Albini Terminii Senioris. Molsae, Bernardini Rotae, equitis Neapolitani, et aliorum
illustrium poetarum carmina.
Francisco de Quevedo y Villegas
Buscas en Roma a Roma ¡oh peregrino!
Y en Roma misma a Roma no la hallas:
Cadáver con las que ostentó murallas,
Y, tumba de sí proprio, el Aventino.
Yace, donde reinaba, el Palatino;
Y limadas del tiempo las medallas,
Más se muestran destrozo a las batallas
De las edades, que blasón latino.
Soló el Tíber quedó cuya corriente
Si ciudad la regó, ya sepoltura
La llora con funeste son doliente.
¡Oh Roma!, en tu grandeza, en tu hermosura
huyó lo que era firme, y solamente
lo fugitivo permanece y dura.
MARTIN OPITZ.
Auß die Verwüstete Stadt Rom
Rom der du Rom in Rom jetzt suchst O neuer Gast
Und mitten doch in Rom Rom nicht zu finden hast!
Schaue an der Maueren Werck [sic] die ungeheueren Steine
Die Lustspielhäuser hier so bloss noch stehn im Scheine:
Diss [sic] ist Rom. Sihst [sic] du nicht wie noch diss Aass der Stadt
Der Abraum gleichsam dreuet und leben in sich hat?
Die Welt war nun erlegt Rom wolt' [sic] auch sich erlegen
Damit nichts vuerlegt [sic] zu sehn sei allerwegen.
Ach! Das die Siegerinn [sic] in der besiegten ligt! [sic]
Rom ein Rom ist es nur das hat und war besiegt.
Die Tiber die noch Rom von Namen zeiget bleibet.
Der Fluss so diesen Tag sein Wasser Seewerts treibet.
Was tan dess Glückes macht! Was standhaft ist vergeht;
Und was ohn unterlass bewegt wird das besteht.
Malcolm Smith writes that Opitz's poem "is found in a compilation titled Florilegium variorum
epigrammatum Martinus Opitius ex vetustis ad recentioribus poetis congessit et versibus
Germanisticis reddidit (Franco furti, 1634, B.L. 11517 e 18 (2), p. 34)."
Mikołaj Sęp-Szarzyński
Ty, co Rzym wpośród Rzyma chcąc baczyć, pielgrzymie,
A wżdy baczyć nie możesz w samym Rzyma Rzymie,
Patrzaj na okrąg murów i w rum obrócone
Teatra i kościoły, i słupy stłuczone:
To są Rzym. Widzisz, jako miasta tak możnego
I trup szczęścia poważność wypuszcza pierwszego.
To miasto, świat zwalczywszy, i siebie zwalczyło,
By nic niezwalczonego od niego nie było.
Dziś w Rzymie zwyciężonym Rzym niezwyciężony
(To jest ciało w swym cieniu) leży pogrzebiony.
Wszytko się w nim zmieniło, sam trwa prócz odmiany
Tyber, z piaskiem do morza co bieży zmieszany.
Patrz, co Fortuna broi: to się popsowało,
Co było nieruchome; trwa, co się ruchało.
ЭПИТАФИЯ РИМУ
МИКОЛАЙ СЭМП ШАЖИНСКИЙ
(ок.1550-1581)
Ты в Риме хочешь Рим увидеть, пилигрим,
Но тщетно смотришь ты: средь Рима Рим незрим.
Обломки статуй и остатки стен старинных,
Театры, портики, лежащие в руинах, –
Се вечный град. Взгляни: погиб державный Рим,
Но полон труп его величием былым.
Рим, покоривший свет, себя поверг и свету
Тем показал: пред ним неодолимых нету,
И, побежден собой – непобедимый – он
Своей гробницей стал: Рим в Риме погребен.
Переменилось всё, и лишь без измененья,
С песком мешаясь, Тибр стремит свое теченье.
Вот каверза Судьбы: лежит во прахе тот,
Кто слыл незыблемым, а зыбкое живет.
(A Russian translation by Leonid Tsyv'yan (Цывьян) of the version of the Rome in Ruins sonnet
by the Rennaissance Polish author Mikołaj Sęp-Szarzyński. I have not been able to find out
whether Sęp-Szarzyński's version is based on Vitalis, Du Bellay, or another version of this
famous sonnet.)
Thomas Heywood
New Stranger to the City come,
Who midst of Rome enquir'st for Rome,
And midst of Rome canst nothing spye
That looks like Rome, cast backe thine eye;
Behold of walls the ruin'd mole,
The broken stones not one left whole;
Vast Theatres and Structures high,
That levell with the ground now lye,
These now are Rome, and of that Towne
Th'Imperious Reliques still do frowne,
And ev'n in their demolisht seat
The Heav'ns above them seem to threat,
As she the World did once subdue,
Ev'n to her selfe she overthrew;
Her hand in her owne bloud she embru'd,
Lest she should leave ought unsubdu'd:
Vanquisht in Rome, Invict Rome now
Intombed lies, as forc'd to bow.
The same Rome (of the World the head)
In Vanquisher and Vanquished.
The river Albula's the same,
And still preserves the Roman name;
Which with a swift and speedy motion
Is hourely hurry'd to the Ocean.
Learne hence what Fortune can; what's strong
And seemeth fixt, endures not long:
But more assurance may be layd
On what is moving and unstayed.
(From Renaissance Latin Poetry, compiled and edited by I. D. McFarlane. Manchester
University Press/Barnes and Noble: New York, 1980; English translation originally from
Thomas Heywood from: Thomas Heywood, The Hierarchie of the Blessed Angells, London,
1637, p. 459.)
Edmund Spenser, translation of Du Bellay; this is the third sonnet in a longer sequence.
Thou stranger, which for Rome in Rome here seekest,
And nought of Rome in Rome perceiv'st at all,
These same old walls, old arches, which thou seest,
Old Palaces, is that which Rome men call.
Behold what wreak, what ruin, and what waste,
And how that she, which with her mighty power
Tam'd all the world, hath tam'd herself at last,
The prey of time, which all things doth devour.
Rome now of Rome is th' only funeral,
And only Rome of Rome hath victory;
Ne ought save Tyber hastening to his fall
Remains of all: O world's inconstancy.
That which is firm doth flit and fall away,
And that is flitting, doth abide and stay.
Ezra Pound
Rome, from Personae (probably from Bellay)
O thou new comer who seek'st Rome in Rome
And find'st in Rome no thing thou canst call Roman
Arches worn old and palaces made common,
Rome's name alone within these walls keeps home.
Behold how pride and ruin can befall
One who hath set the whole world 'neath her laws,
All-conquering, now conquered, because
She is Time's prey and Time consumeth all.
Rome that art Rome's one sole last monument,
Rome that alone hast conquered Rome the town,
Tiber alone, transient and seaward bent,
Remains of Rome. O world, thou unconstant mime!
That which stands firm in thee Time batters down,
And that which fleeteth doth outrun swift time.