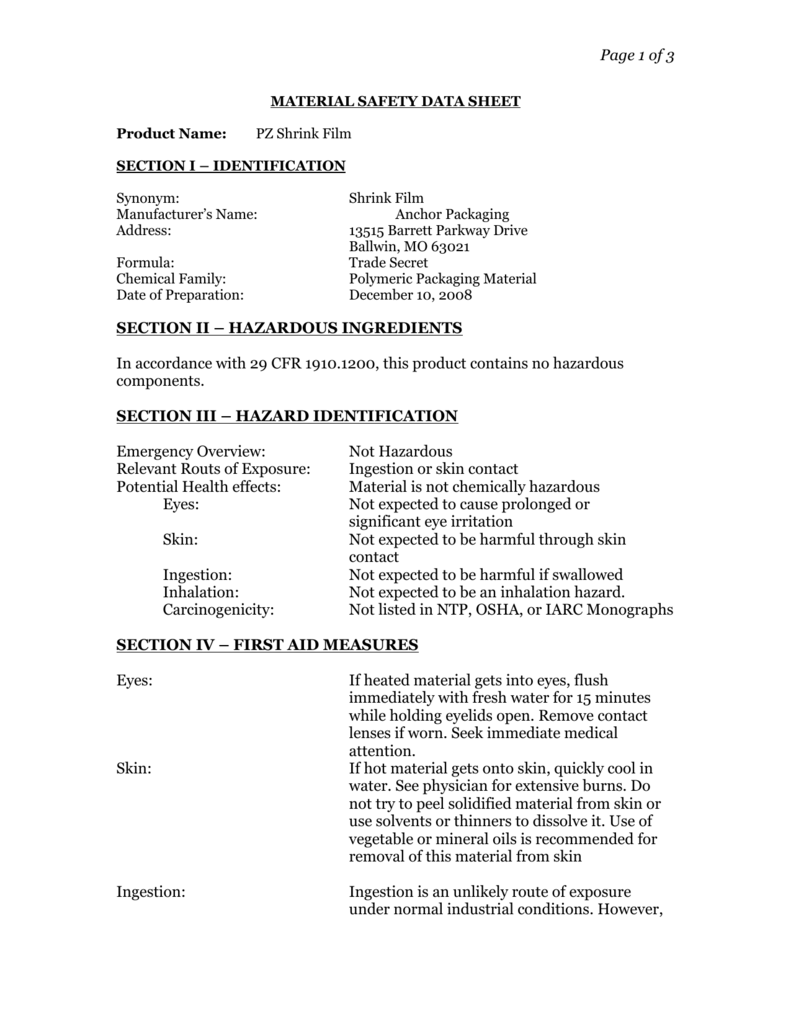 Page 1 of 3
MATERIAL SAFETY DATA SHEET
Product Name:
PZ Shrink Film
SECTION I – IDENTIFICATION
Synonym:
Manufacturer's Name:
Address:
Formula:
Chemical Family:
Date of Preparation:
Shrink Film
Anchor Packaging
13515 Barrett Parkway Drive
Ballwin, MO 63021
Trade Secret
Polymeric Packaging Material
December 10, 2008
SECTION II – HAZARDOUS INGREDIENTS
In accordance with 29 CFR 1910.1200, this product contains no hazardous
components.
SECTION III – HAZARD IDENTIFICATION
Emergency Overview:
Relevant Routs of Exposure:
Potential Health effects:
Eyes:
Skin:
Ingestion:
Inhalation:
Carcinogenicity:
Not Hazardous
Ingestion or skin contact
Material is not chemically hazardous
Not expected to cause prolonged or
significant eye irritation
Not expected to be harmful through skin
contact
Not expected to be harmful if swallowed
Not expected to be an inhalation hazard.
Not listed in NTP, OSHA, or IARC Monographs
SECTION IV – FIRST AID MEASURES
Eyes:
Skin:
Ingestion:
If heated material gets into eyes, flush
immediately with fresh water for 15 minutes
while holding eyelids open. Remove contact
lenses if worn. Seek immediate medical
attention.
If hot material gets onto skin, quickly cool in
water. See physician for extensive burns. Do
not try to peel solidified material from skin or
use solvents or thinners to dissolve it. Use of
vegetable or mineral oils is recommended for
removal of this material from skin
Ingestion is an unlikely route of exposure
under normal industrial conditions. However,
Page 2 of 3
Inhalation:
if appreciable quantities of this product are
accidentally swallowed, seek medical attention.
If breathing difficulties develop, move affected
person away from source of exposure into fresh
air. Seek medical attention.
SECTION V – FIRE FIGHTING PROCEDURES
Flammable Limits in Air
(% by Volume):
Flash Point:
Auto ignition Temperature:
Extinguishing Media:
N/A
Not Available
Not Available
Water, Carbon Dioxide, Foam, Fog, Dry
Chemical
Use self-contained breathing apparatus
Not Available
Fire Fighting Instructions:
Flammability Classification:
Known or Anticipated Hazardous
Products of Combustion:
Hydrocarbon oxidation products, including
carbon dioxide, carbon monoxide, organic
acids, aldehydes, alcohols.
**Additional Information: This material will burn although it is not easily ignited.
SECTION VI – ACCIDENTAL RELEASE MEASURES
Accidental Release
Measures:
Personal Precautions:
Environmental
Precautions:
Sweep spilled material into a disposable
container. If spilled material is molten, allow it
to cool and solidify before proceeding with
disposal methods.
Allow heated material to cool prior to cleanup.
Avoid contaminating soil or releasing this
material into sewage and drainage systems and
bodies of water.
Methods for Cleanup:
No special methods identified.
Spill:
Spilled material may create a slip hazard.
SECTION VII – HANDLING AND STORAGE
Handling:
Storage:
Avoid contact with melted material.
None
SECTION VIII – EXPOSURE CONTROLS & PERSONAL PROTECTION
Ventilation Requirements:
Provide adequate ventilation or local exhaust to
remove fumes when performing high-
Page 3 of 3
Eye/Face Protection:
Skin Protection:
Respiratory Protection:
Work Hygienic Practice:
temperature processing such as heat sealing or
hot-wire cutting
Wear eye/face protection appropriate for
hazard
Wear suitable gloves during processing
If smoke or fumes are generated during
processing, use adequate ventilation or wear
appropriate approved respiratory protection
(not normally required).
Avoid direct contact with heated material.
SECTION IX – PHYSICAL & CHEMICAL PROPERTIES
Appearance:
Melting Point:
Physical State:
Reactivity in Water:
Softening Point:
Solubility in Water:
Specific Gravity or
Density (Water=1):
Translucent and odorless
100-115 C°
Solid
Negligible
98° C
Insoluble
.90 - .95
SECTION X – STABILITY AND REACTIVITY
Stability:
Incompatibility with
Other Materials:
Hazardous Decomposition
Products:
Material is stable
None Known
Hydrocarbon oxidation products, including
carbon dioxide, carbon monoxide, organic
acids, aldehydes and alcohols, may be formed
during combustion.
SECTION XI – DISPOSAL CONSIDERATIONS
Incineration or landfill in compliance with federal, state and local laws.