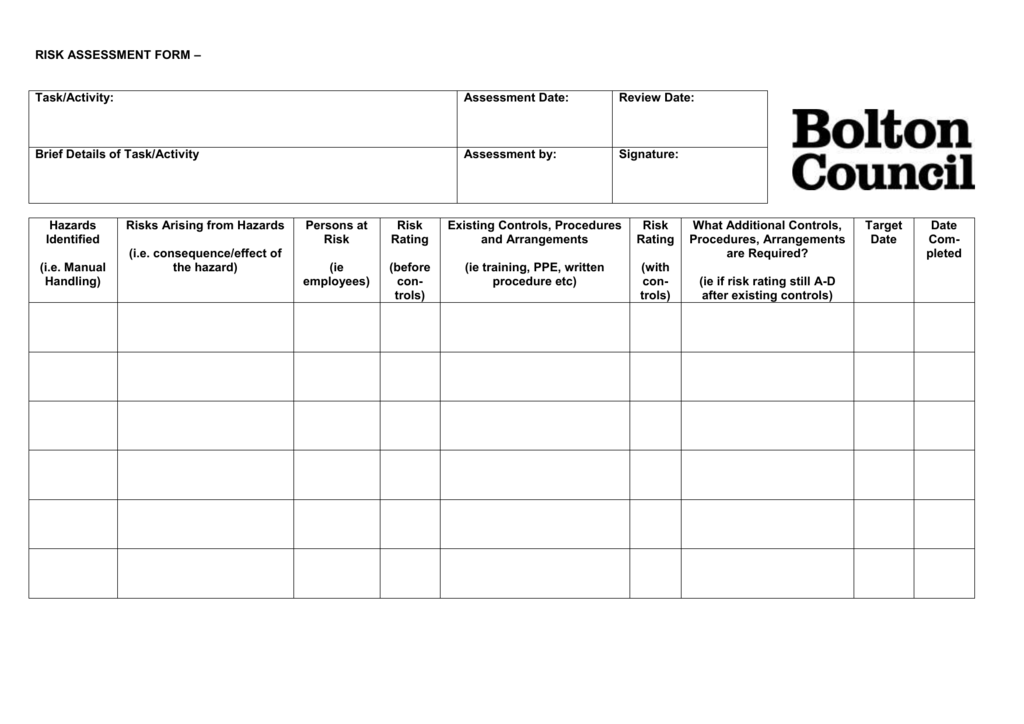 RISK ASSESSMENT FORM –
Task/Activity:
Assessment Date:
Review Date:
Brief Details of Task/Activity
Assessment by:
Signature:
Hazards
Identified
(i.e. Manual
Handling)
Risks Arising from Hazards
(i.e. consequence/effect of
the hazard)
Persons at
Risk
Risk
Rating
Existing Controls, Procedures
and Arrangements
Risk
Rating
(ie
employees)
(before
controls)
(ie training, PPE, written
procedure etc)
(with
controls)
What Additional Controls,
Procedures, Arrangements
are Required?
(ie if risk rating still A-D
after existing controls)
Target
Date
Date
Completed
RISK RATING
Possible
Unlikely
A
A
A
B
Very Unlikely
E
B
C
E
Significant
B
C
D
E
Minor
Negligible
C
D
E
E
E
E
E
E
Likely
Catastrophic
Major
A
B
C
D
E
RISK CLASSIFICATIONS
Intolerable risk. Immediate action(s) must be taken to eliminate the
hazard or to eliminate its source, regardless of cost.
Should not be tolerated unless risk reduction is impractical or if it's
grossly disproportionate to the improvement gained.
Should not be tolerated unless the cost of risk reduction exceeds the
improvement gained.
Broadly acceptable risk. But risk reduction should still be made if an
inexpensive measure can be found.
Trivial risk. No further actions required.
Likely
Possible
Unlikely
Very Unlikely
Catastrophic
Major
Significant
Minor
Negligible
CATEGORIES OF LIKELIHOOD
It could reasonably be expected to happen in the foreseeable future.
There are reasons to suggest that it could happen.
Could occur under exceptional circumstances.
There are no reasons to suggest that it will happen.
CATEGORIES OF CONSEQUENCE SEVERITY
Multiple deaths and/or life threatening injuries.
A single death and/or life threatening injury or injuries to a number of people
who require hospitalisation.
A single injury, which requires hospitalisation or injuries to a number of people
who require first aid treatment.
A single injury, which may require some first aid treatment; visitors/staff feel
anxious and are concerned about their safety.
No real harm; no more than inconvenience, discomfort or frustration.