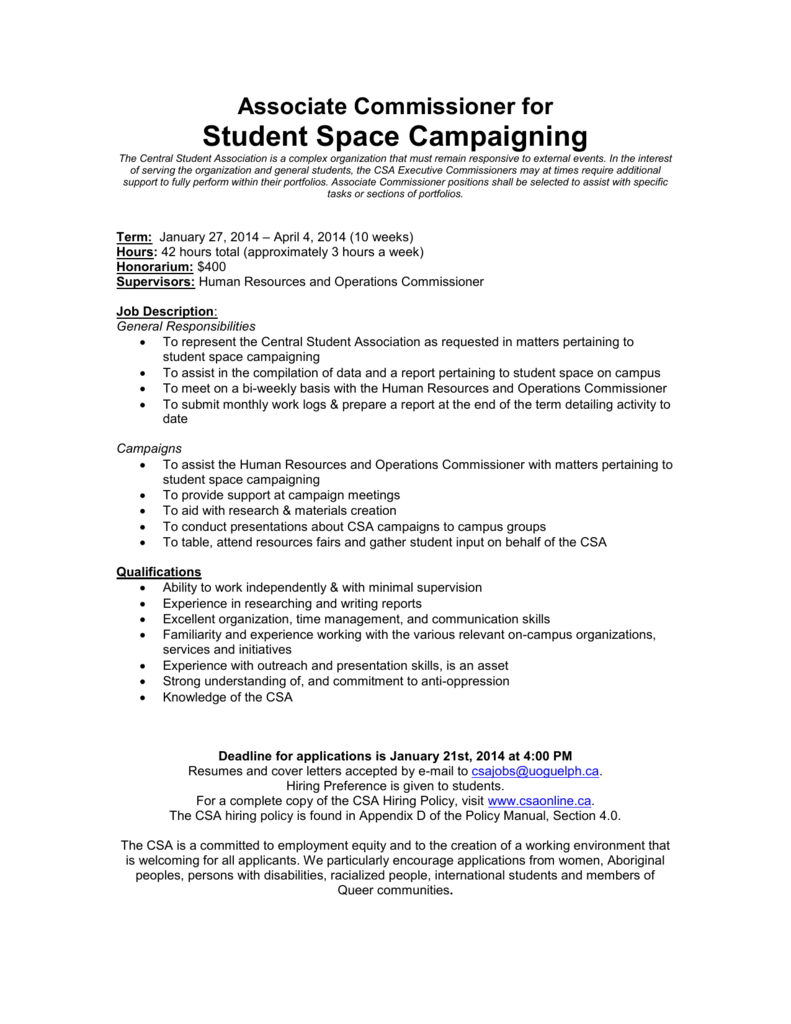 Associate Commissioner for
Student Space Campaigning
The Central Student Association is a complex organization that must remain responsive to external events. In the interest
of serving the organization and general students, the CSA Executive Commissioners may at times require additional
support to fully perform within their portfolios. Associate Commissioner positions shall be selected to assist with specific
tasks or sections of portfolios.
Term: January 27, 2014 – April 4, 2014 (10 weeks)
Hours: 42 hours total (approximately 3 hours a week)
Honorarium: $400
Supervisors: Human Resources and Operations Commissioner
Job Description:
General Responsibilities
 To represent the Central Student Association as requested in matters pertaining to
student space campaigning
 To assist in the compilation of data and a report pertaining to student space on campus
 To meet on a bi-weekly basis with the Human Resources and Operations Commissioner
 To submit monthly work logs & prepare a report at the end of the term detailing activity to
date
Campaigns
 To assist the Human Resources and Operations Commissioner with matters pertaining to
student space campaigning
 To provide support at campaign meetings
 To aid with research & materials creation
 To conduct presentations about CSA campaigns to campus groups
 To table, attend resources fairs and gather student input on behalf of the CSA
Qualifications
 Ability to work independently & with minimal supervision
 Experience in researching and writing reports
 Excellent organization, time management, and communication skills
 Familiarity and experience working with the various relevant on-campus organizations,
services and initiatives
 Experience with outreach and presentation skills, is an asset
 Strong understanding of, and commitment to anti-oppression
 Knowledge of the CSA
Deadline for applications is January 21st, 2014 at 4:00 PM
Resumes and cover letters accepted by e-mail to [email protected]
Hiring Preference is given to students.
For a complete copy of the CSA Hiring Policy, visit www.csaonline.ca.
The CSA hiring policy is found in Appendix D of the Policy Manual, Section 4.0.
The CSA is a committed to employment equity and to the creation of a working environment that
is welcoming for all applicants. We particularly encourage applications from women, Aboriginal
peoples, persons with disabilities, racialized people, international students and members of
Queer communities.