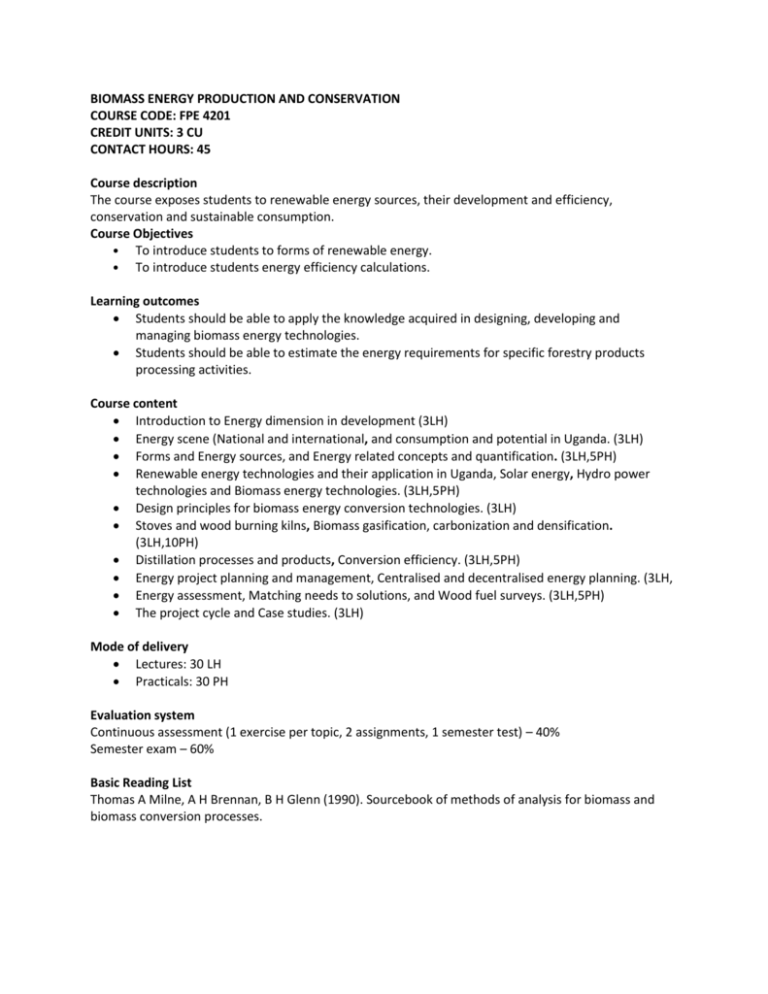 BIOMASS ENERGY PRODUCTION AND CONSERVATION
COURSE CODE: FPE 4201
CREDIT UNITS: 3 CU
CONTACT HOURS: 45
Course description
The course exposes students to renewable energy sources, their development and efficiency,
conservation and sustainable consumption.
Course Objectives
• To introduce students to forms of renewable energy.
• To introduce students energy efficiency calculations.
Learning outcomes
 Students should be able to apply the knowledge acquired in designing, developing and
managing biomass energy technologies.
 Students should be able to estimate the energy requirements for specific forestry products
processing activities.
Course content
 Introduction to Energy dimension in development (3LH)
 Energy scene (National and international, and consumption and potential in Uganda. (3LH)
 Forms and Energy sources, and Energy related concepts and quantification. (3LH,5PH)
 Renewable energy technologies and their application in Uganda, Solar energy, Hydro power
technologies and Biomass energy technologies. (3LH,5PH)
 Design principles for biomass energy conversion technologies. (3LH)
 Stoves and wood burning kilns, Biomass gasification, carbonization and densification.
(3LH,10PH)
 Distillation processes and products, Conversion efficiency. (3LH,5PH)
 Energy project planning and management, Centralised and decentralised energy planning. (3LH,
 Energy assessment, Matching needs to solutions, and Wood fuel surveys. (3LH,5PH)
 The project cycle and Case studies. (3LH)
Mode of delivery
 Lectures: 30 LH
 Practicals: 30 PH
Evaluation system
Continuous assessment (1 exercise per topic, 2 assignments, 1 semester test) – 40%
Semester exam – 60%
Basic Reading List
Thomas A Milne, A H Brennan, B H Glenn (1990). Sourcebook of methods of analysis for biomass and
biomass conversion processes.