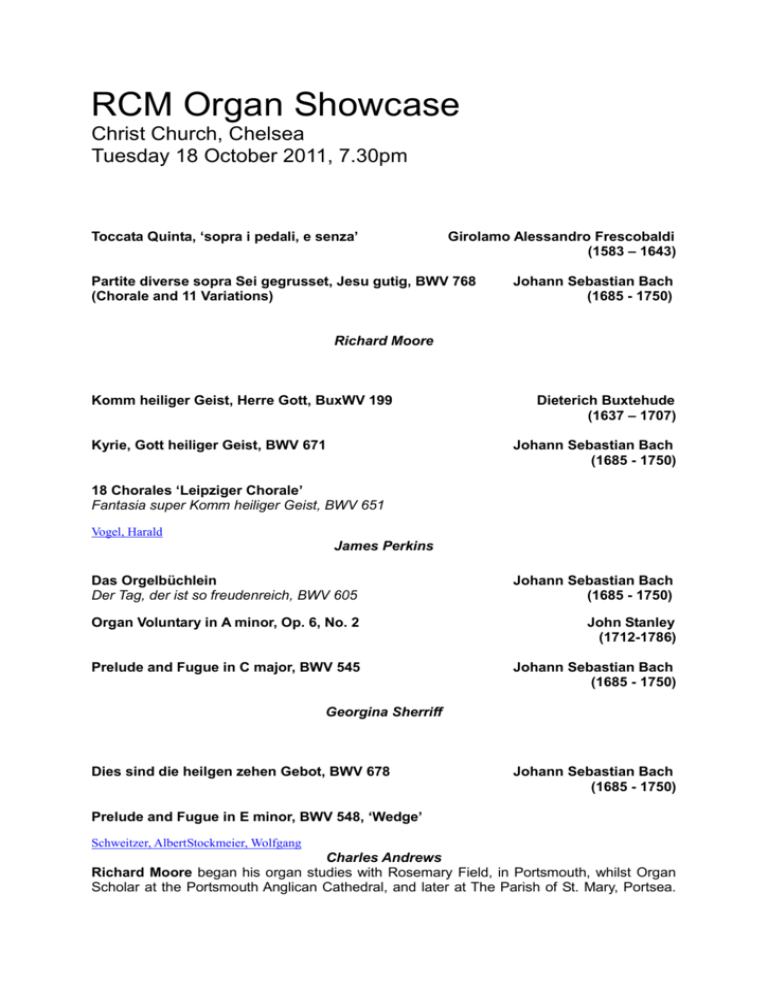 RCM Organ Showcase
Christ Church, Chelsea
Tuesday 18 October 2011, 7.30pm
Toccata Quinta, 'sopra i pedali, e senza'
Girolamo Alessandro Frescobaldi
(1583 – 1643)
Partite diverse sopra Sei gegrusset, Jesu gutig, BWV 768
(Chorale and 11 Variations)
Johann Sebastian Bach
(1685 - 1750)
Richard Moore
Komm heiliger Geist, Herre Gott, BuxWV 199
Kyrie, Gott heiliger Geist, BWV 671
Dieterich Buxtehude
(1637 – 1707)
Johann Sebastian Bach
(1685 - 1750)
18 Chorales 'Leipziger Chorale'
Fantasia super Komm heiliger Geist, BWV 651
Vogel, Harald
James Perkins
Das Orgelbüchlein
Der Tag, der ist so freudenreich, BWV 605
Johann Sebastian Bach
(1685 - 1750)
Organ Voluntary in A minor, Op. 6, No. 2
John Stanley
(1712-1786)
Prelude and Fugue in C major, BWV 545
Johann Sebastian Bach
(1685 - 1750)
Georgina Sherriff
Dies sind die heilgen zehen Gebot, BWV 678
Johann Sebastian Bach
(1685 - 1750)
Prelude and Fugue in E minor, BWV 548, 'Wedge'
Schweitzer, AlbertStockmeier, Wolfgang
Charles Andrews
Richard Moore began his organ studies with Rosemary Field, in Portsmouth, whilst Organ
Scholar at the Portsmouth Anglican Cathedral, and later at The Parish of St. Mary, Portsea.
He moved to Southwell, Nottinghamshire, to be Organ Scholar of the Southwell Minster,
accompanying the cathedral choirs under the direction and tutelage of Paul Hale and Simon
Bell, and working with The Minster School and a local chamber choir. Richard has just
attained a BA in Music from St. John's College, Oxford. His undergraduate dissertation
considered trends in organ design in Britain during the 1960s; he hopes to begin to situate
the organ within a contemporary musicological framework. In addition to his academic work,
Richard was also Organ Scholar of St. John's College, on whose latest disc he features as
accompanist; he can also be heard on the most recent release from Exeter College, Oxford,
where he was Assistant Organist for a time. Currently Organ Scholar at the Royal Hospital
Chelsea, Richard is studying for a Masters in Music in Performance at the RCM, receiving
organ tuition from David Graham. He has participated in organ masterclasses with Gillian
Weir, Wolfgang Zerer and Jacques van Oortmerssen.
James Perkins hails from the English Midlands. He studies the organ at the RCM with David
Graham, and harpsichord with Jane Chapman. He is Organ Scholar of All Saints Margaret
Street, where he enjoys performing and accompanying on a regular basis. He is also
Assistant Director of Music of Concordia Chamber Choir and Organ Scholar of Alexandra
Palace.
Georgina Sherriff was born in Exeter in 1992, and was educated at Truro High School for
Girls in Cornwall. She was an active member of her school choir and regularly played the
organ for services in Truro Cathedral, also accompanying the choir on tours to Belgium,
Paris, South Africa, Venice and New York. Georgina has just started her second year at the
RCM where she studies the organ with David Graham. She also learns the harpsichord as a
related study, with Jane Chapman. Future recitals include Brentwood, Bristol, Truro and
Exeter Cathedrals, as well as the annual Eileen Bolt Recital in Bournemouth.
Charles Andrews is Associate Director of Music at All Saints Margaret Street, and
Accompanist of Hertfordshire Chorus and Eltham Choral Society. Charles attended the RCM,
where he held a Douglas & Kyra Downie Award, studying piano with John Barstow and John
Blakely, and organ with David Graham and Sophie-Véronique Cauchefer-Choplin. Organist
posts have included Rochester Cathedral, Chelmsford Cathedral and St. John's, Hyde Park.
Work with other choirs includes: St. Paul's Cathedral Choir, London Symphony Chorus, and
Eltham College Boys' Choir. Recent highlights include recitals in St. Paul's Cathedral, St.
Martin-in-the-Fields and St. Stephen's Cathedral, Passau. Charles will perform the premiere
of David Briggs's 'Mosaique: Sonata for Organ Duet', playing with Roger Sayer.
ROYAL COLLEGE OF MUSIC
The Royal College of Music is one of the world's leading conservatoires. Alumni include
Gustav Holst, Ralph Vaughan Williams and Benjamin Britten. Founded in 1882, the Royal
College of Music trains gifted musicians from all over the world for international careers as
performers, conductors and composers. Many of its graduates are at the forefront of the
music scene. RCM Professors are musicians with worldwide reputations. Music activities at
the College include opera productions, symphony orchestra concerts, chamber and solo
performances and masterclasses, many of which are open to the public. For further details,
please contact the RCM Box Office on 020 7591 4314 or visit www.rcm.ac.uk. In addition to
performance and training, the RCM is home to the Centre for Performance History,
incorporating a Museum of Instruments, with a collection of 800 instruments and accessories.
The RCM Library houses one of the largest collections in Britain: among its collections are
early printed music and original autograph manuscripts by composers including Haydn,
Mozart, Schubert, Schumann, Chopin and Elgar.