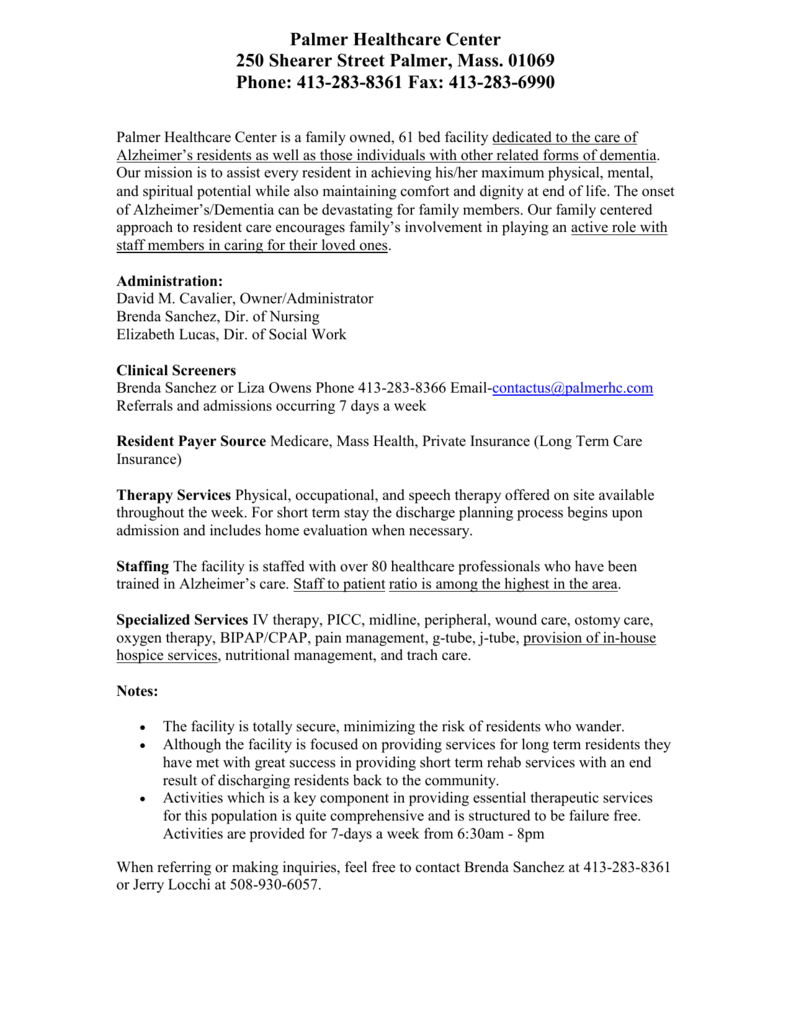 Palmer Healthcare Center
250 Shearer Street Palmer, Mass. 01069
Phone: 413-283-8361 Fax: 413-283-6990
Palmer Healthcare Center is a family owned, 61 bed facility dedicated to the care of
Alzheimer's residents as well as those individuals with other related forms of dementia.
Our mission is to assist every resident in achieving his/her maximum physical, mental,
and spiritual potential while also maintaining comfort and dignity at end of life. The onset
of Alzheimer's/Dementia can be devastating for family members. Our family centered
approach to resident care encourages family's involvement in playing an active role with
staff members in caring for their loved ones.
Administration:
David M. Cavalier, Owner/Administrator
Brenda Sanchez, Dir. of Nursing
Elizabeth Lucas, Dir. of Social Work
Clinical Screeners
Brenda Sanchez or Liza Owens Phone 413-283-8366 [email protected]
Referrals and admissions occurring 7 days a week
Resident Payer Source Medicare, Mass Health, Private Insurance (Long Term Care
Insurance)
Therapy Services Physical, occupational, and speech therapy offered on site available
throughout the week. For short term stay the discharge planning process begins upon
admission and includes home evaluation when necessary.
Staffing The facility is staffed with over 80 healthcare professionals who have been
trained in Alzheimer's care. Staff to patient ratio is among the highest in the area.
Specialized Services IV therapy, PICC, midline, peripheral, wound care, ostomy care,
oxygen therapy, BIPAP/CPAP, pain management, g-tube, j-tube, provision of in-house
hospice services, nutritional management, and trach care.
Notes:



The facility is totally secure, minimizing the risk of residents who wander.
Although the facility is focused on providing services for long term residents they
have met with great success in providing short term rehab services with an end
result of discharging residents back to the community.
Activities which is a key component in providing essential therapeutic services
for this population is quite comprehensive and is structured to be failure free.
Activities are provided for 7-days a week from 6:30am - 8pm
When referring or making inquiries, feel free to contact Brenda Sanchez at 413-283-8361
or Jerry Locchi at 508-930-6057.