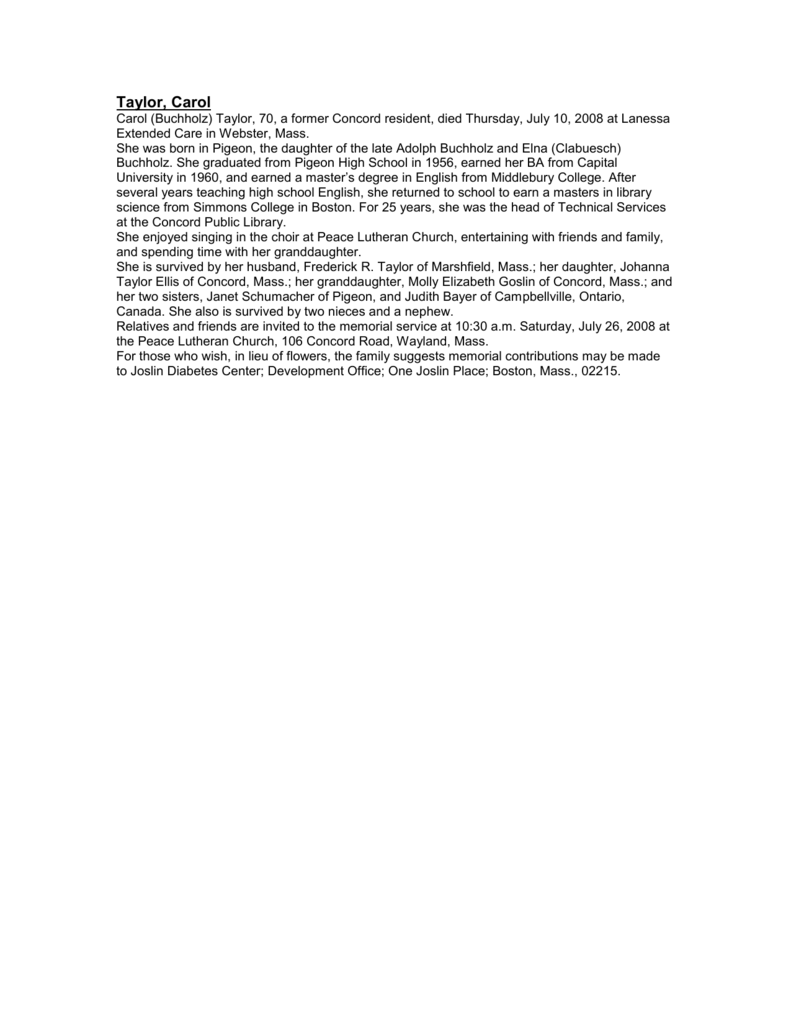 Taylor, Carol
Carol (Buchholz) Taylor, 70, a former Concord resident, died Thursday, July 10, 2008 at Lanessa
Extended Care in Webster, Mass.
She was born in Pigeon, the daughter of the late Adolph Buchholz and Elna (Clabuesch)
Buchholz. She graduated from Pigeon High School in 1956, earned her BA from Capital
University in 1960, and earned a master's degree in English from Middlebury College. After
several years teaching high school English, she returned to school to earn a masters in library
science from Simmons College in Boston. For 25 years, she was the head of Technical Services
at the Concord Public Library.
She enjoyed singing in the choir at Peace Lutheran Church, entertaining with friends and family,
and spending time with her granddaughter.
She is survived by her husband, Frederick R. Taylor of Marshfield, Mass.; her daughter, Johanna
Taylor Ellis of Concord, Mass.; her granddaughter, Molly Elizabeth Goslin of Concord, Mass.; and
her two sisters, Janet Schumacher of Pigeon, and Judith Bayer of Campbellville, Ontario,
Canada. She also is survived by two nieces and a nephew.
Relatives and friends are invited to the memorial service at 10:30 a.m. Saturday, July 26, 2008 at
the Peace Lutheran Church, 106 Concord Road, Wayland, Mass.
For those who wish, in lieu of flowers, the family suggests memorial contributions may be made
to Joslin Diabetes Center; Development Office; One Joslin Place; Boston, Mass., 02215.