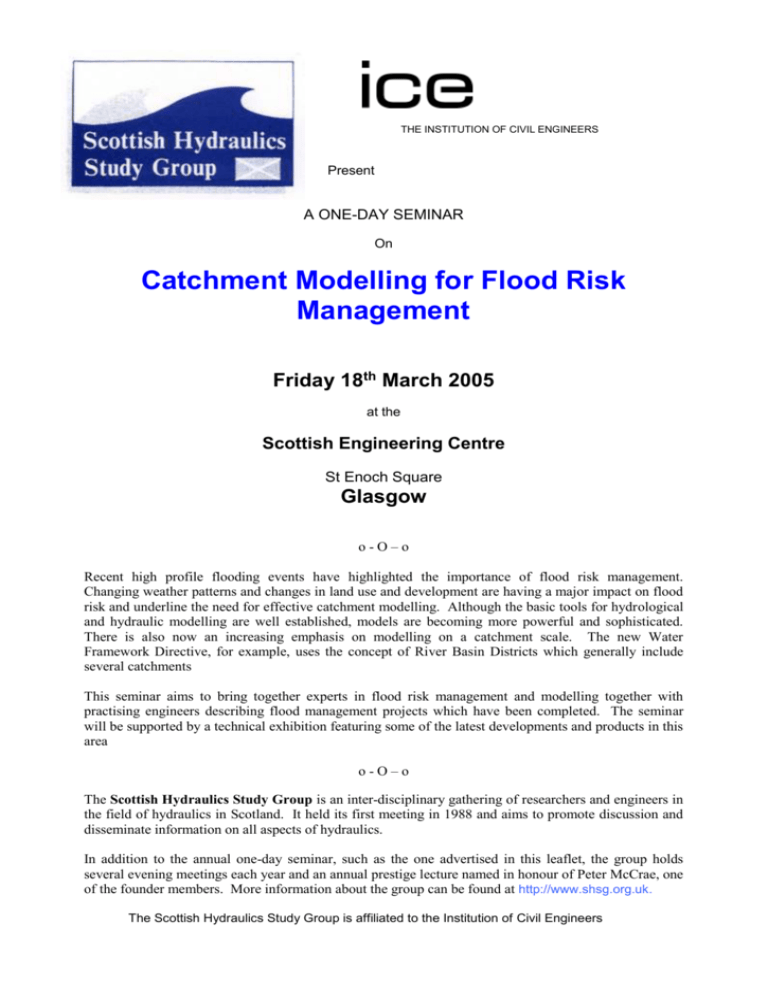 THE INSTITUTION OF CIVIL ENGINEERS
Present
A ONE-DAY SEMINAR
On
Catchment Modelling for Flood Risk
Management
Friday 18th March 2005
at the
Scottish Engineering Centre
St Enoch Square
Glasgow
o-O–o
Recent high profile flooding events have highlighted the importance of flood risk management.
Changing weather patterns and changes in land use and development are having a major impact on flood
risk and underline the need for effective catchment modelling. Although the basic tools for hydrological
and hydraulic modelling are well established, models are becoming more powerful and sophisticated.
There is also now an increasing emphasis on modelling on a catchment scale. The new Water
Framework Directive, for example, uses the concept of River Basin Districts which generally include
several catchments
This seminar aims to bring together experts in flood risk management and modelling together with
practising engineers describing flood management projects which have been completed. The seminar
will be supported by a technical exhibition featuring some of the latest developments and products in this
area
o-O–o
The Scottish Hydraulics Study Group is an inter-disciplinary gathering of researchers and engineers in
the field of hydraulics in Scotland. It held its first meeting in 1988 and aims to promote discussion and
disseminate information on all aspects of hydraulics.
In addition to the annual one-day seminar, such as the one advertised in this leaflet, the group holds
several evening meetings each year and an annual prestige lecture named in honour of Peter McCrae, one
of the founder members. More information about the group can be found at http://www.shsg.org.uk.
The Scottish Hydraulics Study Group is affiliated to the Institution of Civil Engineers
PROVISIONAL PROGRAMME
9.30
Registration and Coffee
10.00
Introduction and Welcome
Prof. Chris Jefferies (Chairman, SHSG)
10.05
Keynote Address : Future Flooding in Scotland
Prof Alan Werritty (University of Dundee)
10.25
Flood Risk Management Research Consortium: Flood Plain Modelling
Prof Garry Pender (Heriot Watt University)
10.50
Impact of the Water Framework Directive
11.15
Tea/Coffee
11.45
Planning Improved Urban Watercourses
12.10
Condition Assessment of Scottish Flood Defence Areas
David Bassett (JBA)
Integrated Catchment Modelling Issues For Flow Forecasting Applications
Marc Huband/Kevin Sene (Atkins)
12.35
Roy Richardson (SEPA)
Stephen Tingle (Renfrewshire Council)
13.00
Lunch and Technical Exhibition
14.15
White Cart Water Flood Management
14.40
15.05
3Dee Vision – Tarland Catchment / Aberdeenshire Approach
Alasdair Smith (Aberdeenshire Council)
Tea/Coffee
15.35
Flood Risk Management in Moray
Dave Gowans (Moray Council)
16.00
River Clyde Flood Management Strategy
Pascal Lardet (Halcrow)
16.25
Closure
John Drake (Halcrow)
___________
Registration Fees (includes lunch, teas/coffees and a bound volume of the papers)
Normal rate
Full time students / retired
£85.11 + VAT =
£42.55 + VAT =
£100.00
£50.00
Please complete the form below and send with a cheque payable to The Institution of Civil Engineers to
Dr Martin Mansell
School of Engineering and Science, University of Paisley, PAISLEY PA1 2BE
tel:
0141 848 3271 fax: 0141 848 3663
e-mail: martin.mansell@paisley.ac.uk
Space will be available for exhibitors. Please indicate if required
----------------------------------------------------------------------------------------------------------------------Names of Delegates
(1)
………………………………… (2)
……………………………………….
(3)
………………………………… (4)
……………………………………….
Organisation (if applicable)
…………………………………………………………………
e-mail……………………..
Address
…………………………………………………………………
…………………………………………………………………
Post Code …………………
Fee enclosed
….@ £100.00
Do you require exhibition space?
….. @ £50.00
Total £…………
Yes/No
Invoice required ? ………..