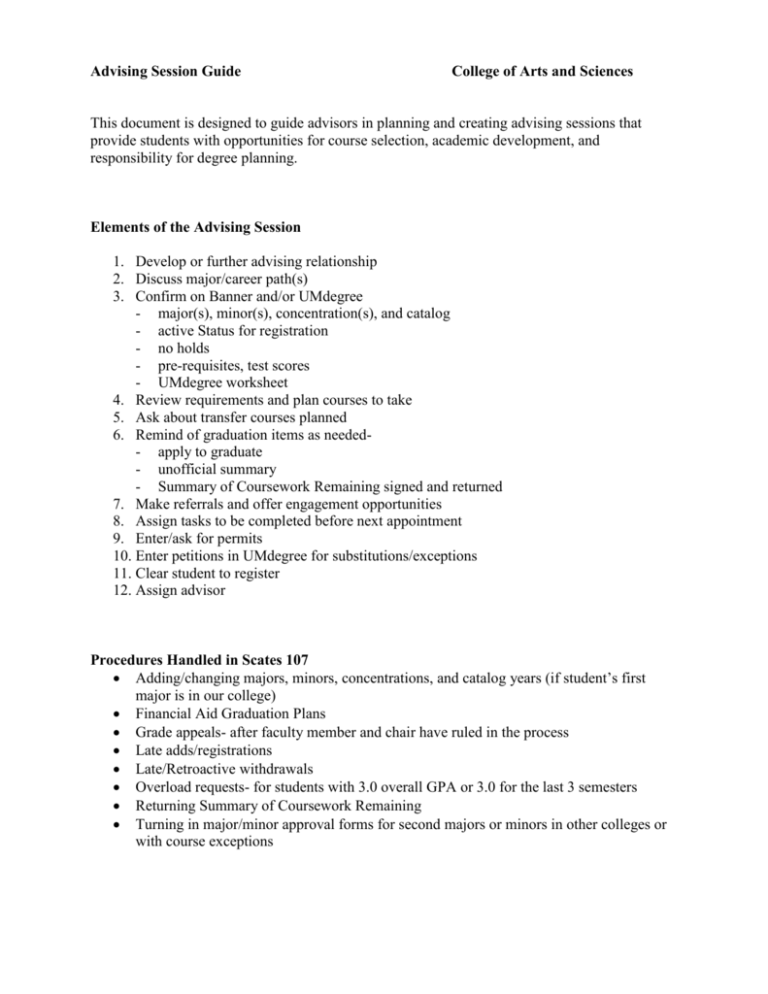 Advising Session Guide
College of Arts and Sciences
This document is designed to guide advisors in planning and creating advising sessions that
provide students with opportunities for course selection, academic development, and
responsibility for degree planning.
Elements of the Advising Session
1. Develop or further advising relationship
2. Discuss major/career path(s)
3. Confirm on Banner and/or UMdegree
- major(s), minor(s), concentration(s), and catalog
- active Status for registration
- no holds
- pre-requisites, test scores
- UMdegree worksheet
4. Review requirements and plan courses to take
5. Ask about transfer courses planned
6. Remind of graduation items as needed- apply to graduate
- unofficial summary
- Summary of Coursework Remaining signed and returned
7. Make referrals and offer engagement opportunities
8. Assign tasks to be completed before next appointment
9. Enter/ask for permits
10. Enter petitions in UMdegree for substitutions/exceptions
11. Clear student to register
12. Assign advisor
Procedures Handled in Scates 107
 Adding/changing majors, minors, concentrations, and catalog years (if student's first
major is in our college)
 Financial Aid Graduation Plans
 Grade appeals- after faculty member and chair have ruled in the process
 Late adds/registrations
 Late/Retroactive withdrawals
 Overload requests- for students with 3.0 overall GPA or 3.0 for the last 3 semesters
 Returning Summary of Coursework Remaining
 Turning in major/minor approval forms for second majors or minors in other colleges or
with course exceptions
Advising Session Checklist
Preparation for an Advising Session:
1. Look up the student's major(s), minor(s), concentration(s) in Self Service Banner
(Academic Transcript or Student Information link) or INB (SGASTDN form). If they are
not correct, tell the student during the appointment to come to Scates 107 and what
changes they need to request.
 At the same site check the catalog if it might be an issue. When using UMdegree,
having the correct catalog will be essential.
 Also at this site check to see if the student's STATUS is Active. If it is not, they
must be readmitted- http://www.memphis.edu/admissions/apply.php
2. Check Self Service (View Holds link or in a pop up window when accessing the student's
Academic Transcript) or INB (SOAHOLD) for any holds the student may have and
inform them of the hold when you meet.
3. The first time a student needs to take a course with a pre-requisite, such as math or a
science, use Self Service Banner (View Test Scores link) or INB (SOATEST) for
ALEKS scores.
4. Update your degree sheet for the student so that you can see what courses might be taken
the next semester: http://www.memphis.edu/cas/degree_sheets.htm
 Use the Self Service Transcript for courses taken here.
 Use INB (SHATRNS) for transfer courses, especially noting UD/LD at the other
institution.
 Use UMdegree to see what courses/requirements remain or to enter petitions:
http://www.memphis.edu/umdegree/Advisors.php
 Enter petitions in UMdegree if you are allowing any substitutions in the major with
the courses involved, student name, and U number.
 Check UMdegree for accuracy. If there are discrepancies, e-mail
casgraduation@memphis.edu with the issues, student name and U number. (Log in
for UMdegree is in the Advising Forms channel on your Advising or Faculty tab of
myMemphis.)
 Remind students of items on the Degree Completion Checklist regarding residency, 2
hour PHED limit, 42 UD hours, C- or higher in major/minor, 42 hours maximum in
one discipline (for students on 2012 catalog or earlier), UM and overall GPA of 2.0 or
higher- http://www.memphis.edu/cas/docs/degree_completion_checklist.doc
5. For students with 80 hours or more, consider what the student's likely graduation date
may be. Students in the College of Arts and Sciences should apply to graduate at the
beginning of the semester a calendar year before they expect to graduate. (for example,
January 2015 for graduation in May 2016). Students apply in the Commencement
channel on the My Degree tab of myMemphis.
6. If you have received a Summary of Coursework Remaining for a student, go over that
together and sign it, reminding the student to submit a copy to Scates 107.
What to Do During an Advising Session:
New Advisees:

Take time to get to know the student- ask about the student's interests, high school,
hometown, favorite classes or best classes, academic strengths, etc. Establish a
connection with the student and ease any nervousness that the student might feel with a
new advisor.

Discuss with students their career plans – if they have them already. Let them know that
it is all right if they have not decided on a career because over the course of their college
career they will be learning about many opportunities.
Advising Checklist:
If you have already discovered the above information, you should take a few minutes to greet the
student and to make sure nothing has changed with major/career intentions.
1. Ask how current classes are going (and discuss any Early Interventions received).
2. Remember that all students should take the ALEKS before registering for math- unless
they have a pre-requisite course for the one they want to take. ALEKS scores are valid
for 6 months, and after that time, a student should take a new ALEKS assessment before
registering for math. ALEKS website: http://www.memphis.edu/aleks
3. General Education – this handout might help:
http://umdrive.memphis.edu/pakrech/NSO/General_Education_2014.doc
4. Ask the student about high school foreign language and advise using the guidelines under
"Other Considerations."
5. Inform the student of any of the following:
 program changes needed (major, minor, concentration, catalog)
 readmission
 holds
 pre-requisites, co-requisites
 transfer course procedures for courses taken elsewhere
 application to graduate
 summary that needs to be returned
6. If the student has planned for the session, look over the choices of classes for the next
semester, or help them create a list of classes, using one of the Advising and Planning
Worksheet Options*. Take into consideration how many hours the student should take
and how many hours the student plans to work.
7. Discuss with the student any steps or opportunities to be taken before the next advising
session, such as career exploration, transfer matters, internship/study abroad/research
opportunities, schedule preparation, what to bring next time.
8. Issue permits for any courses in your major that require a permit or if needed to override
a prerequisite if you decide to do so. (ONLY do this for courses you are allowed to issue
permits for!) OR call the appropriate person in your department office or in another
department to request the permits so that they will be available when the student
registers.
9. Use the SPAAPIN form (in the Advising Forms channel in myMemphis or in INB) to
remove the TREG line for Spring 2015 (201510) and enter the codes to allow the student
to register. (TREG removal for this term begins about October 10.)
10. Assign yourself as advisor for the student on SGAADVR – or ask the person responsible
for this in your department to do so.
Other Considerations:

Refer students to appropriate offices for follow-up such as ESP, Career Services, PreProfessional Advising for pre-health and pre-law students.
- Referrals list – http://www.memphis.edu/cas/docs/referrals.doc
- Early Intervention Resource list –
http://umdrive.memphis.edu/pakrech/Early_Intervention/Early Intervention Resource List.doc

Utilize the list of Prerequisites/Corequisites that are in place in Banner. Please be sure
that a student has the appropriate prerequisite before recommending a course. Also note
the co-requisites for a course and include these in the list of courses the student should
register for – https://umdrive.memphis.edu/pakrech/NSO/Prerequisites_Corequisitesadvisors.doc

The Foreign Language Media Center (Jones 220, 678-3157) is where students go to take
the foreign language placement test. Remember the following guidelines about foreign
languages:
a. Students choosing the same language taken in high school must take the placement
test to determine which level to register for (unless they know they need 1010
because the language was taken long ago); they should NOT be told to register for
1010 and to take the test later.
b. Students choosing to begin with a new language would, of course, need to register for
a 1010 section of the language. (Students should be advised not to put off foreign
language for too long because it sometimes becomes a stumbling block for
graduation.)
c. Once students begin taking a foreign language, it is best to take it each semester
rather than skipping a semester and forgetting what they have learned.

Students should leave your office with an Advising and Planning Registration Worksheet
filled out with a list of course prefixes and numbers so that they know what courses
to register for. Also, provide a couple of alternate courses. It is best to write on the
student's Advising and Planning Worksheet the prefix (for example, MATH) and
the specific course (1420, 1710, 1830, etc.) Or you may enter the information in the
UMdegree Planner.##
*Advising and Planning Worksheet Options:
CAS worksheet: http://www.memphis.edu/cas/docs/reg_worksheet.doc)
Duplicate copies: available in Academic Counseling Center, Wilder 212 (Call ahead to
the ACC administrative secretary with the number you need and when you would like to
pick them up - 678-2207.)

If time permits and registration for the term has begun, allow the student to register in
your office so that any problems can be resolved.