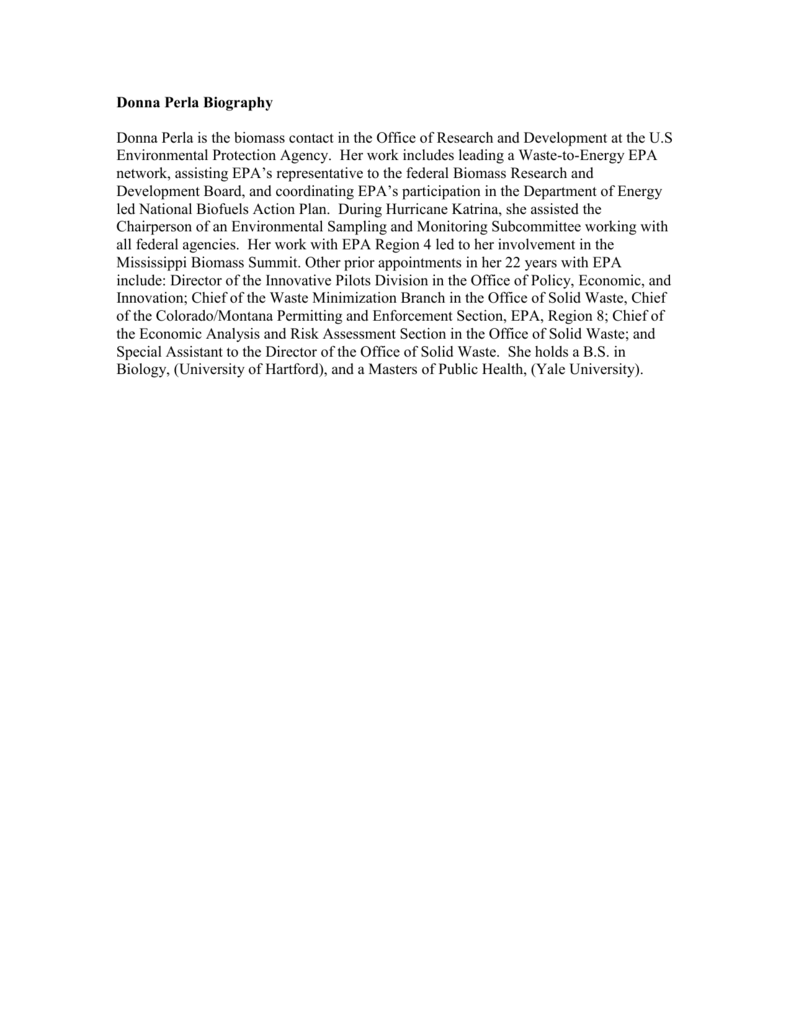 Donna Perla Biography
Donna Perla is the biomass contact in the Office of Research and Development at the U.S
Environmental Protection Agency. Her work includes leading a Waste-to-Energy EPA
network, assisting EPA's representative to the federal Biomass Research and
Development Board, and coordinating EPA's participation in the Department of Energy
led National Biofuels Action Plan. During Hurricane Katrina, she assisted the
Chairperson of an Environmental Sampling and Monitoring Subcommittee working with
all federal agencies. Her work with EPA Region 4 led to her involvement in the
Mississippi Biomass Summit. Other prior appointments in her 22 years with EPA
include: Director of the Innovative Pilots Division in the Office of Policy, Economic, and
Innovation; Chief of the Waste Minimization Branch in the Office of Solid Waste, Chief
of the Colorado/Montana Permitting and Enforcement Section, EPA, Region 8; Chief of
the Economic Analysis and Risk Assessment Section in the Office of Solid Waste; and
Special Assistant to the Director of the Office of Solid Waste. She holds a B.S. in
Biology, (University of Hartford), and a Masters of Public Health, (Yale University).