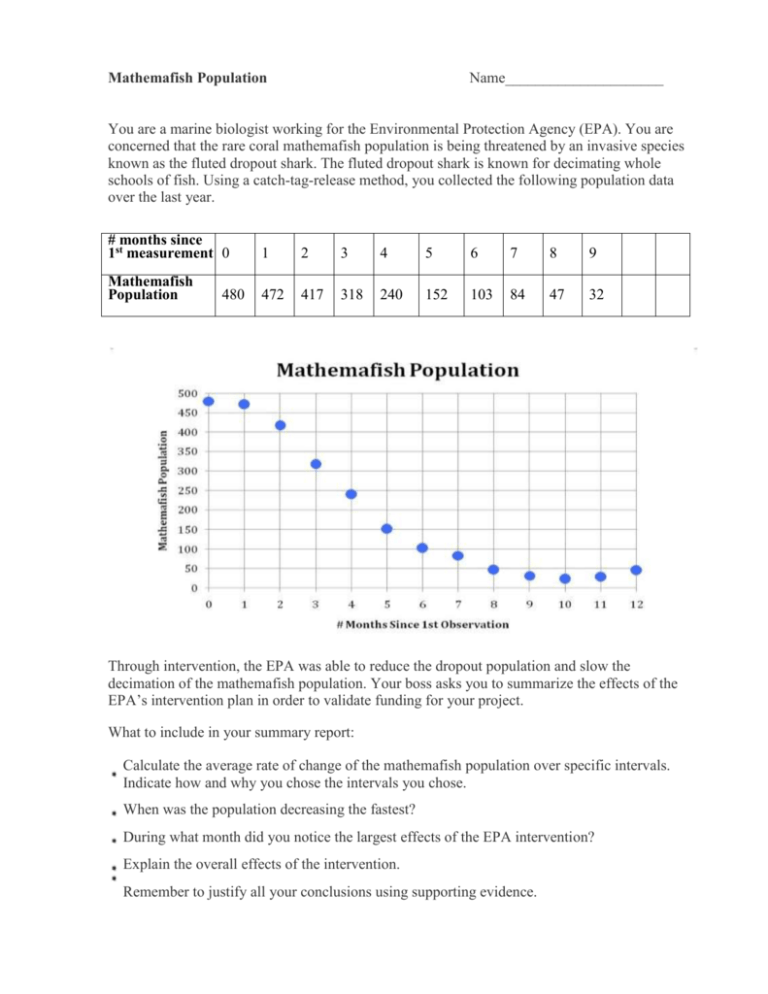 Mathemafish Population
Name_____________________
You are a marine biologist working for the Environmental Protection Agency (EPA). You are
concerned that the rare coral mathemafish population is being threatened by an invasive species
known as the fluted dropout shark. The fluted dropout shark is known for decimating whole
schools of fish. Using a catch-tag-release method, you collected the following population data
over the last year.
# months since
1st measurement 0
1
2
3
4
5
6
7
8
9
Mathemafish
Population
472
417
318
240
152
103
84
47
32
480
Through intervention, the EPA was able to reduce the dropout population and slow the
decimation of the mathemafish population. Your boss asks you to summarize the effects of the
EPA's intervention plan in order to validate funding for your project.
What to include in your summary report:
Calculate the average rate of change of the mathemafish population over specific intervals.
Indicate how and why you chose the intervals you chose.
When was the population decreasing the fastest?
During what month did you notice the largest effects of the EPA intervention?
Explain the overall effects of the intervention.
Remember to justify all your conclusions using supporting evidence.