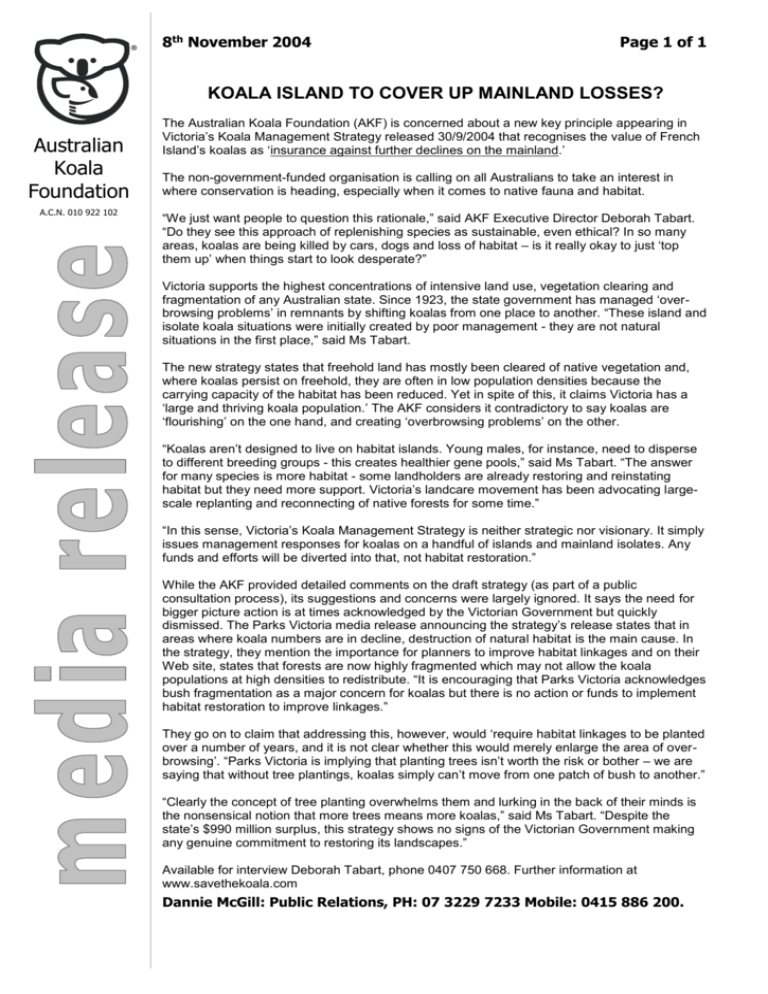 8th November 2004
Page 1 of 1
KOALA ISLAND TO COVER UP MAINLAND LOSSES?
Australian
Koala
Foundation
A.C.N. 010 922 102
The Australian Koala Foundation (AKF) is concerned about a new key principle appearing in
Victoria's Koala Management Strategy released 30/9/2004 that recognises the value of French
Island's koalas as 'insurance against further declines on the mainland.'
The non-government-funded organisation is calling on all Australians to take an interest in
where conservation is heading, especially when it comes to native fauna and habitat.
"We just want people to question this rationale," said AKF Executive Director Deborah Tabart.
"Do they see this approach of replenishing species as sustainable, even ethical? In so many
areas, koalas are being killed by cars, dogs and loss of habitat – is it really okay to just 'top
them up' when things start to look desperate?"
Victoria supports the highest concentrations of intensive land use, vegetation clearing and
fragmentation of any Australian state. Since 1923, the state government has managed 'overbrowsing problems' in remnants by shifting koalas from one place to another. "These island and
isolate koala situations were initially created by poor management - they are not natural
situations in the first place," said Ms Tabart.
The new strategy states that freehold land has mostly been cleared of native vegetation and,
where koalas persist on freehold, they are often in low population densities because the
carrying capacity of the habitat has been reduced. Yet in spite of this, it claims Victoria has a
'large and thriving koala population.' The AKF considers it contradictory to say koalas are
'flourishing' on the one hand, and creating 'overbrowsing problems' on the other.
"Koalas aren't designed to live on habitat islands. Young males, for instance, need to disperse
to different breeding groups - this creates healthier gene pools," said Ms Tabart. "The answer
for many species is more habitat - some landholders are already restoring and reinstating
habitat but they need more support. Victoria's landcare movement has been advocating largescale replanting and reconnecting of native forests for some time."
"In this sense, Victoria's Koala Management Strategy is neither strategic nor visionary. It simply
issues management responses for koalas on a handful of islands and mainland isolates. Any
funds and efforts will be diverted into that, not habitat restoration."
While the AKF provided detailed comments on the draft strategy (as part of a public
consultation process), its suggestions and concerns were largely ignored. It says the need for
bigger picture action is at times acknowledged by the Victorian Government but quickly
dismissed. The Parks Victoria media release announcing the strategy's release states that in
areas where koala numbers are in decline, destruction of natural habitat is the main cause. In
the strategy, they mention the importance for planners to improve habitat linkages and on their
Web site, states that forests are now highly fragmented which may not allow the koala
populations at high densities to redistribute. "It is encouraging that Parks Victoria acknowledges
bush fragmentation as a major concern for koalas but there is no action or funds to implement
habitat restoration to improve linkages."
They go on to claim that addressing this, however, would 'require habitat linkages to be planted
over a number of years, and it is not clear whether this would merely enlarge the area of overbrowsing'. "Parks Victoria is implying that planting trees isn't worth the risk or bother – we are
saying that without tree plantings, koalas simply can't move from one patch of bush to another."
"Clearly the concept of tree planting overwhelms them and lurking in the back of their minds is
the nonsensical notion that more trees means more koalas," said Ms Tabart. "Despite the
state's $990 million surplus, this strategy shows no signs of the Victorian Government making
any genuine commitment to restoring its landscapes."
Available for interview Deborah Tabart, phone 0407 750 668. Further information at
www.savethekoala.com
Dannie McGill: Public Relations, PH: 07 3229 7233 Mobile: 0415 886 200.