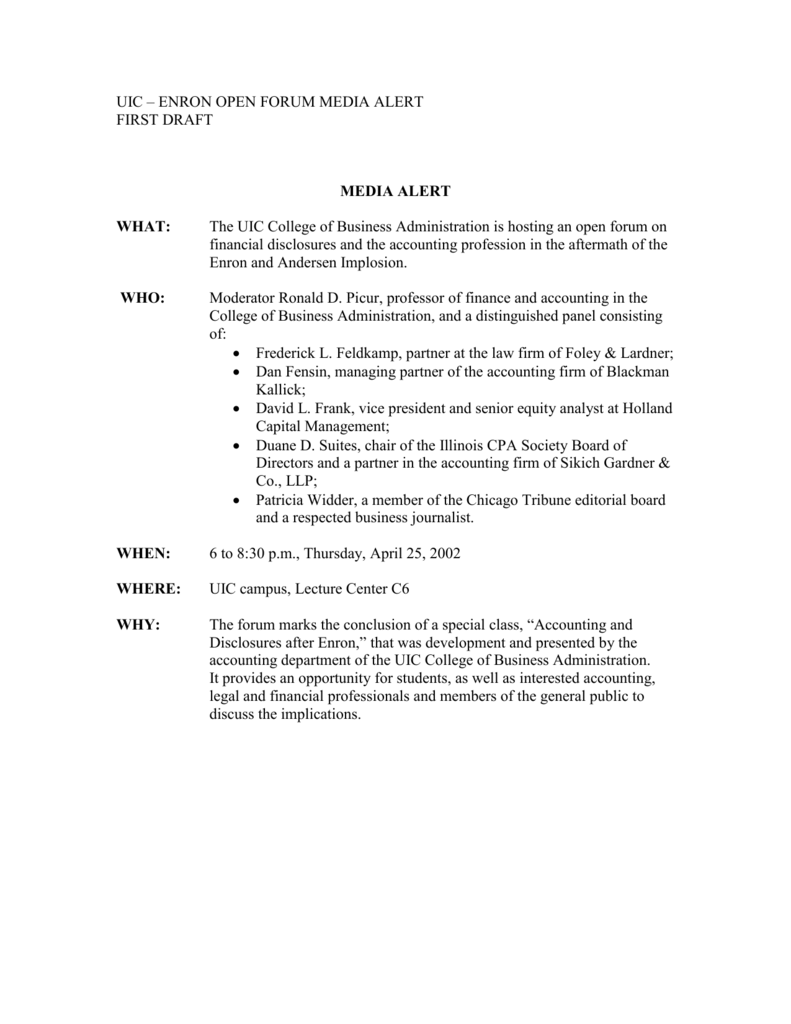 UIC – ENRON OPEN FORUM MEDIA ALERT
FIRST DRAFT
MEDIA ALERT
WHAT:
The UIC College of Business Administration is hosting an open forum on
financial disclosures and the accounting profession in the aftermath of the
Enron and Andersen Implosion.
WHO:
Moderator Ronald D. Picur, professor of finance and accounting in the
College of Business Administration, and a distinguished panel consisting
of:
 Frederick L. Feldkamp, partner at the law firm of Foley & Lardner;
 Dan Fensin, managing partner of the accounting firm of Blackman
Kallick;
 David L. Frank, vice president and senior equity analyst at Holland
Capital Management;
 Duane D. Suites, chair of the Illinois CPA Society Board of
Directors and a partner in the accounting firm of Sikich Gardner &
Co., LLP;
 Patricia Widder, a member of the Chicago Tribune editorial board
and a respected business journalist.
WHEN:
6 to 8:30 p.m., Thursday, April 25, 2002
WHERE:
UIC campus, Lecture Center C6
WHY:
The forum marks the conclusion of a special class, "Accounting and
Disclosures after Enron," that was development and presented by the
accounting department of the UIC College of Business Administration.
It provides an opportunity for students, as well as interested accounting,
legal and financial professionals and members of the general public to
discuss the implications.