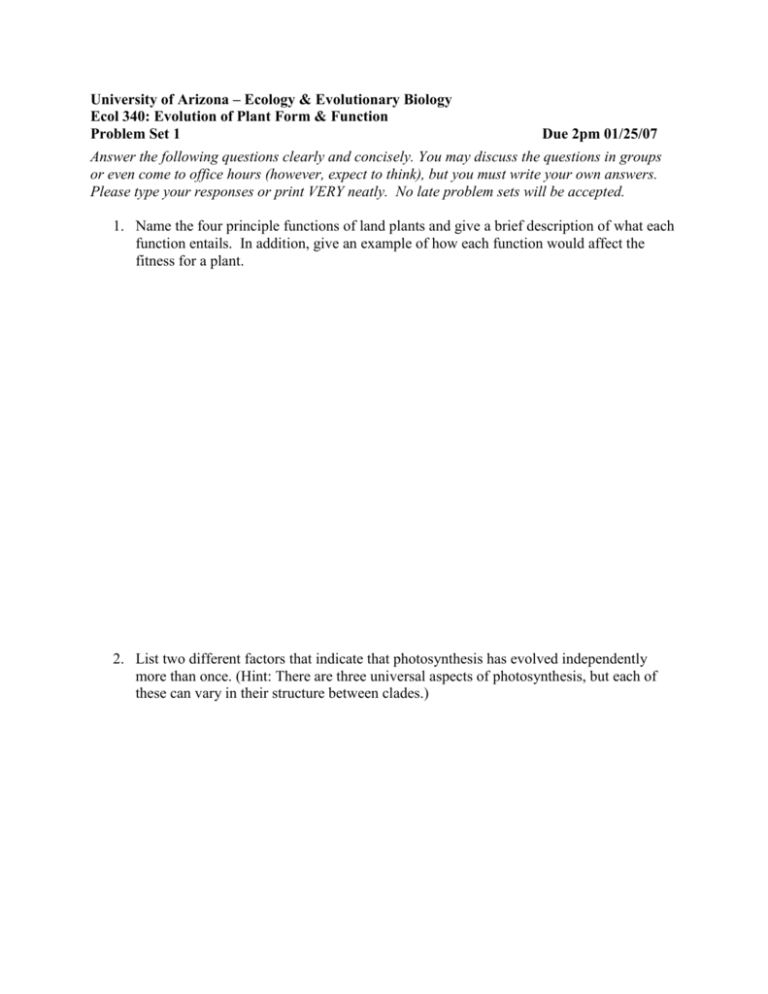 University of Arizona – Ecology & Evolutionary Biology
Ecol 340: Evolution of Plant Form & Function
Problem Set 1
Due 2pm 01/25/07
Answer the following questions clearly and concisely. You may discuss the questions in groups
or even come to office hours (however, expect to think), but you must write your own answers.
Please type your responses or print VERY neatly. No late problem sets will be accepted.
1. Name the four principle functions of land plants and give a brief description of what each
function entails. In addition, give an example of how each function would affect the
fitness for a plant.
2. List two different factors that indicate that photosynthesis has evolved independently
more than once. (Hint: There are three universal aspects of photosynthesis, but each of
these can vary in their structure between clades.)
3. In one to two sentences, please explain how each of the following people contributed to
our understanding of plant form and function.
a. Malthus
b. Mendel
c. Stebbins
d. Fisher
e. Mayr
f. Wallace
4. For the following phylogenetic tree, please answer the following questions:
A B CD
E
F G
H
I J
K L M
*
a. What type of group do the taxa E, F, G, H and I represent?
b. What type of group do the taxa F, G and H represent?
c. What type of group do the taxa A, B, C, D, E, and F represent?
d. What type of group do the taxa J, K and L represent?
e. What does the node marked with an asterisk represent?