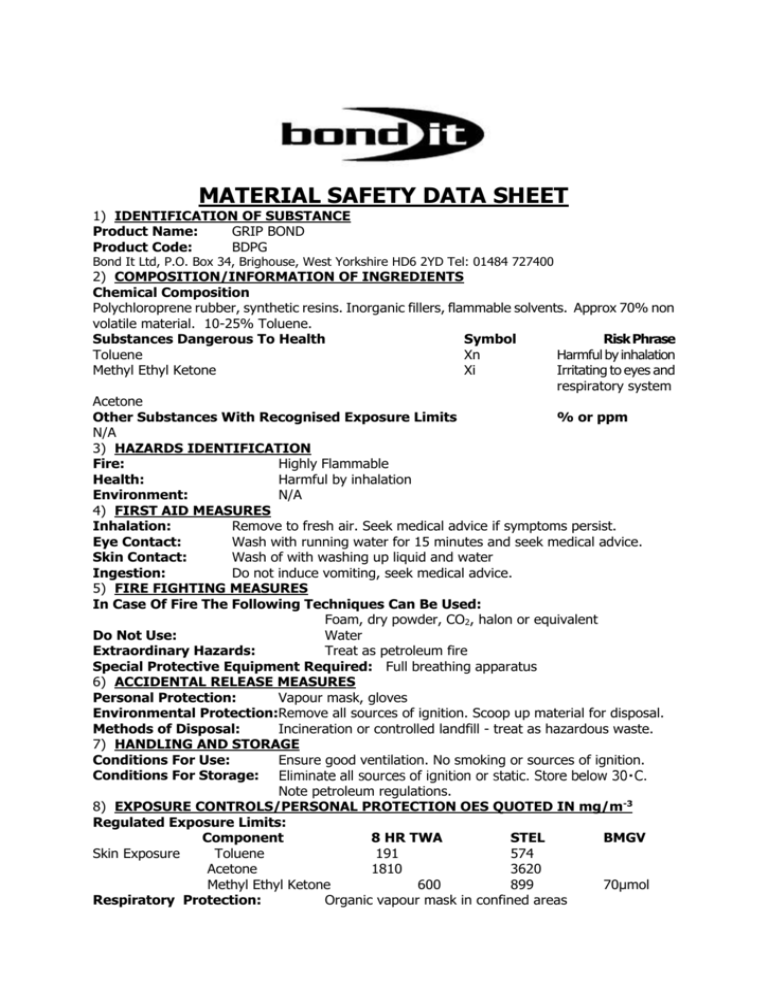 MATERIAL SAFETY DATA SHEET
1) IDENTIFICATION OF SUBSTANCE
Product Name:
GRIP BOND
Product Code:
BDPG
Bond It Ltd, P.O. Box 34, Brighouse, West Yorkshire HD6 2YD Tel: 01484 727400
2) COMPOSITION/INFORMATION OF INGREDIENTS
Chemical Composition
Polychloroprene rubber, synthetic resins. Inorganic fillers, flammable solvents. Approx 70% non
volatile material. 10-25% Toluene.
Substances Dangerous To Health
Symbol
Risk Phrase
Toluene
Xn
Harmful by inhalation
Methyl Ethyl Ketone
Xi
Irritating to eyes and
respiratory system
Acetone
Other Substances With Recognised Exposure Limits
% or ppm
N/A
3) HAZARDS IDENTIFICATION
Fire:
Highly Flammable
Health:
Harmful by inhalation
Environment:
N/A
4) FIRST AID MEASURES
Inhalation:
Remove to fresh air. Seek medical advice if symptoms persist.
Eye Contact:
Wash with running water for 15 minutes and seek medical advice.
Skin Contact:
Wash of with washing up liquid and water
Ingestion:
Do not induce vomiting, seek medical advice.
5) FIRE FIGHTING MEASURES
In Case Of Fire The Following Techniques Can Be Used:
Foam, dry powder, CO2, halon or equivalent
Do Not Use:
Water
Extraordinary Hazards:
Treat as petroleum fire
Special Protective Equipment Required: Full breathing apparatus
6) ACCIDENTAL RELEASE MEASURES
Personal Protection:
Vapour mask, gloves
Environmental Protection:Remove all sources of ignition. Scoop up material for disposal.
Methods of Disposal:
Incineration or controlled landfill - treat as hazardous waste.
7) HANDLING AND STORAGE
Conditions For Use:
Ensure good ventilation. No smoking or sources of ignition.
Conditions For Storage:
Note petroleum regulations.
8) EXPOSURE CONTROLS/PERSONAL PROTECTION OES QUOTED IN mg/m-3
Regulated Exposure Limits:
Component
8 HR TWA
STEL
BMGV
Skin Exposure
Toluene
191
574
Acetone
1810
3620
Methyl Ethyl Ketone
600
899
70µmol
Respiratory Protection:
Organic vapour mask in confined areas
Eye Protection:
Goggles
Hand Protection:
Gloves
Skin Protection:
Overalls
9) PHYSICAL AND CHEMICAL PROPERTIES
Appearance:
Buff paste
Solubility in Water:
Insoluble
pH:
N/A
Boiling Point:
80OC
Flash Point:
-2OC
Flammability:
Highly flammable vapour given off
Other:
N/A
10) STABILITY AND REACTIVITY
Stability:
Stable
Conditions To Avoid:
Sources of ignition or static discharge
Materials To Avoid:
Strong oxidising agents
Hazardous Decomposition
Products:
Carbon oxides and soot on combustion
11) TOXILOGICAL DATA
Effects Of Inhalation:
Dizziness, nausea
Ingestion:
Nausea, cramp
Skin:
May cause defatting of skin with resultant risks of
dermatitis
Eye Contact:
Toluene is classed as harmful by inhalation
12) ECOLOGICAL DATA
Mobility:
Low
Degradability:
Low
Accumulation:
Not anticipated
Short & Long Term Effects:
Not known
Specific Hazards:
None anticipated
13) DISPOSAL CONSIDERATIONS
Appropriate Methods Of Disposal:
Incineration or approved landfill
Statutory Requirements For Waste Disposal: Treat as hazardous waste
14) TRANSPORT INFORMATION
CPL:
Flammable material
IMO:
15) REGULATORY INFORMATION
Label:
Tactile label required
F Highly Flammable Xn Harmful by inhalation
Keep container in well ventilated place. Keep out of reach of children. Keep away all sources of
ignition - no smoking. Avoid contact with eyes. Do not empty into drains. Take precautionary
measures against static discharge.
16) OTHER INFORMATION
Emergency Contact No: 01484 727400
Training:
COSSH
Uses & Restrictions:
Do not sell to minors
Format:
CHIP99
Issue:
5
Date:
02.01
Bond It Ltd cannot accept responsibility for use of this product other than by the guidelines stated on this data sheet. Bond
Ltd has made every effort to ensure that this information is correct at the time of issue. It is the users responsibility to
ensure that this information has not been superseded by subsequent issues. Out of date data sheets must be destroyed.