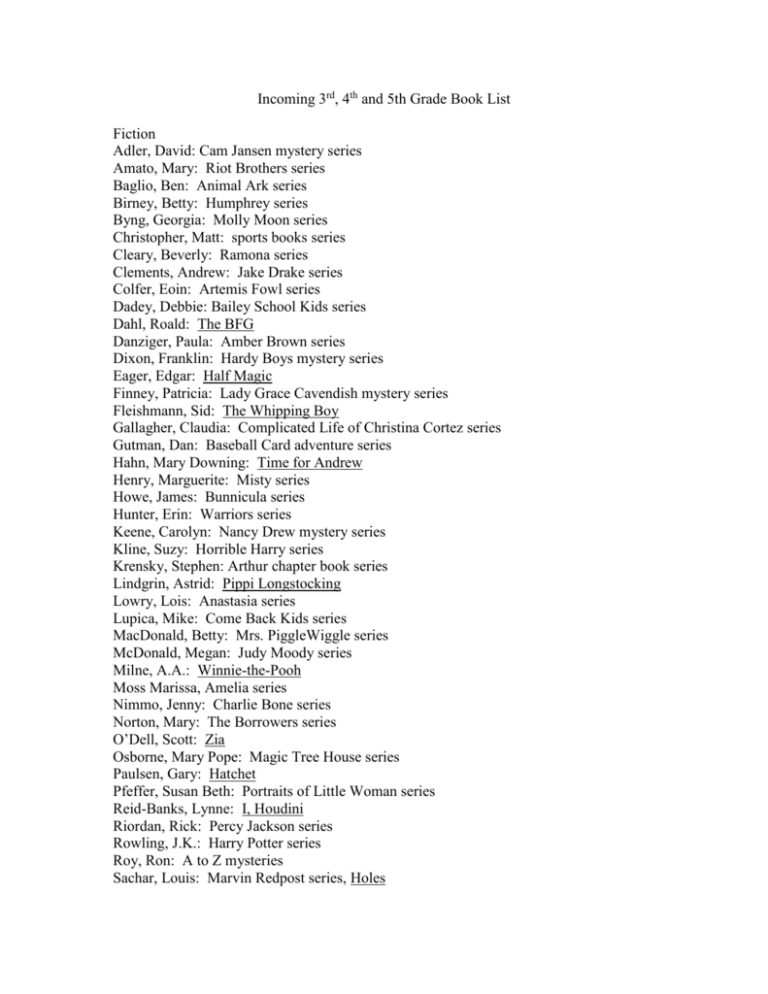 Incoming 3rd, 4th and 5th Grade Book List
Fiction
Adler, David: Cam Jansen mystery series
Amato, Mary: Riot Brothers series
Baglio, Ben: Animal Ark series
Birney, Betty: Humphrey series
Byng, Georgia: Molly Moon series
Christopher, Matt: sports books series
Cleary, Beverly: Ramona series
Clements, Andrew: Jake Drake series
Colfer, Eoin: Artemis Fowl series
Dadey, Debbie: Bailey School Kids series
Dahl, Roald: The BFG
Danziger, Paula: Amber Brown series
Dixon, Franklin: Hardy Boys mystery series
Eager, Edgar: Half Magic
Finney, Patricia: Lady Grace Cavendish mystery series
Fleishmann, Sid: The Whipping Boy
Gallagher, Claudia: Complicated Life of Christina Cortez series
Gutman, Dan: Baseball Card adventure series
Hahn, Mary Downing: Time for Andrew
Henry, Marguerite: Misty series
Howe, James: Bunnicula series
Hunter, Erin: Warriors series
Keene, Carolyn: Nancy Drew mystery series
Kline, Suzy: Horrible Harry series
Krensky, Stephen: Arthur chapter book series
Lindgrin, Astrid: Pippi Longstocking
Lowry, Lois: Anastasia series
Lupica, Mike: Come Back Kids series
MacDonald, Betty: Mrs. PiggleWiggle series
McDonald, Megan: Judy Moody series
Milne, A.A.: Winnie-the-Pooh
Moss Marissa, Amelia series
Nimmo, Jenny: Charlie Bone series
Norton, Mary: The Borrowers series
O'Dell, Scott: Zia
Osborne, Mary Pope: Magic Tree House series
Paulsen, Gary: Hatchet
Pfeffer, Susan Beth: Portraits of Little Woman series
Reid-Banks, Lynne: I, Houdini
Riordan, Rick: Percy Jackson series
Rowling, J.K.: Harry Potter series
Roy, Ron: A to Z mysteries
Sachar, Louis: Marvin Redpost series, Holes
Scieszka, Jon: Time Warp Trio series
Selden, George: The Cricket in Times Square
Snicket, Lemony: Series of Unfortunate Events
Sobol, Donald: Encyclopedia Brown mysteries
Thompson, Kay: Eloise series
Travers, P.L.: Mary Poppins series
Wallace, Bill: No Dogs Allowed
Warner, Gertrude: Boxcar Children series
Wilder, Laura Ingalls: The Little House series
Winkler, Henry: Hank Zipzer series
Series by various authors: American Girls, Dear America, My America, Royal Diaries,
Great Illustrated Classics, 39 Clues
Nonfiction
Authors to look for include:
Fradin, Dennis
Lauber, Patricia
Macaulay, David
Simon, Seymour
Look for a subject of interest. Juvenile nonfiction is shelved with adult nonfiction.