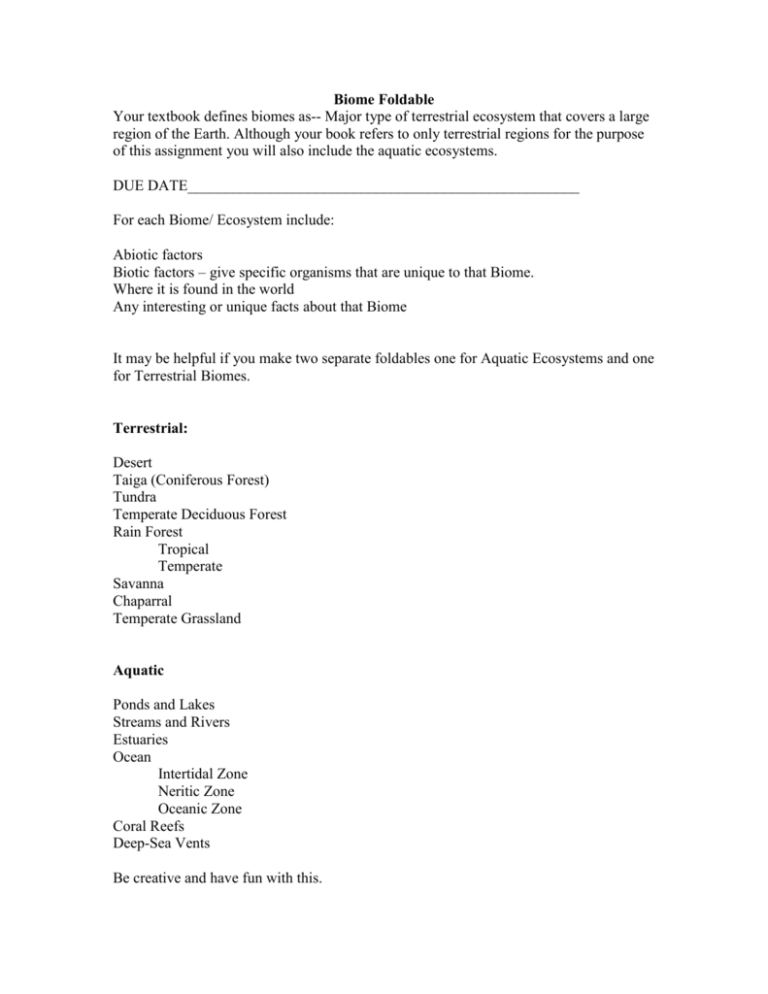 Biome Foldable
Your textbook defines biomes as-- Major type of terrestrial ecosystem that covers a large
region of the Earth. Although your book refers to only terrestrial regions for the purpose
of this assignment you will also include the aquatic ecosystems.
DUE DATE____________________________________________________
For each Biome/ Ecosystem include:
Abiotic factors
Biotic factors – give specific organisms that are unique to that Biome.
Where it is found in the world
Any interesting or unique facts about that Biome
It may be helpful if you make two separate foldables one for Aquatic Ecosystems and one
for Terrestrial Biomes.
Terrestrial:
Desert
Taiga (Coniferous Forest)
Tundra
Temperate Deciduous Forest
Rain Forest
Tropical
Temperate
Savanna
Chaparral
Temperate Grassland
Aquatic
Ponds and Lakes
Streams and Rivers
Estuaries
Ocean
Intertidal Zone
Neritic Zone
Oceanic Zone
Coral Reefs
Deep-Sea Vents
Be creative and have fun with this.