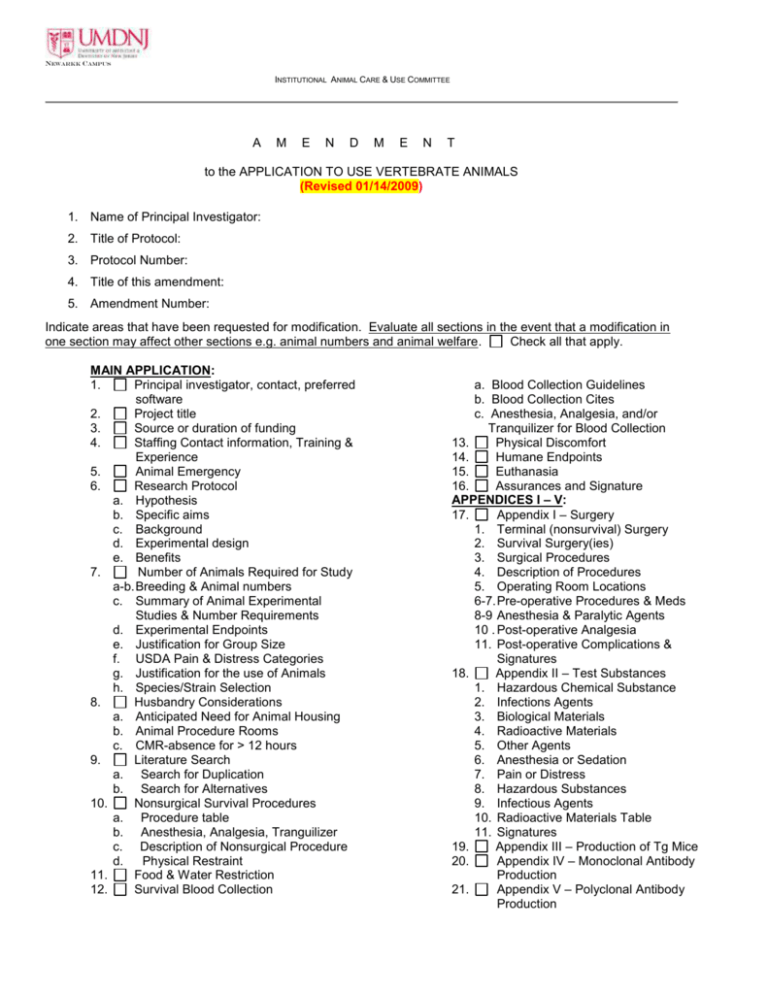 NEWARKK CAMPUS
INSTITUTIONAL ANIMAL CARE & USE COMMITTEE
A
M
E
N
D
M
E
N
T
to the APPLICATION TO USE VERTEBRATE ANIMALS
(Revised 01/14/2009)
1. Name of Principal Investigator:
2. Title of Protocol:
3. Protocol Number:
4. Title of this amendment:
5. Amendment Number:
Indicate areas that have been requested for modification. Evaluate all sections in the event that a modification in
one section may affect other sections e.g. animal numbers and animal welfare.
Check all that apply.
MAIN APPLICATION:
1.
Principal investigator, contact, preferred
software
2.
Project title
3.
Source or duration of funding
4.
Staffing Contact information, Training &
Experience
5.
Animal Emergency
6.
Research Protocol
a. Hypothesis
b. Specific aims
c. Background
d. Experimental design
e. Benefits
7.
Number of Animals Required for Study
a-b. Breeding & Animal numbers
c. Summary of Animal Experimental
Studies & Number Requirements
d. Experimental Endpoints
e. Justification for Group Size
f. USDA Pain & Distress Categories
g. Justification for the use of Animals
h. Species/Strain Selection
8.
Husbandry Considerations
a. Anticipated Need for Animal Housing
b. Animal Procedure Rooms
c. CMR-absence for > 12 hours
9.
Literature Search
a. Search for Duplication
b. Search for Alternatives
10.
Nonsurgical Survival Procedures
a. Procedure table
b. Anesthesia, Analgesia, Tranguilizer
c. Description of Nonsurgical Procedure
d.
Physical Restraint
11.
Food & Water Restriction
12.
Survival Blood Collection
a. Blood Collection Guidelines
b. Blood Collection Cites
c. Anesthesia, Analgesia, and/or
Tranquilizer for Blood Collection
13.
Physical Discomfort
14.
Humane Endpoints
15.
Euthanasia
16.
Assurances and Signature
APPENDICES I – V:
17.
Appendix I – Surgery
1. Terminal (nonsurvival) Surgery
2. Survival Surgery(ies)
3. Surgical Procedures
4. Description of Procedures
5. Operating Room Locations
6-7. Pre-operative Procedures & Meds
8-9 Anesthesia & Paralytic Agents
10 . Post-operative Analgesia
11. Post-operative Complications &
Signatures
18.
Appendix II – Test Substances
1. Hazardous Chemical Substance
2. Infections Agents
3. Biological Materials
4. Radioactive Materials
5. Other Agents
6. Anesthesia or Sedation
7. Pain or Distress
8. Hazardous Substances
9. Infectious Agents
10. Radioactive Materials Table
11. Signatures
19.
Appendix III – Production of Tg Mice
20.
Appendix IV – Monoclonal Antibody
Production
21.
Appendix V – Polyclonal Antibody
Production
NEWARKK CAMPUS
INSTITUTIONAL ANIMAL CARE & USE COMMITTEE
Indicate the rationale for the proposed changes:
Please attach a copy of the most recently approved version
of the protocol with proposed changes either with the strikethrough or high lighted in
yellow. This will print out as a light gray shade of high lighting.