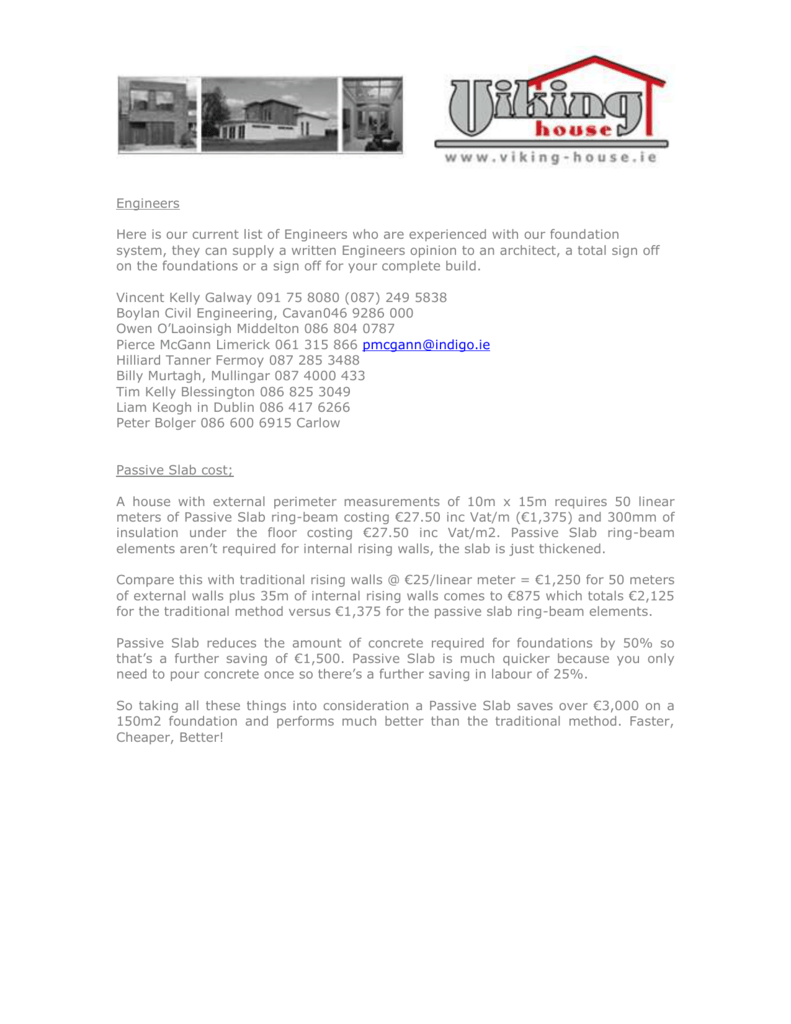 Engineers
Here is our current list of Engineers who are experienced with our foundation
system, they can supply a written Engineers opinion to an architect, a total sign off
on the foundations or a sign off for your complete build.
Vincent Kelly Galway 091 75 8080 (087) 249 5838
Boylan Civil Engineering, Cavan046 9286 000
Owen O'Laoinsigh Middelton 086 804 0787
Pierce McGann Limerick 061 315 866 [email protected]
Hilliard Tanner Fermoy 087 285 3488
Billy Murtagh, Mullingar 087 4000 433
Tim Kelly Blessington 086 825 3049
Liam Keogh in Dublin 086 417 6266
Peter Bolger 086 600 6915 Carlow
Passive Slab cost;
A house with external perimeter measurements of 10m x 15m requires 50 linear
meters of Passive Slab ring-beam costing €27.50 inc Vat/m (€1,375) and 300mm of
insulation under the floor costing €27.50 inc Vat/m2. Passive Slab ring-beam
elements aren't required for internal rising walls, the slab is just thickened.
Compare this with traditional rising walls @ €25/linear meter = €1,250 for 50 meters
of external walls plus 35m of internal rising walls comes to €875 which totals €2,125
for the traditional method versus €1,375 for the passive slab ring-beam elements.
Passive Slab reduces the amount of concrete required for foundations by 50% so
that's a further saving of €1,500. Passive Slab is much quicker because you only
need to pour concrete once so there's a further saving in labour of 25%.
So taking all these things into consideration a Passive Slab saves over €3,000 on a
150m2 foundation and performs much better than the traditional method. Faster,
Cheaper, Better!