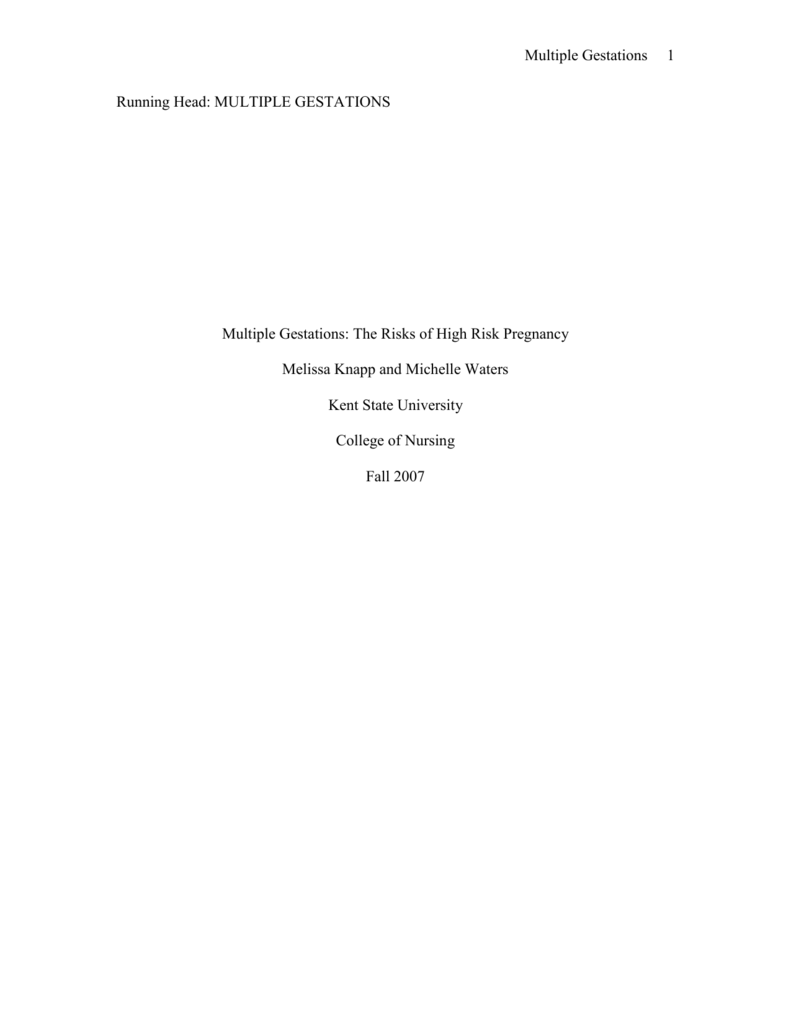 Multiple Gestations
Running Head: MULTIPLE GESTATIONS
Multiple Gestations: The Risks of High Risk Pregnancy
Melissa Knapp and Michelle Waters
Kent State University
College of Nursing
Fall 2007
1
Multiple Gestations
2
PATIENT PROFILE DATA BASE
Patient's Initials: PT
Date of Admission:
9-8-07
Type of Delivery: Vaginal x2
Anesthesia: Spinal Block
Infant Gender: Twins- Boy and Girl
Feeding: Breastfeeding
I. HISTORY
Reason for Admission: PTL (Twins), Contractions, 27 wk bleeding
(Anaphylaxis)
Allergies: Sulfa (Rash), Ibuprofen
Age: 28
Religion: Protestant
Education: Bachelor's
Work: Receptionist
Smoker: No
Amount: N/A
Alcohol use: No
Amount: N/A
Substance Abuse: No Developmental Level: On target
Significant Family Hx: Younger brother- cleft palate, Mother- difficulty conceiving
Significant medical and/or surgical Hx:
Chronic hives, Infertility
OB/Gynecologic Hx
Pregnancies: 1 / 0000 (G/TPAL)
Route for each delivery: Vaginal x2
Anesthesia for each: Spinal Block
LMP: 2-28-07
EDD:
# of week's gestation: 26 4/7
12-5-07
Problems and/or Complications during this pregnancy: PTL, Contractions
Medications during pregnancy: PNV, Folic Acid, Magnesium Sulfate, Celestone, Indomethacin,
Terbutaline
STI's: None
GYN Disorders or surgeries:
Prenatal classes: Attended
Infertility (Clomid pregnancy)
Diet Limitations (medical, cultural, or religious): I & O
II. PRENATAL DATA
Description of Head-to-toe assessment findings: Assessment completed 9-12-07. Patient was awake and
alert, reflexes were p+2. Temperature – 36.4 °c, pulse – 79, blood pressure – 123/69, respirations – 16.
Patient was negative for edema and homans sign, SCD's were on. Lungs were clear to auscultation
bilaterally, respirations were even and unlabored. Abdomen was soft and bowel sounds were normoactive,
urine output was 350. Patient was negative for headache, clonus, and pain. Vision was clear. Membranes
were intact and negative for vaginal bleeding. Fetal heart rates were 'A'-135 and 'B'-135 with good
variability and accelerations. Contractions were two per hour at 40 seconds in length with mild intensity
(nose).
Laboratory Data
Prenatal Tests
Type & Rh
Hematocrit & Hemoglobin
WBC
Norms
Patient Results
Analysis
A, B, AB, O, +, -
O+
No possibility oh Rh Disease
34.5-44.5 % / 11.5-15.5 g/dL
4.5-11 x10-3/UL
37.5%
↑
13 g/dL
14.6 x10-3/UL
An elevated white blood cell
count can indicate a possible
infection and the patient
must be monitored for other
signs of infection.
Multiple Gestations
Prenatal Tests
Norms
Patient Results
RBC
3.5-5.2 x10-6/UL
3.99 x10-6/UL
MCV
80-97 FL
92.3 FL
MCH
27-34 PG
32 PG
MCHC
32-36 g/dL
34.6 g/dL
RDW
11.2-15.2 %
12.4 %
150-450 x10-3/UL
286 x10-3/UL
Platelet
Mean Platelet Volume
↓
6.8-10.2 FL
Neutrophils
45-75 % / 1.7-7 x10-3/UL
6.1 FL
73.5 % /
↑10.7 x10-3/UL
Lymphocytes
15-40 % / 0.9-4 x10-3/UL
18.9 % / 2.7 x10-3/UL
Monocytes
5-11 % / 0.2-1 x10-3/UL
6.4 % / 0.9 x10-3/UL
Eosinophils
0-5 % / 0-0.4 x10-3/UL
1 % / 0.1 x10-3/UL
Basophils
0-2 % / 0-0.1 x10-3/UL
0.2 % / 0 x10-3/UL
↑
Fibrinogen
181-484 mg/dL
VDRL/RPR
Negative
Negative
Rubella
Immune
Immune
Negative for pathologic
organisms.
Negative
Negative / Negative
Negative / Negative
HIV
Negative
Negative
GBS
Negative
Negative
Urine C & S
Chlamydia/Gonorrhea
682 mg/dL
3
Analysis
Although the platelet volume
is only slightly below
normal, studies suggest that
it is an indicator of preeclampsia.
Increased levels of
neutrophils can indicate
stress, infection, eclampsia,
or acute hemorrhage.
Increased levels of
fibrinogen are seen in
patients with acute
infections. While this level is
elevated, a patient's risk of
developing a blood clot may
be increased. Moderate
elevations in fibrinogen are
sometimes seen with
pregnancy.
Multiple Gestations
4
Diagnostic Tests (ultrasounds, amniocentesis)
Test
Date
Norms
AFI- > 5
Ultrasound
9-10-07
CL- >2.5cm
Fetal Fibronectin Assay
9-13-07
Patient Findings
A- Girl
2lb 6oz
B- Boy
2lb 4oz
AFI= 10.8
CL- 1.7cm ĉ funneling
Negative
Negative
Prenatal Medications
Medications
Prenatal Vitamins
Dose, route
1 mg
Clomid (Clomiphene)
Folic Acid (Folate)
Terbutaline
Indomethacin
PO BID
-
1 Tab
0.25 mg
50 mg
PO
Sub Q
PO
Indications for use
Possible side
effects
Nursing
responsibilities
Rare; allergic
reactions to
preservatives,
additives, or
colorants
Assess the
patients
nutritional status
before and
throughout the
therapy
Induces ovulation
Hot flashes,
ovarian cyst
formation, ovarian
enlargement
Perform pelvic
exam to evaluate
ovaries, assess for
pain and
ovulation,
monitor blood lab
values
Prevention of neural
tube defects
Rash, irritability,
malaise, difficulty
sleeping
Assess patient for
megaloblastis
anemia and
monitor blood lab
values
Management of
preterm labor
Nervousness,
restlessness,
tremor, nausea,
vomiting
Monitor lung
sounds,
respirations,
pulse, blood
pressure,
contractions, and
fetal heart rate.
Suppression of pain
and inflammation
Dizziness,
drowsiness,
headache, psychic
disturbances,
constipation,
nausea, dyspepsia
Monitor vital
signs and lab
values
Treatment and
prevention of
vitamin deficiencies,
especially before
conception, during
pregnancy, and
postpartum
Multiple Gestations
Medications
Dose, route
6g
Magnesium Sulfate
Celestone
(Bethamethasone)
2 g/hr
12.5 mg
IM
IVPB
IM
Indications for use
Treatment of
preeclcampsia and
preterm labor
Prevents respiratory
distress syndrome in
newborns
Possible side
effects
5
Nursing
responsibilities
Monitor blood
Lethargy, nausea,
pressure,
weakness,
respirations,
sweating, vomiting, reflexes, urinary
constipation,
output, fetal heart
headache
tones, and lab
values
Depression,
euphoria,
hypertension,
anorexia, nausea,
acne,
thromboembolism
Monitor intake
and output, daily
weights,
peripheral edema,
lab values,
glucose levels,
and adrenal
insufficiency
Nursing Diagnoses for Prenatal: Pain r/t preterm labor contractions, fear r/t unknown outcome of birth,
deficient knowledge r/t lack of information of problems associated with multiple gestations, ineffective
tissue perfusion r/t side effects of Magnesium Sulfate, fluid volume imbalance r/t administration of
Magnesium Sulfate, risk for fetal impaired gas exchange r/t possible cord compression, impaired comfort
r/t pain and bed rest, constipation r/t decreased mobility and medication.
III. LABOR & DELIVERY DATA
Type of delivery: Vaginal x2 Date: 9-17-07
Procedures in Labor: Spinal block, fetal heart and contraction monitoring, speculation exam, maternal
vital sign monitoring, ultrasound, internal podalic version, laceration repair.
Pain Management in Labor: Spinal Block
Labor & Delivery laboratory data: Patient was 1 cm when twin 'A' PPROM with clear fluid.
Contractions increased and 10 hours later patient was completely dilated, +3 to +4 station, and were taken
to OR2 for delivery. Twin 'A' was delivered in cephalic presentation with nuchal cord x1 that was reduced.
Cord was clamped, cut, and infant was taken to the resuscitation room. Spinal was placed and then an
ultrasound found that twin 'B' was in a breech position. Internal podalic version was used and twin 'B' was
delivered. Twin 'B' presented with nuchal cord x1 that was clamped, cut, and infant was handed to the
awaiting team. Cord gases were sent. The placenta was delivered intact and found two separate placentas,
although fused. Patient had a second degree perineal laceration that was repaired with 2-0 Vicryl.
Nursing Diagnoses for Labor & Delivery: Pain r/t active labor, anxiety r/t high risk pregnancy and
potential complications, fluid volume deficit r/t loss of blood and fluid after delivery, disturbed sleep
patterns r/t pain and anxiety of labor.
IV. POSTPARTUM DATA
Description of Head-to-toe assessment findings: Assessment completed 9-19-07. Patient was awake and
alert. Temperature - 36.8 °c, blood pressure - 102/70, pulse - 98, respirations - 18. Patient rated perineal
pain at 4 out of 10. Lungs were clear to auscultation bilaterally, respirations were even and unlabored.
Abdomen was soft and bowel sounds were normoactive. Breasts were soft and sore, patient was pumping.
Perineum was intact without ecchymosis or drainage. Fundus was firm and 2 fingerbreadths below the
umbilicus. Lochia amount was small and color was rubera. Patient was negative for edema and was
ambulating ad lib. Emotional reassurance was required.
Multiple Gestations
6
Postpartum Laboratory Data
TESTS
Urinalysis
NORMS
PATIENT RESULTS
Color – Yellow
Yellow
Appearance – Clear
Clear
Glucose – Negative
Negative
Ketones – Negative
Negative
Protein – Negative
Negative
Nitrites – Negative
Negative
pH – 5-8
WBC – 0-5
RBC – 0-3
Bacteria – Negative
ANALYSIS
6
↑
5.5
1.4
Negative
Postpartum medications: Milk of Magnesia, Morphine, Phenergan, Tylenol
Postpartum procedures & treatments: Second degree perineal laceration repaired with 2-0 Vicryl.
Nursing diagnoses for Postpartum: Ineffective coping r/t , role strain r/t first time mother with twins, risk
for infection r/t second degree perineal laceration, fluid volume imbalance r/t side effects of Magnesium
Sulfate, disturbed sleep patterns r/t anxiety over baby's health.
V. NEWBORN DATA
Newborn History
From the mother's record: Obstetric history
A.
Gravida 1 / 0202 P(T/P/A/L)
B.
Maternal Prenatal lab results:
1. Blood Type/Rh
O+
2.VDRL/RPR
Neg
3. Rubella
4. Group B Strep culture
Immune
Neg
Labor-description
C.
Labor process include any complications or concurrent medical problems: PTL, PPROM,
Twin 'B'- Breech, second degree laceration
D.
Length of labor: 11 hours
E.
Type of delivery (NSVD, forceps, vacuum extraction, Cesarean): Vaginal
F.
Analgesia, anesthesia: Spinal
G.
Newborn record:
1. Gestational Age: 28 4/7
A
B
2. Apgar scores: 1 min.
5
1
5 min.
7
6
10 min.
8
3. Birth weight:
2lb 9 oz
3lb 3oz
1170 gm
1455 gm
4. Length:
37 cm
36 cm
14.6 inch
14.2 inch
5. Gender:
Female
Male
Multiple Gestations
7
Nursing Diagnoses for Newborn: Ineffective fetal tissue perfusion r/t premature birth, pain r/t procedures
performed, risk for infection r/t low immunity and diminished skin integrity, impaired gas exchange r/t
immature lungs, disturbed sleep patterns r/t noise in the room, ineffective coping r/t mother's inability to
visit.