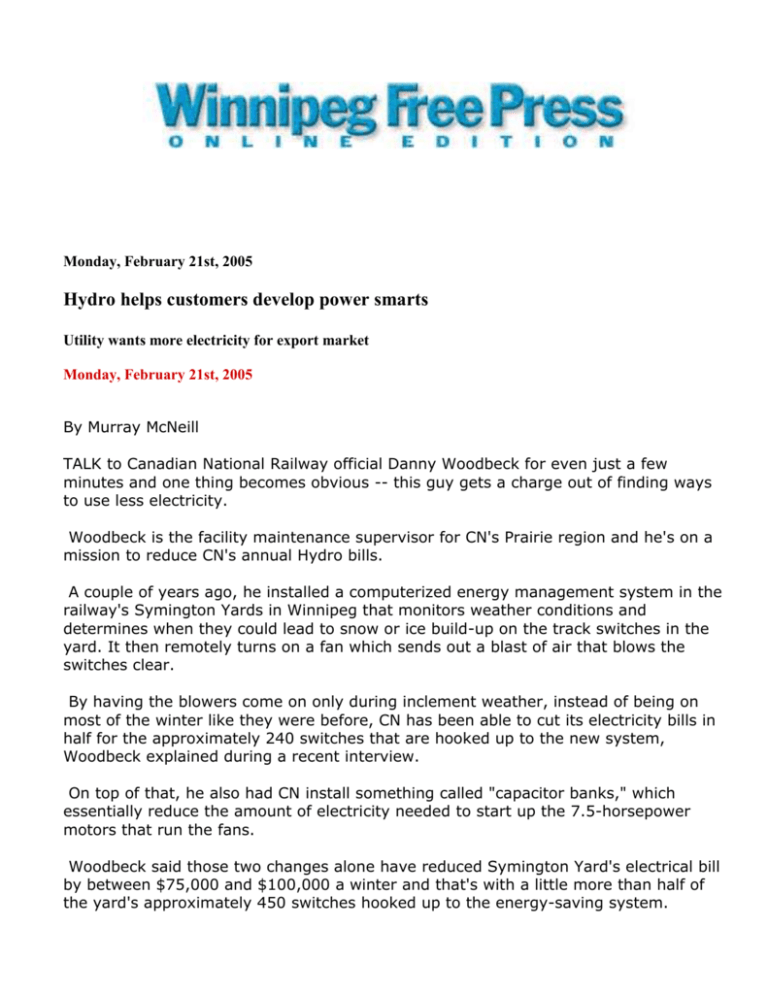 Monday, February 21st, 2005
Hydro helps customers develop power smarts
Utility wants more electricity for export market
Monday, February 21st, 2005
By Murray McNeill
TALK to Canadian National Railway official Danny Woodbeck for even just a few
minutes and one thing becomes obvious -- this guy gets a charge out of finding ways
to use less electricity.
Woodbeck is the facility maintenance supervisor for CN's Prairie region and he's on a
mission to reduce CN's annual Hydro bills.
A couple of years ago, he installed a computerized energy management system in the
railway's Symington Yards in Winnipeg that monitors weather conditions and
determines when they could lead to snow or ice build-up on the track switches in the
yard. It then remotely turns on a fan which sends out a blast of air that blows the
switches clear.
By having the blowers come on only during inclement weather, instead of being on
most of the winter like they were before, CN has been able to cut its electricity bills in
half for the approximately 240 switches that are hooked up to the new system,
Woodbeck explained during a recent interview.
On top of that, he also had CN install something called "capacitor banks," which
essentially reduce the amount of electricity needed to start up the 7.5-horsepower
motors that run the fans.
Woodbeck said those two changes alone have reduced Symington Yard's electrical bill
by between $75,000 and $100,000 a winter and that's with a little more than half of
the yard's approximately 450 switches hooked up to the energy-saving system.
"The savings would be in the millions if we did this in all of our yards across the
country," he eagerly explained. "It's pretty exciting, actually."
That kind of unbridled enthusiasm for saving energy is music to the ears of Manitoba
Hydro officials like Gerry Rose, the utility's vice-president of service and marketing.
That's because Manitoba residents and businesses have been using record amounts of
electricity on some of the colder days this winter and that's bad news for Manitoba
Hydro because it means it has less surplus power to sell in the more lucrative export
markets.
Because it wants to export as much power as it can, Hydro goes out of its way to
encourage local customers to take steps to reduce electrical consumption.
Rose said the number of commercial construction and lighting projects that have
been completed under Hydro's Power Smart Programs has increased dramatically in
recent years, jumping from 158 in the 2002/2001 fiscal year to 678 in the first nine
months of 2004/2005.
Assessment
For some tips on things they can do to reduce their electricity consumption, Rose said
Hydro customers can visit the utility's website at www.hydro.mb.ca. However, if they
want to do something more substantial, he suggests they contact Hydro about having
an assessment done on their building to identify where savings can be achieved.
That's what the owners of the Atherton Place apartment on Langside Street did when
they were thinking of installing new windows and insulation. Landlord Mario Lopes
said it paid big dividends because Hydro provided other suggestions they never even
thought of, including installing more energy-efficient interior and exterior lights,
installing power-saving plugs in all their parking lot outlets and installing a photo cell
that turns the exterior lights on at dusk and off at dawn.
Lopes said they were also encouraged to take advantage of the various incentive
programs Hydro offers to help reduce the costs of upgrades, so they were able to save
money as well.
Lozes said it's difficult to say how much the block's owners have saved in electricity
costs because the block was only about half full when they began making the
upgrades in 2003 and now its full.
However, he noted the building's tenants also have benefitted from the changes
because the building is electrically heated and tenants pay for their own heating.
Having energy efficient windows in each suite and new energy-efficient appliances has
reduced the hydro bill for a two-bedroom suit to about $75 a month from between
$100 and $150 a month before the upgrades were made, he added.
Lopes said the building's owners are so pleased with the results, they're now
undertaking similar cost-saving initiatives at several other apartment blocks they own.
The blower-control project, which earned CN and Manitoba Hydro an honourable
mention at Canada's 2004 Energy Efficiency Awards, is also just the start for
Woodbeck.
murray.mcneill@freepress.mb.ca
Tips to cut down on electrical bills
Here are 10 things homeowners can do to save on their electrical bills:
1. Install motion sensors on outdoor security lighting fixtures.
2. Adjust, repair or replace weather-stripping on doors and windows.
3. Install air sealing gasket kits on all (interior and exterior) electrical wall outlets and
switches.
4. Caulk or seal around all penetrations into the exterior walls of your home.
5. Install an adjustable timer on your car plug outlet for your block heater and interior
car warmer.
6. Replace all high-flow-rate showerheads with energy-efficient showerheads.
7. Change high-usage (greater than five hours per day) interior lights to fluorescent
fixtures.
8. Operate the dishwasher and clothes washer with full loads only.
9. Set your thermostat down a few degrees when you are away from home during the
heating season.
10. Change or clean your furnace filters at least once a month.
-- Source: Manitoba Hydro
© 2005 Winnipeg Free Press. All Rights Reserved.