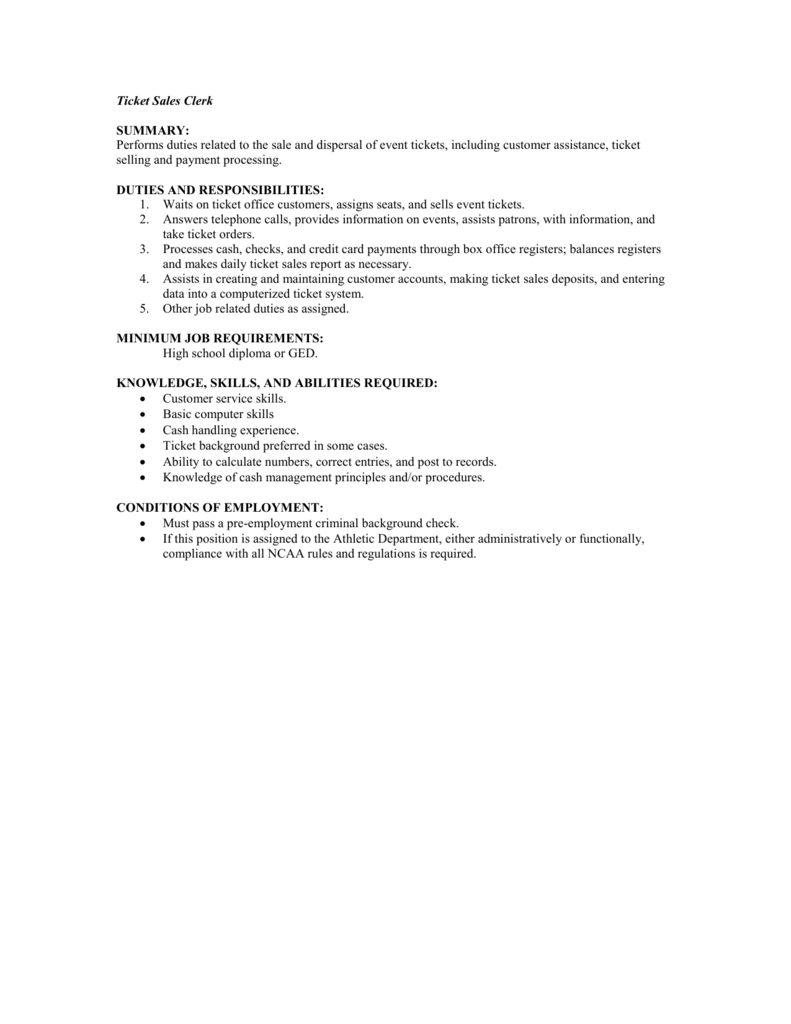 Ticket Sales Clerk
SUMMARY:
Performs duties related to the sale and dispersal of event tickets, including customer assistance, ticket
selling and payment processing.
DUTIES AND RESPONSIBILITIES:
1. Waits on ticket office customers, assigns seats, and sells event tickets.
2. Answers telephone calls, provides information on events, assists patrons, with information, and
take ticket orders.
3. Processes cash, checks, and credit card payments through box office registers; balances registers
and makes daily ticket sales report as necessary.
4. Assists in creating and maintaining customer accounts, making ticket sales deposits, and entering
data into a computerized ticket system.
5. Other job related duties as assigned.
MINIMUM JOB REQUIREMENTS:
High school diploma or GED.
KNOWLEDGE, SKILLS, AND ABILITIES REQUIRED:
 Customer service skills.
 Basic computer skills
 Cash handling experience.
 Ticket background preferred in some cases.
 Ability to calculate numbers, correct entries, and post to records.
 Knowledge of cash management principles and/or procedures.
CONDITIONS OF EMPLOYMENT:
 Must pass a pre-employment criminal background check.
 If this position is assigned to the Athletic Department, either administratively or functionally,
compliance with all NCAA rules and regulations is required.