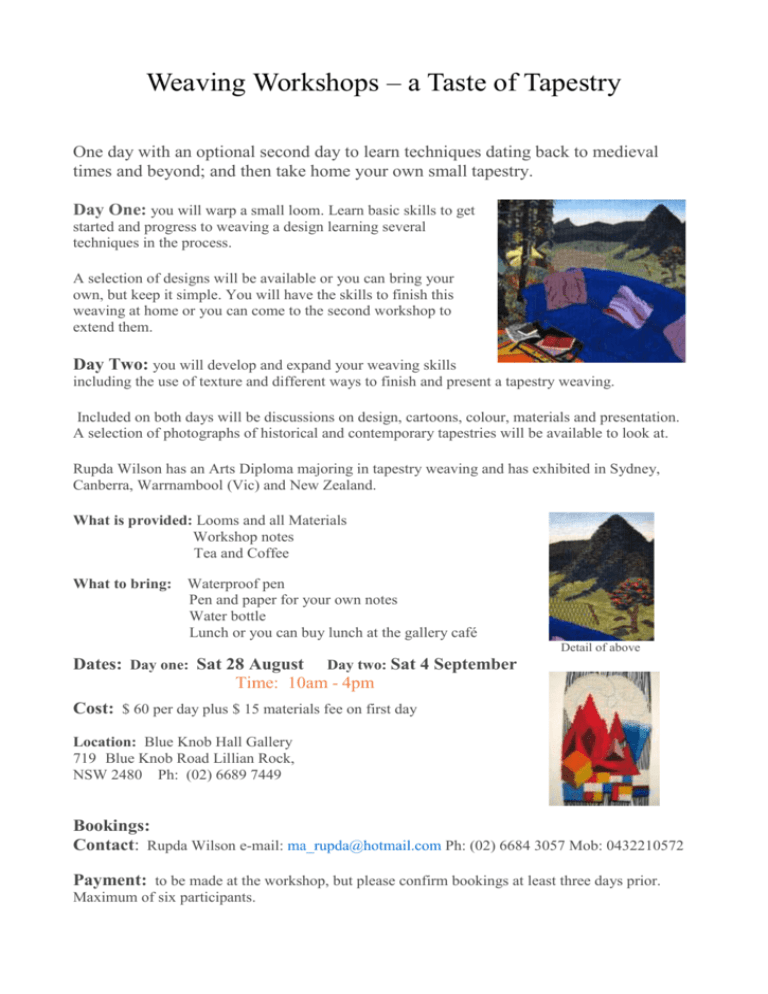 Weaving Workshops – a Taste of Tapestry
One day with an optional second day to learn techniques dating back to medieval
times and beyond; and then take home your own small tapestry.
Day One: you will warp a small loom. Learn basic skills to get
started and progress to weaving a design learning several
techniques in the process.
A selection of designs will be available or you can bring your
own, but keep it simple. You will have the skills to finish this
weaving at home or you can come to the second workshop to
extend them.
Day Two: you will develop and expand your weaving skills
including the use of texture and different ways to finish and present a tapestry weaving.
Included on both days will be discussions on design, cartoons, colour, materials and presentation.
A selection of photographs of historical and contemporary tapestries will be available to look at.
Rupda Wilson has an Arts Diploma majoring in tapestry weaving and has exhibited in Sydney,
Canberra, Warrnambool (Vic) and New Zealand.
What is provided: Looms and all Materials
Workshop notes
Tea and Coffee
What to bring:
Waterproof pen
Pen and paper for your own notes
Water bottle
Lunch or you can buy lunch at the gallery café
Detail of above
Dates: Day one: Sat 28 August Day two: Sat 4 September
Time: 10am - 4pm
Cost: $ 60 per day plus $ 15 materials fee on first day
Location: Blue Knob Hall Gallery
719 Blue Knob Road Lillian Rock,
NSW 2480 Ph: (02) 6689 7449
Bookings:
Contact: Rupda Wilson e-mail: ma_rupda@hotmail.com Ph: (02) 6684 3057 Mob: 0432210572
Payment: to be made at the workshop, but please confirm bookings at least three days prior.
Maximum of six participants.