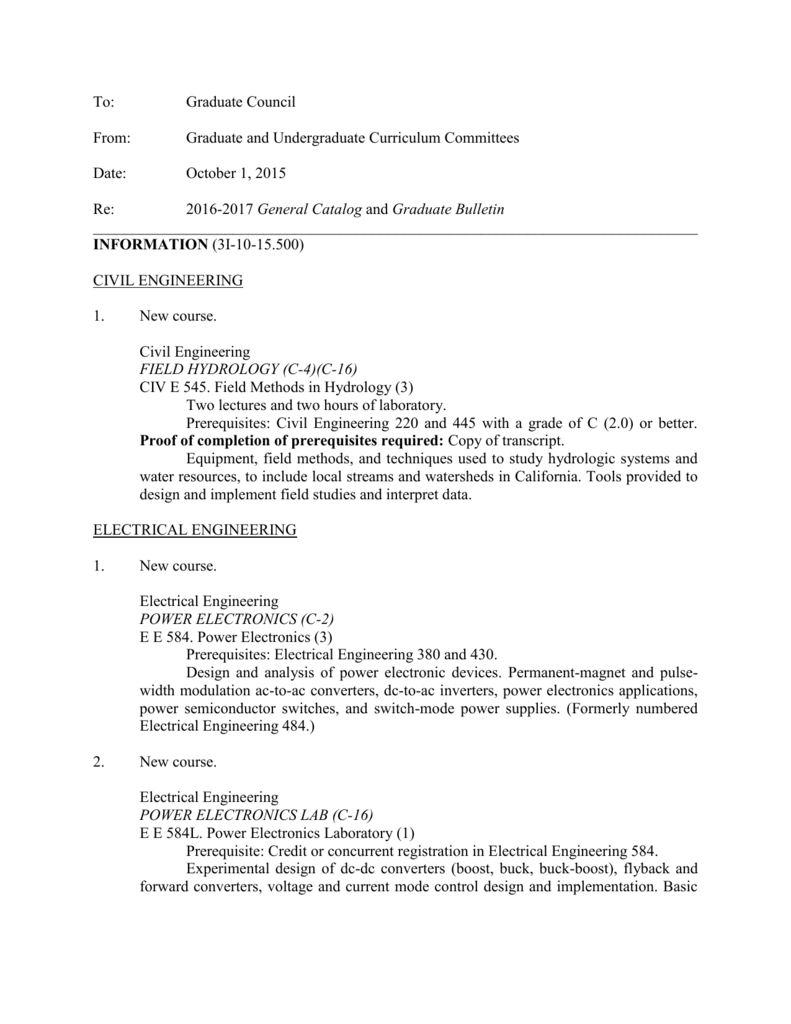 To:
Graduate Council
From:
Graduate and Undergraduate Curriculum Committees
Date:
October 1, 2015
Re:
2016-2017 General Catalog and Graduate Bulletin
______________________________________________________________________________
INFORMATION (3I-10-15.500)
CIVIL ENGINEERING
1.
New course.
Civil Engineering
FIELD HYDROLOGY (C-4)(C-16)
CIV E 545. Field Methods in Hydrology (3)
Two lectures and two hours of laboratory.
Prerequisites: Civil Engineering 220 and 445 with a grade of C (2.0) or better.
Proof of completion of prerequisites required: Copy of transcript.
Equipment, field methods, and techniques used to study hydrologic systems and
water resources, to include local streams and watersheds in California. Tools provided to
design and implement field studies and interpret data.
ELECTRICAL ENGINEERING
1.
New course.
Electrical Engineering
POWER ELECTRONICS (C-2)
E E 584. Power Electronics (3)
Prerequisites: Electrical Engineering 380 and 430.
Design and analysis of power electronic devices. Permanent-magnet and pulsewidth modulation ac-to-ac converters, dc-to-ac inverters, power electronics applications,
power semiconductor switches, and switch-mode power supplies. (Formerly numbered
Electrical Engineering 484.)
2.
New course.
Electrical Engineering
POWER ELECTRONICS LAB (C-16)
E E 584L. Power Electronics Laboratory (1)
Prerequisite: Credit or concurrent registration in Electrical Engineering 584.
Experimental design of dc-dc converters (boost, buck, buck-boost), flyback and
forward converters, voltage and current mode control design and implementation. Basic
2
photovoltaics and maximum-power-point-tracking (MPPT) design and battery charge
control using switched-mode dc-dc converters.
SOCIAL WORK
1.
New course.
Social Work
SEM COMM ORG & PROB SLV (C-5)
SWORK 558. Seminar in Community Organization and Problem Solving (3)
Prerequisite: Credit or concurrent registration in Social Work 489A, 489B, or 650.
Community change, consensus organizing model, environmental social work,
problem solving, and strategies for serving socioeconomically under-served communities
for future community organizers and human services administrators.
WOMEN'S STUDIES
1.
New course.
Women's Studies
LOCAL FEM ACTVSM ORGS (C-2)
WMNST 585. Local Feminist Activism and Organizations (3)
Prerequisite: Three upper division units in women's studies.
Links scholarly knowledge about feminist activism and non-profit organizations
serving women to specific information about San Diego area. Entering workforce
preparation and activism to include economic justice, LGBTQ issues, reproductive rights
and justice, sexual violence.
Report prepared and respectfully submitted by Curriculum Services on behalf of the Graduate
and Undergraduate Curriculum Committees.