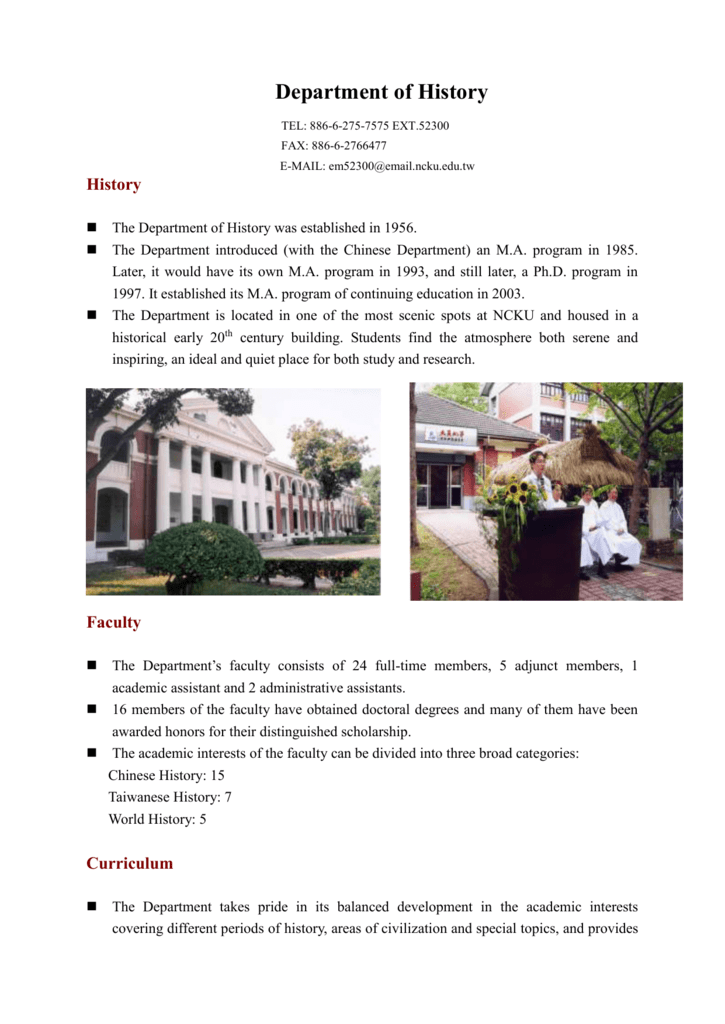 Department of History
TEL: 886-6-275-7575 EXT.52300
FAX: 886-6-2766477
E-MAIL: [email protected]
History



The Department of History was established in 1956.
The Department introduced (with the Chinese Department) an M.A. program in 1985.
Later, it would have its own M.A. program in 1993, and still later, a Ph.D. program in
1997. It established its M.A. program of continuing education in 2003.
The Department is located in one of the most scenic spots at NCKU and housed in a
historical early 20th century building. Students find the atmosphere both serene and
inspiring, an ideal and quiet place for both study and research.
Faculty



The Department's faculty consists of 24 full-time members, 5 adjunct members, 1
academic assistant and 2 administrative assistants.
16 members of the faculty have obtained doctoral degrees and many of them have been
awarded honors for their distinguished scholarship.
The academic interests of the faculty can be divided into three broad categories:
Chinese History: 15
Taiwanese History: 7
World History: 5
Curriculum

The Department takes pride in its balanced development in the academic interests
covering different periods of history, areas of civilization and special topics, and provides


students with a wide range of courses to choose between.
All faculty members supervise postgraduate studies in topics of different natures. Its
traditional excellence in the teaching of Taiwanese history has recently been balanced by
the no less distinguished performance in other areas.
Students will find the courses intellectually stimulating. In addition they will also find,
and be asked to attend, guest lectures on topics related to the most recent developments in
historical study.
Research



As the Department is located in the ancient city of Tainan, a location with a
well-established humanistic tradition and a great number of historical monuments it is
well positioned to be a center for the regional study of Taiwan. A knowledge of Taiwan's
own past nowadays is an essential part of school and university curriculum.
The Department is proud of its excellent studies in Chinese history, especially histories of
the Ming-Chin dynasties and their overseas activities. This has placed the study of
Taiwan's past in a global compass.
This is completed by the new development of Western history as an independent
discipline. We have created the only Data Center of Western History in Taiwan. We have
held the first academic conference on Western history in this country. The Department is
considering a strategic co-operation with the Foreign Language Department to create a
more comprehensive approach to Western history in terms of cultural study.
Future Development


The Department will continue its academic excellence by a strategic utilization of
resources to support different researches in an interdisciplinary orientation through
funding and liaison with scholars, home and abroad.
For the benefit of the students, the Department has laid an increasing stress on the more
pragmatic side of scholarship and offered courses on subjects such as the management
and restoration of ancient monuments, and journalism. This arrangement will provide
students with an added competitiveness in the job market.

As history is widely recognized as an academic discipline vital to
the society as a whole, and the Department's newly added M.A.
program of continuing education is aimed to admit more students,
targeting at school teachers in particular. It tries to render the results
of academic research in a more approachable way. So as a
successful academic institute, the Department hopes to be
academically independent and also socially responsible.