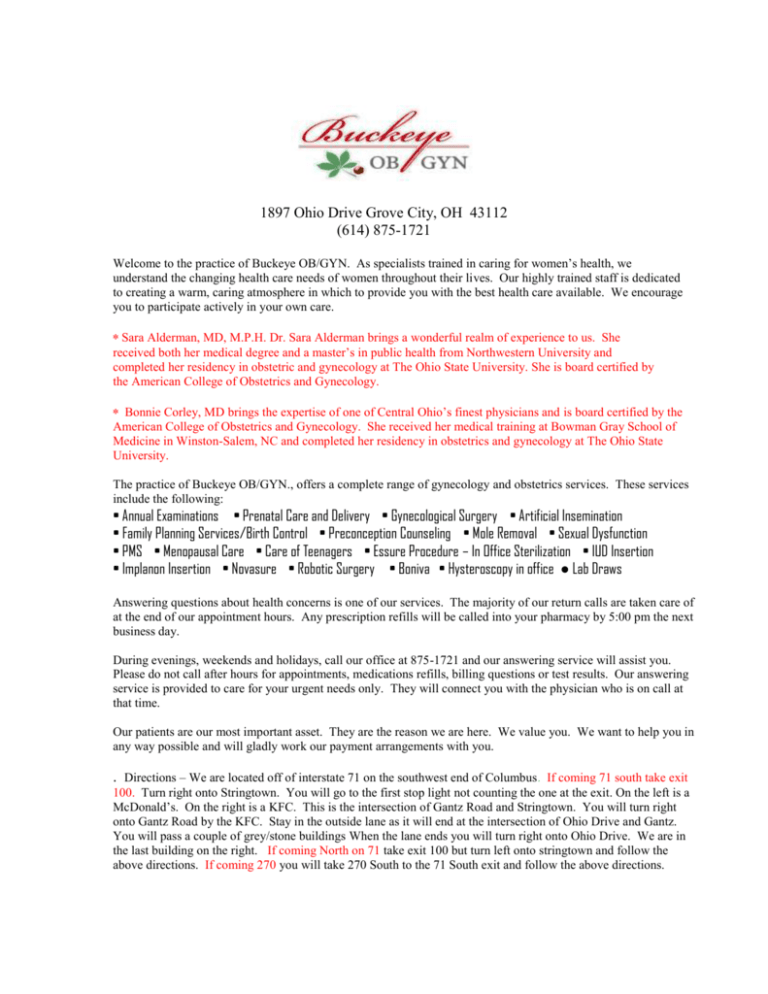 1897 Ohio Drive Grove City, OH 43112
(614) 875-1721
Welcome to the practice of Buckeye OB/GYN. As specialists trained in caring for women's health, we
understand the changing health care needs of women throughout their lives. Our highly trained staff is dedicated
to creating a warm, caring atmosphere in which to provide you with the best health care available. We encourage
you to participate actively in your own care.
‫ ٭‬Sara Alderman, MD, M.P.H. Dr. Sara Alderman brings a wonderful realm of experience to us. She
received both her medical degree and a master's in public health from Northwestern University and
completed her residency in obstetric and gynecology at The Ohio State University. She is board certified by
the American College of Obstetrics and Gynecology.
‫ ٭‬Bonnie Corley, MD brings the expertise of one of Central Ohio's finest physicians and is board certified by the
American College of Obstetrics and Gynecology. She received her medical training at Bowman Gray School of
Medicine in Winston-Salem, NC and completed her residency in obstetrics and gynecology at The Ohio State
University.
The practice of Buckeye OB/GYN., offers a complete range of gynecology and obstetrics services. These services
include the following:
• Annual Examinations • Prenatal Care and Delivery • Gynecological Surgery • Artificial Insemination
• Family Planning Services/Birth Control • Preconception Counseling • Mole Removal • Sexual Dysfunction
• PMS • Menopausal Care • Care of Teenagers • Essure Procedure – In Office Sterilization • IUD Insertion
• Implanon Insertion • Novasure • Robotic Surgery • Boniva • Hysteroscopy in office ● Lab Draws
Answering questions about health concerns is one of our services. The majority of our return calls are taken care of
at the end of our appointment hours. Any prescription refills will be called into your pharmacy by 5:00 pm the next
business day.
During evenings, weekends and holidays, call our office at 875-1721 and our answering service will assist you.
Please do not call after hours for appointments, medications refills, billing questions or test results. Our answering
service is provided to care for your urgent needs only. They will connect you with the physician who is on call at
that time.
Our patients are our most important asset. They are the reason we are here. We value you. We want to help you in
any way possible and will gladly work our payment arrangements with you.
. Directions – We are located off of interstate 71 on the southwest end of Columbus. If coming 71 south take exit
100. Turn right onto Stringtown. You will go to the first stop light not counting the one at the exit. On the left is a
McDonald's. On the right is a KFC. This is the intersection of Gantz Road and Stringtown. You will turn right
onto Gantz Road by the KFC. Stay in the outside lane as it will end at the intersection of Ohio Drive and Gantz.
You will pass a couple of grey/stone buildings When the lane ends you will turn right onto Ohio Drive. We are in
the last building on the right. If coming North on 71 take exit 100 but turn left onto stringtown and follow the
above directions. If coming 270 you will take 270 South to the 71 South exit and follow the above directions.