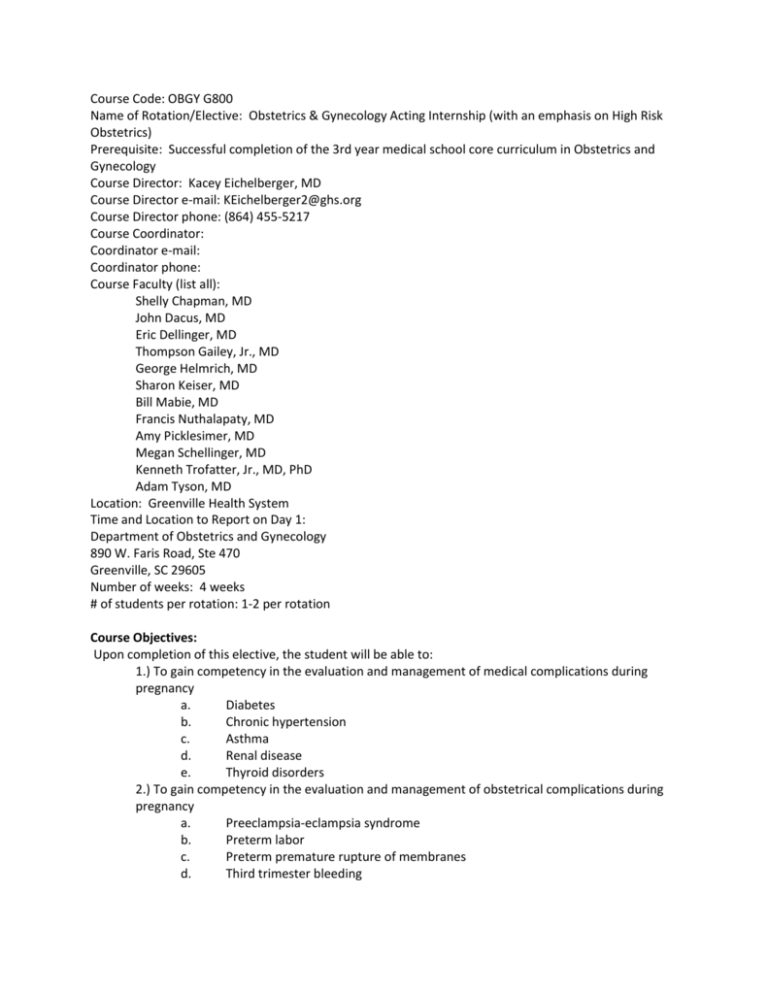 Course Code: OBGY G800
Name of Rotation/Elective: Obstetrics & Gynecology Acting Internship (with an emphasis on High Risk
Obstetrics)
Prerequisite: Successful completion of the 3rd year medical school core curriculum in Obstetrics and
Gynecology
Course Director: Kacey Eichelberger, MD
Course Director e-mail: [email protected]
Course Director phone: (864) 455-5217
Course Coordinator:
Coordinator e-mail:
Coordinator phone:
Course Faculty (list all):
Shelly Chapman, MD
John Dacus, MD
Eric Dellinger, MD
Thompson Gailey, Jr., MD
George Helmrich, MD
Sharon Keiser, MD
Bill Mabie, MD
Francis Nuthalapaty, MD
Amy Picklesimer, MD
Megan Schellinger, MD
Kenneth Trofatter, Jr., MD, PhD
Adam Tyson, MD
Location: Greenville Health System
Time and Location to Report on Day 1:
Department of Obstetrics and Gynecology
890 W. Faris Road, Ste 470
Greenville, SC 29605
Number of weeks: 4 weeks
# of students per rotation: 1-2 per rotation
Course Objectives:
Upon completion of this elective, the student will be able to:
1.) To gain competency in the evaluation and management of medical complications during
pregnancy
a.
Diabetes
b.
Chronic hypertension
c.
Asthma
d.
Renal disease
e.
Thyroid disorders
2.) To gain competency in the evaluation and management of obstetrical complications during
pregnancy
a.
Preeclampsia-eclampsia syndrome
b.
Preterm labor
c.
Preterm premature rupture of membranes
d.
Third trimester bleeding
3.) To gain competency in the evaluation and management of fetal complications during
pregnancy
a.
Fetal growth abnormalities
b.
Isoimmunization
c.
Congenital infections
Course Description:
This Acting Internship is offered to students who have satisfactorily completed their third year clinical
rotations. The purpose of this course is to provide the learner with an intensive exposure to high-risk
obstetrical care in an inpatient setting. Students will be exposed to a breadth of medical and obstetrical
complications and fetal conditions. The student will be expected to function at the level of a PGY-1
resident, participating in clinical experiences in the Antepartum Ward and Labor and Delivery, as well as
in the outpatient OB clinic under the direct supervision of resident and attending MFM physicians.