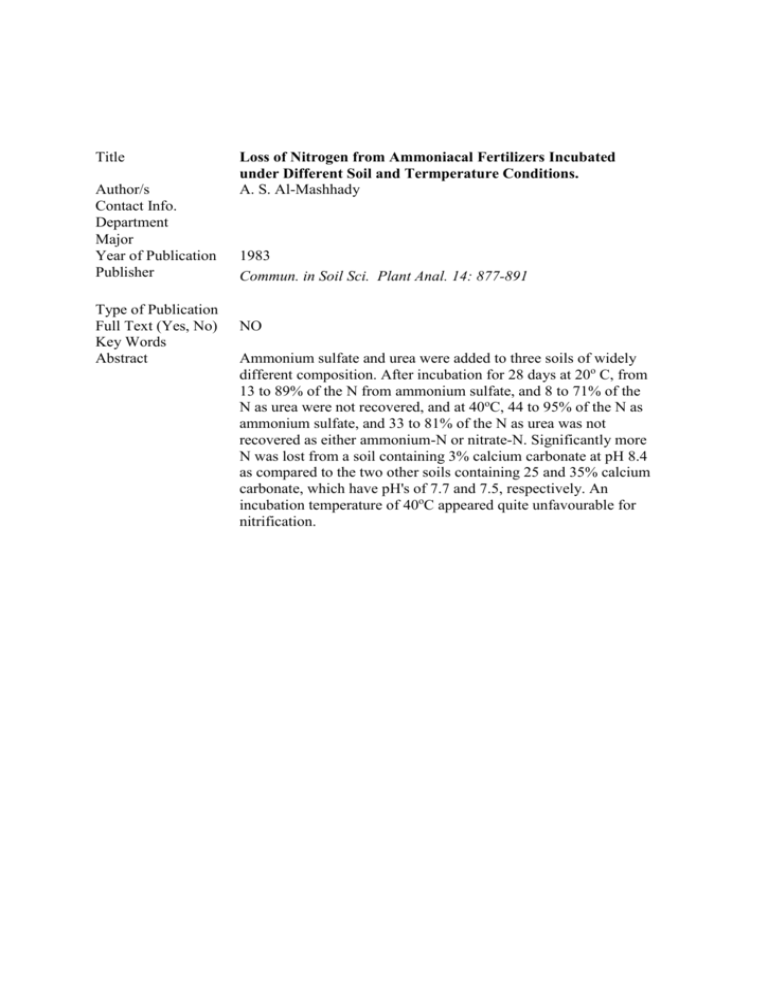 Title
Author/s
Contact Info.
Department
Major
Year of Publication
Publisher
Type of Publication
Full Text (Yes, No)
Key Words
Abstract
Loss of Nitrogen from Ammoniacal Fertilizers Incubated
under Different Soil and Termperature Conditions.
A. S. Al-Mashhady
1983
Commun. in Soil Sci. Plant Anal. 14: 877-891
NO
Ammonium sulfate and urea were added to three soils of widely
different composition. After incubation for 28 days at 20o C, from
13 to 89% of the N from ammonium sulfate, and 8 to 71% of the
N as urea were not recovered, and at 40oC, 44 to 95% of the N as
ammonium sulfate, and 33 to 81% of the N as urea was not
recovered as either ammonium-N or nitrate-N. Significantly more
N was lost from a soil containing 3% calcium carbonate at pH 8.4
as compared to the two other soils containing 25 and 35% calcium
carbonate, which have pH's of 7.7 and 7.5, respectively. An
incubation temperature of 40oC appeared quite unfavourable for
nitrification.