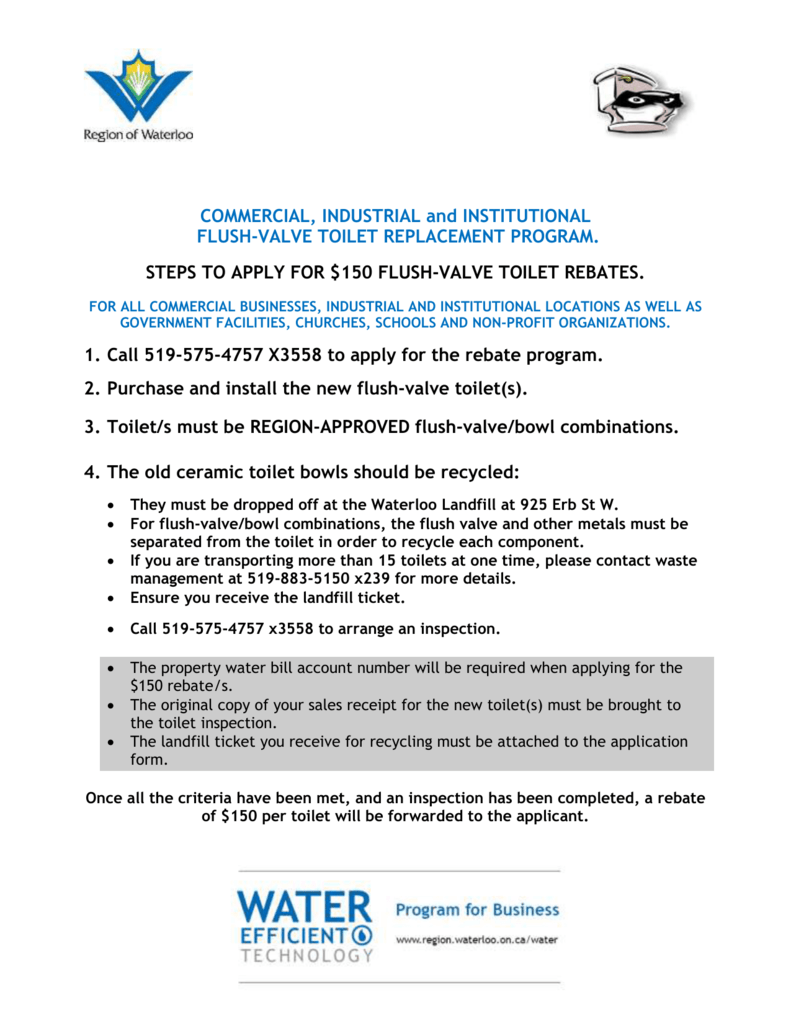 COMMERCIAL, INDUSTRIAL and INSTITUTIONAL
FLUSH-VALVE TOILET REPLACEMENT PROGRAM.
STEPS TO APPLY FOR $150 FLUSH-VALVE TOILET REBATES.
FOR ALL COMMERCIAL BUSINESSES, INDUSTRIAL AND INSTITUTIONAL LOCATIONS AS WELL AS
GOVERNMENT FACILITIES, CHURCHES, SCHOOLS AND NON-PROFIT ORGANIZATIONS.
1. Call 519-575-4757 X3558 to apply for the rebate program.
2. Purchase and install the new flush-valve toilet(s).
3. Toilet/s must be REGION-APPROVED flush-valve/bowl combinations.
4. The old ceramic toilet bowls should be recycled:



They must be dropped off at the Waterloo Landfill at 925 Erb St W.
For flush-valve/bowl combinations, the flush valve and other metals must be
separated from the toilet in order to recycle each component.
If you are transporting more than 15 toilets at one time, please contact waste
management at 519-883-5150 x239 for more details.
Ensure you receive the landfill ticket.

Call 519-575-4757 x3558 to arrange an inspection.

The property water bill account number will be required when applying for the
$150 rebate/s.
The original copy of your sales receipt for the new toilet(s) must be brought to
the toilet inspection.
The landfill ticket you receive for recycling must be attached to the application
form.



Once all the criteria have been met, and an inspection has been completed, a rebate
of $150 per toilet will be forwarded to the applicant.