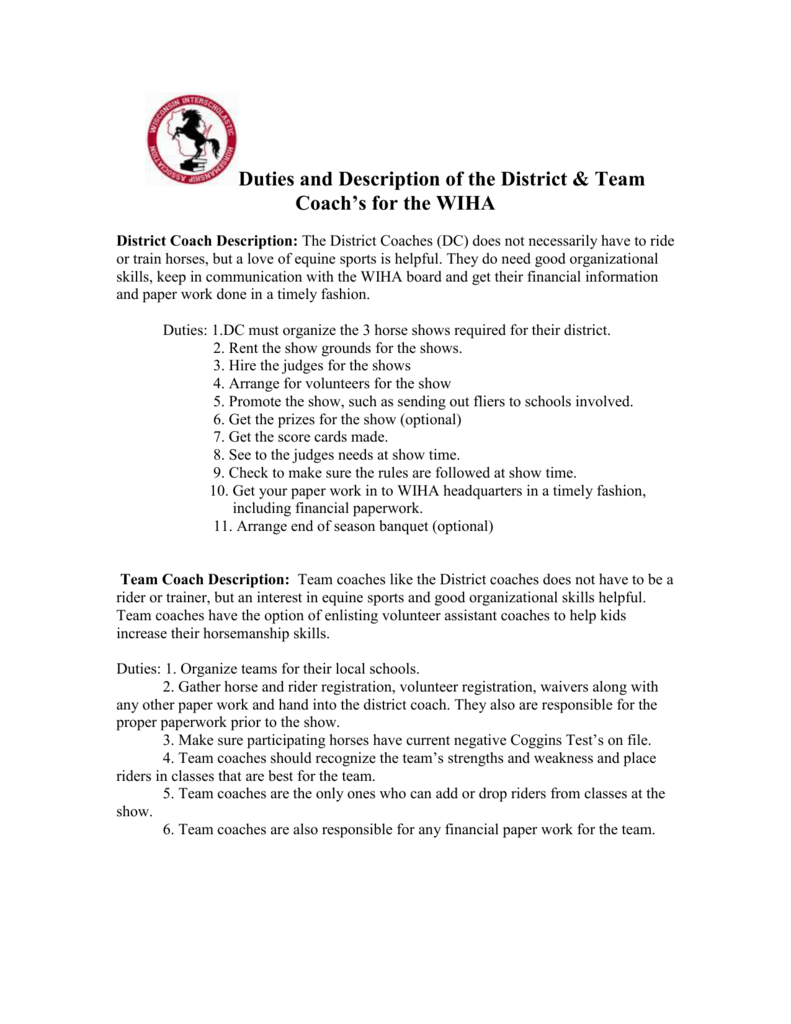 Duties and Description of the District & Team
Coach's for the WIHA
District Coach Description: The District Coaches (DC) does not necessarily have to ride
or train horses, but a love of equine sports is helpful. They do need good organizational
skills, keep in communication with the WIHA board and get their financial information
and paper work done in a timely fashion.
Duties: 1.DC must organize the 3 horse shows required for their district.
2. Rent the show grounds for the shows.
3. Hire the judges for the shows
4. Arrange for volunteers for the show
5. Promote the show, such as sending out fliers to schools involved.
6. Get the prizes for the show (optional)
7. Get the score cards made.
8. See to the judges needs at show time.
9. Check to make sure the rules are followed at show time.
10. Get your paper work in to WIHA headquarters in a timely fashion,
including financial paperwork.
11. Arrange end of season banquet (optional)
Team Coach Description: Team coaches like the District coaches does not have to be a
rider or trainer, but an interest in equine sports and good organizational skills helpful.
Team coaches have the option of enlisting volunteer assistant coaches to help kids
increase their horsemanship skills.
Duties: 1. Organize teams for their local schools.
2. Gather horse and rider registration, volunteer registration, waivers along with
any other paper work and hand into the district coach. They also are responsible for the
proper paperwork prior to the show.
3. Make sure participating horses have current negative Coggins Test's on file.
4. Team coaches should recognize the team's strengths and weakness and place
riders in classes that are best for the team.
5. Team coaches are the only ones who can add or drop riders from classes at the
show.
6. Team coaches are also responsible for any financial paper work for the team.