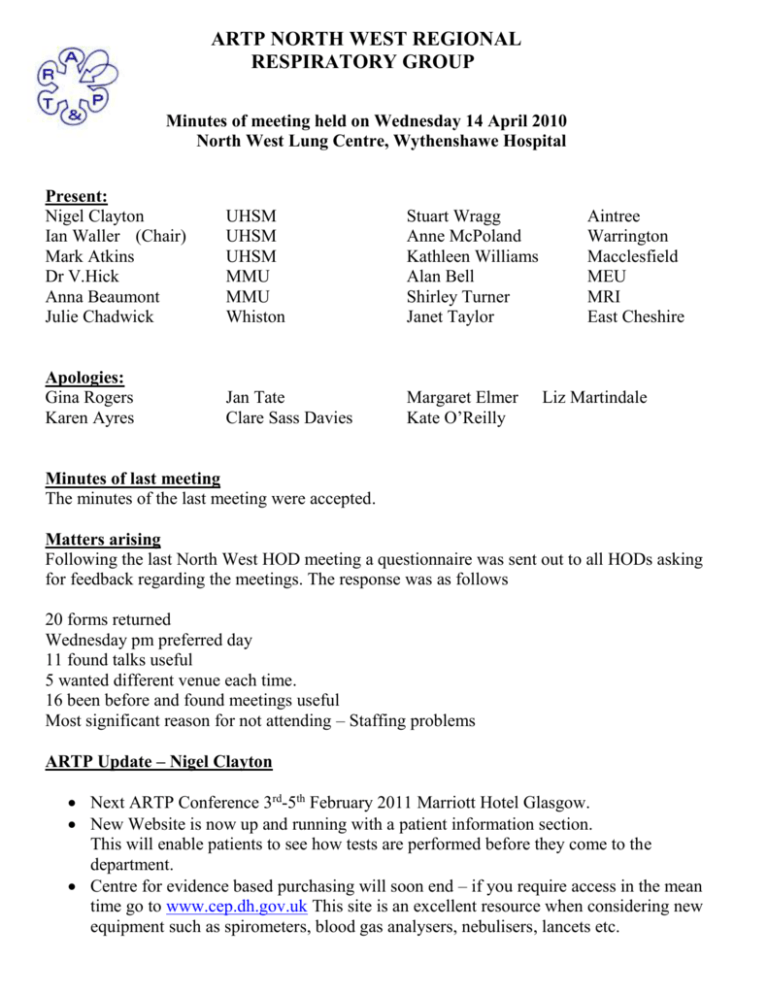 ARTP NORTH WEST REGIONAL
RESPIRATORY GROUP
Minutes of meeting held on Wednesday 14 April 2010
North West Lung Centre, Wythenshawe Hospital
Present:
Nigel Clayton
Ian Waller (Chair)
Mark Atkins
Dr V.Hick
Anna Beaumont
Julie Chadwick
UHSM
UHSM
UHSM
MMU
MMU
Whiston
Stuart Wragg
Anne McPoland
Kathleen Williams
Alan Bell
Shirley Turner
Janet Taylor
Apologies:
Gina Rogers
Karen Ayres
Jan Tate
Clare Sass Davies
Margaret Elmer
Kate O'Reilly
Aintree
Warrington
Macclesfield
MEU
MRI
East Cheshire
Liz Martindale
Minutes of last meeting
The minutes of the last meeting were accepted.
Matters arising
Following the last North West HOD meeting a questionnaire was sent out to all HODs asking
for feedback regarding the meetings. The response was as follows
20 forms returned
Wednesday pm preferred day
11 found talks useful
5 wanted different venue each time.
16 been before and found meetings useful
Most significant reason for not attending – Staffing problems
ARTP Update – Nigel Clayton
 Next ARTP Conference 3rd-5th February 2011 Marriott Hotel Glasgow.
 New Website is now up and running with a patient information section.
This will enable patients to see how tests are performed before they come to the
department.
 Centre for evidence based purchasing will soon end – if you require access in the mean
time go to www.cep.dh.gov.uk This site is an excellent resource when considering new
equipment such as spirometers, blood gas analysers, nebulisers, lancets etc.
 RCCP Registration fee has increased to £40. ARTP has expressed their concern to the
RCCP. What are members benefits from being on the register?
 Royal Society of Medicine is running a course this Monday 19th April which may be of
interest for some. You can register on the day at the Education and Research Department
9.30 am – 4.30pm, cost £25. Please see attachment
 Spirometry courses – are there any volunteers to run these courses as they are a good way
to raise funds for your departments. In turn this will enable you to send staff on courses
or even conferences in the UK and further a field. This will become important for
everyone as there will be increased pressure on training budgets. For more information
contact Nigel.
Presentation
Specialised North West Commissioning Team
for Sleep related Breathing Disorders
-
Mark Atkins
 Please read Marks' attachment if you have a Sleep Service or are looking to provide a
Sleep Service as there is an important date which should not be missed - 29th April 2010.
Presentation
Modernising Scientific Careers/MSC
-
Dr Verity Hick
 Anna Beaumont – New course Administrator for Verity Hick – Welcome Anna.
 Please read for further details on Presentation attached.
 SHA document to be sent out end of April by Government.
 Part time degree will run for final year in September.
 Government are stopping the funding of 2nd Degrees – cost for the student will therefore
be in the region of £10-12,000 if they wish to undertake another degree.
 MMU intend to offer the new full time degree commencing September 2010.
 Associate Lecturers in Respiratory Physiology are required for the new MSC degree –
Volunteers to deliver content were kindly requested to contact Verity Hick.
 Professional Practise Group at university will monitor student attendance .
 Student is required to fulfil attendance of 80% or more. Student absence needs to be
reported to Anna Beaumont a.beaumont@mmu.ac.uk .by the WBA. This will help Anna
monitor the students movements more closely.
 Each Hospital/Trust will have a Practical Educational Fascilitator (PEF). They will help
you with any education issue. These PEF'S are normally Nurses (see email attachment).
DISCUSSION
Verity reported that this year's UCAS applicants are the most enthusiastic / qualified we have
interviewed to date. To maintain Clinical Physiology services in the North West it is vital that
we secure as many trainee positions as possible. Nigel stated that it is important that all
respiratory departments should consider taking such a student as we do not wish to turn away
enthusiastic applicants.
Verity – When students find out about Respiratory Clinical Physiology they appear to be keen
to go into Respiratory rather than Cardiology.
Student Placements
Shirley Turner – would like to accept a student but is unable to this year. – thank you Shirley.
Stuart Wragg – has confirmed he will take on another student – thank you Stuart
Julie Chadwick – Julie with speak to her head of department – thank you Julie
Verity stated that she will need to know the names of all departments willing to take a
student by next week (21 April). Please contact her directly at v.hick@mmu.ac.uk
Nigel





- Positive reasons for taking on students
Help perform daily tests
Will ultimately allow us to maintain the workforce
No more staff shortages
No salary costs
Under MSC the first year will only require the student to spend 10 weeks in the
workplace. During this time they will experience Cardiology, Respiratory and Sleep
departments before deciding on their specialism (Cardiology or Respiratory + Sleep), in
years 2 and 3. This is the ideal time for new departments to consider a student.
 Training new members of staff ultimately improves the knowledge and skills of staff
providing the training
Stuart stated that he found the hard work spent training in the initial months is well worth it as
the student soon becomes useful in providing many of the basic tests.
MSC
Nigel – will students be trained to a lower level with new MSC.
Verity stated that the professional body exams will not continue under MSC
Nigel – Limited Number of Sleep labs at present could be an issue for MSC as this is covered in
the new syllabus
Mark – Are students required to attend sleep module
Verity – Students are to attend sleep modules
Mark ? Qualifications needed for Associate Lecturers.
Verity will confirm.
Any other business
Julie Chadwick had concerns about the way the forum was being used by senior ARTP
members. Nigel stated that this will be fed back to ARTP since they are copied in to the minutes
of the meeting.
I would like to say thanks to all those who attended today's meeting.
Ian Waller
Specialist Clinical Physiologist / ARTP NorthWest Lead.