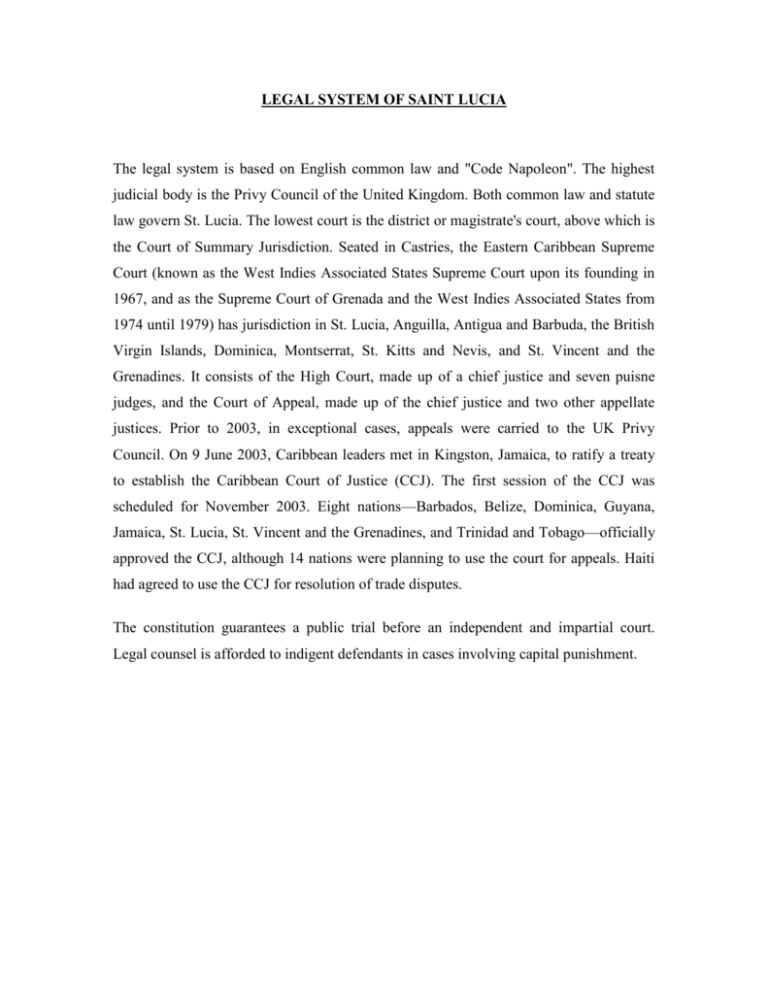 LEGAL SYSTEM OF SAINT LUCIA
The legal system is based on English common law and "Code Napoleon". The highest
judicial body is the Privy Council of the United Kingdom. Both common law and statute
law govern St. Lucia. The lowest court is the district or magistrate's court, above which is
the Court of Summary Jurisdiction. Seated in Castries, the Eastern Caribbean Supreme
Court (known as the West Indies Associated States Supreme Court upon its founding in
1967, and as the Supreme Court of Grenada and the West Indies Associated States from
1974 until 1979) has jurisdiction in St. Lucia, Anguilla, Antigua and Barbuda, the British
Virgin Islands, Dominica, Montserrat, St. Kitts and Nevis, and St. Vincent and the
Grenadines. It consists of the High Court, made up of a chief justice and seven puisne
judges, and the Court of Appeal, made up of the chief justice and two other appellate
justices. Prior to 2003, in exceptional cases, appeals were carried to the UK Privy
Council. On 9 June 2003, Caribbean leaders met in Kingston, Jamaica, to ratify a treaty
to establish the Caribbean Court of Justice (CCJ). The first session of the CCJ was
scheduled for November 2003. Eight nations—Barbados, Belize, Dominica, Guyana,
Jamaica, St. Lucia, St. Vincent and the Grenadines, and Trinidad and Tobago—officially
approved the CCJ, although 14 nations were planning to use the court for appeals. Haiti
had agreed to use the CCJ for resolution of trade disputes.
The constitution guarantees a public trial before an independent and impartial court.
Legal counsel is afforded to indigent defendants in cases involving capital punishment.