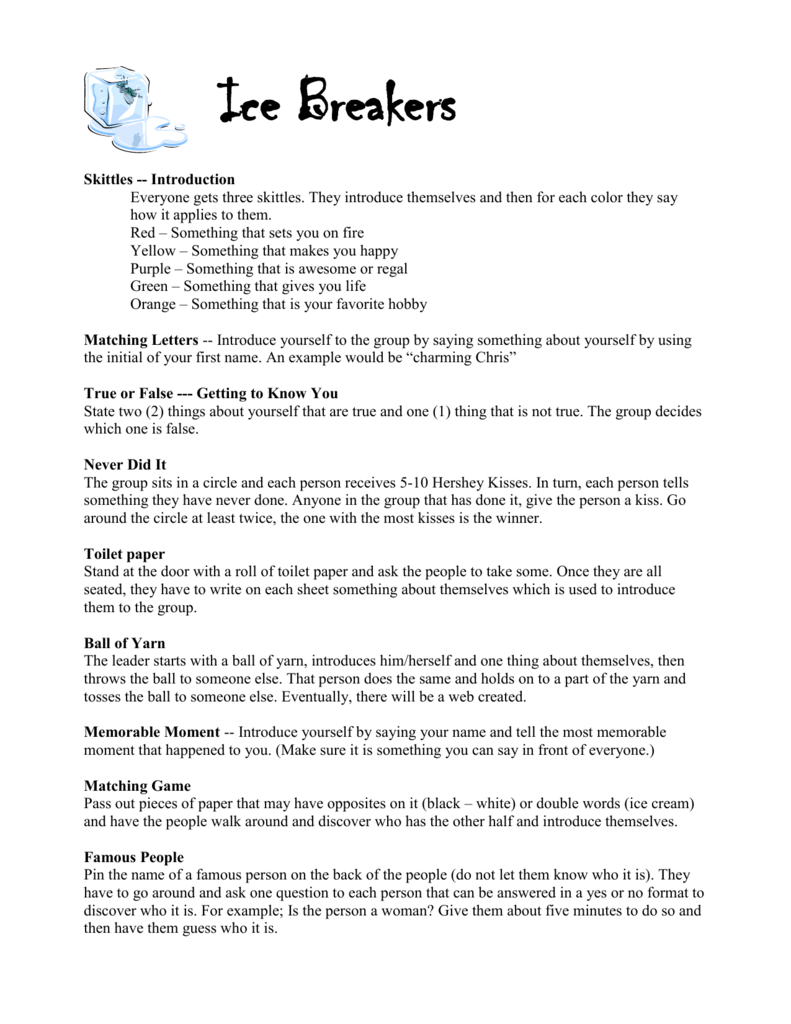 Ice Breakers
Skittles -- Introduction
Everyone gets three skittles. They introduce themselves and then for each color they say
how it applies to them.
Red – Something that sets you on fire
Yellow – Something that makes you happy
Purple – Something that is awesome or regal
Green – Something that gives you life
Orange – Something that is your favorite hobby
Matching Letters -- Introduce yourself to the group by saying something about yourself by using
the initial of your first name. An example would be "charming Chris"
True or False --- Getting to Know You
State two (2) things about yourself that are true and one (1) thing that is not true. The group decides
which one is false.
Never Did It
The group sits in a circle and each person receives 5-10 Hershey Kisses. In turn, each person tells
something they have never done. Anyone in the group that has done it, give the person a kiss. Go
around the circle at least twice, the one with the most kisses is the winner.
Toilet paper
Stand at the door with a roll of toilet paper and ask the people to take some. Once they are all
seated, they have to write on each sheet something about themselves which is used to introduce
them to the group.
Ball of Yarn
The leader starts with a ball of yarn, introduces him/herself and one thing about themselves, then
throws the ball to someone else. That person does the same and holds on to a part of the yarn and
tosses the ball to someone else. Eventually, there will be a web created.
Memorable Moment -- Introduce yourself by saying your name and tell the most memorable
moment that happened to you. (Make sure it is something you can say in front of everyone.)
Matching Game
Pass out pieces of paper that may have opposites on it (black – white) or double words (ice cream)
and have the people walk around and discover who has the other half and introduce themselves.
Famous People
Pin the name of a famous person on the back of the people (do not let them know who it is). They
have to go around and ask one question to each person that can be answered in a yes or no format to
discover who it is. For example; Is the person a woman? Give them about five minutes to do so and
then have them guess who it is.