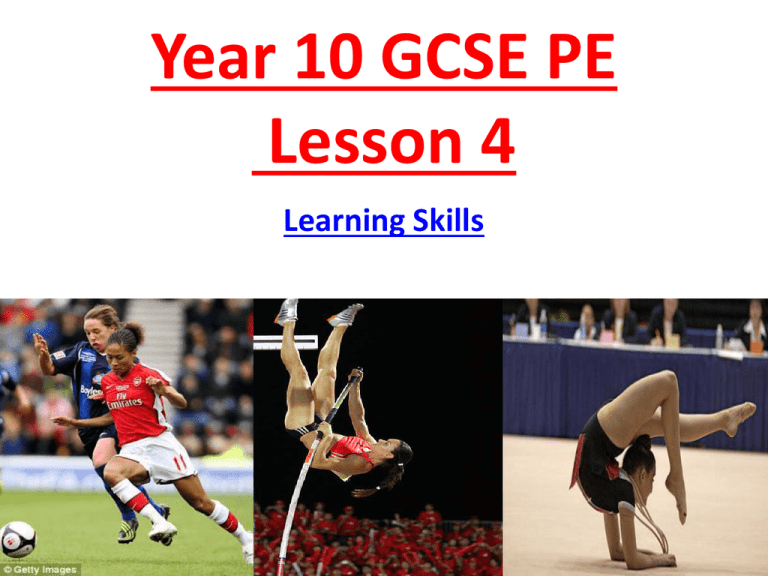 Year 10 GCSE PE
Lesson 4
Learning Skills
Learning Objectives
• Be able to explain the stages of
learning a new skill.
• Be able to explain the different
types of practices that can be
used when learning a new skill
Starter
1. Draw a diagram explaining the information
processing model
•2 . Define the term feedback and explain the
importance of it to an athlete.
• 3. There are two types of feedback what are
they?
• 4 name the two components of feedback
what are they and give an example for each of
your answers
Answers to Starter
KP and KR
KP
KR
Knowing how you
performed
regardless of result
Tells you what you
achieved but not
how you did it
Knowledge of Results
• David Beckham knows his free kick is
successful from the information he receives
from the crowds reaction, team mates and
coach
Tennis Match
the more times the shot is played, the more feedback you will get.
The more feedback you get, the better the chance of success
Decide what
shot to play
INPUT
How fast the ball
is coming and
where your
opponent is
OUTPUT
select to play
lob
FEEDBACK
Player cannot get
the ball back ,
your point
Skill Development
When we choose to move, the action is
controlled by the conscious brain using a
collection of learned movements.
For the movement to progress successfully, the
athlete requires information feedback.
HOW DO WE
LEARN NEW
SKILLS DISCUSS?
GUIDANCE
When you are learning a new skill you
usually need help or GUIDANCE from a
coach, teacher, trainer or friend
There are 3 types of Guidance
can you name them?
Guidance
VISUAL
THIS IS THE
GUIDANCE YOU
CAN LOOK AT
Guidance
MANUAL
THIS IS THE GUIDANCE
YOU CAN FEEL
VERBAL
THIS IS THE
GUIDANCE YOU
CAN LISTEN TO
Origami Challenge
• Origami challenge using visual and verbal
guidance.
Types of Skill
• Cognitive - or intellectual skills that require
thought processes
• Perceptual - interpretation of presented
information
• Motor - movement and muscle control
• Perceptual Motor - involve the thought,
interpretation and movement skills
Phases To Learning
A NEW SKILL
• Fitts and Posner (1967) suggested that the
learning process is sequential and that we
move through specific phases as we learn
1.Cognitive phase
2.Associative phase
3. Autonomous phase
Cognitive Phase
• Identification and development of the
component parts of the skill
• involves formation of a mental picture of
the skill
Associative Phase
• Linking the component parts into a
smooth action.
• Involves practicing the skill and using
feedback to perfect the skill
Autonomous Phase
• Developing the learned skill so that it
becomes automatic.
• Involves little or no conscious thought or
attention whilst performing the skill - not
all performers reach this stage
Skill Development
• The learning of physical skills requires the
relevant movements to be assembled,
component by component.
• Using feedback to shape and polish them into
a smooth action.
• Rehearsal of the skill must be done regularly
and correctly.
How do you learn a new skill.
• There are several different ways that skills can
be learnt:-
• Part Method:
• Whole Method
• Variable Practice
• Fixed Practice
Whole Practice
• Repeating the skill as one exercise, without
breaking it up into parts (subroutines).
Sometimes the skill cannot be broken down
easily
• Somersault
• For example dribbling
in football
• Start dive in swimming
• Catching a ball
Part Practice
• This is where you break the skill into separate
manageable parts.
• Parts broken down into SUB-ROUTINES
• You practice each component individually
• This is a very common way of learning a skill.
• Think of a skill from a sport where this
practice is necessary?
The Tennis Serve
•
•
•
•
•
The grip of the racket
The Stance
How to throw up the ball
The Swing
Follow through
Variable Practice
• This type of practice is important when
learning OPEN SKILLS
• It is when you practice the skill in lots of
different settings.
In pairs discuss and come up with 3
different sporting examples
Examples of Variable Practice
• Cricketer playing shots according to the type
and speed of the delivery he receives.
Fixed Practice
• This is the type of practice that is used for
learning CLOSED SKILLS
• Skill repeated under the same enviromental
conditions.
• Think of 3 sporting examples
Fixed Practice
• For example a golfer will practice his long Iron
or driver shots repeatedly.
• The setting of the skill remains the same
Transferring skills into a game
situation
Skills need to transfer into game situations and
coaches use two training methods to develop
tactics and strategies:
• Modified games use different rules or
formats to give players plenty of contact with
the ball, eg five-a-side football.
•
Conditioned games have rule
changes that focus on specific skills or tactics,
eg two-touch football to develop control and
passing.
Summary
• Every time you perform a skill you get
information from your body.
• You will make a decision on what to do next
based on previous experiences and this will alter
your previous performance.
• This means that if the output was not successful,
the next time you are in a similar situation you
may select a different skill to make your
performance better.
• If the outcome was successful more likely to try it
again in a similar situation.