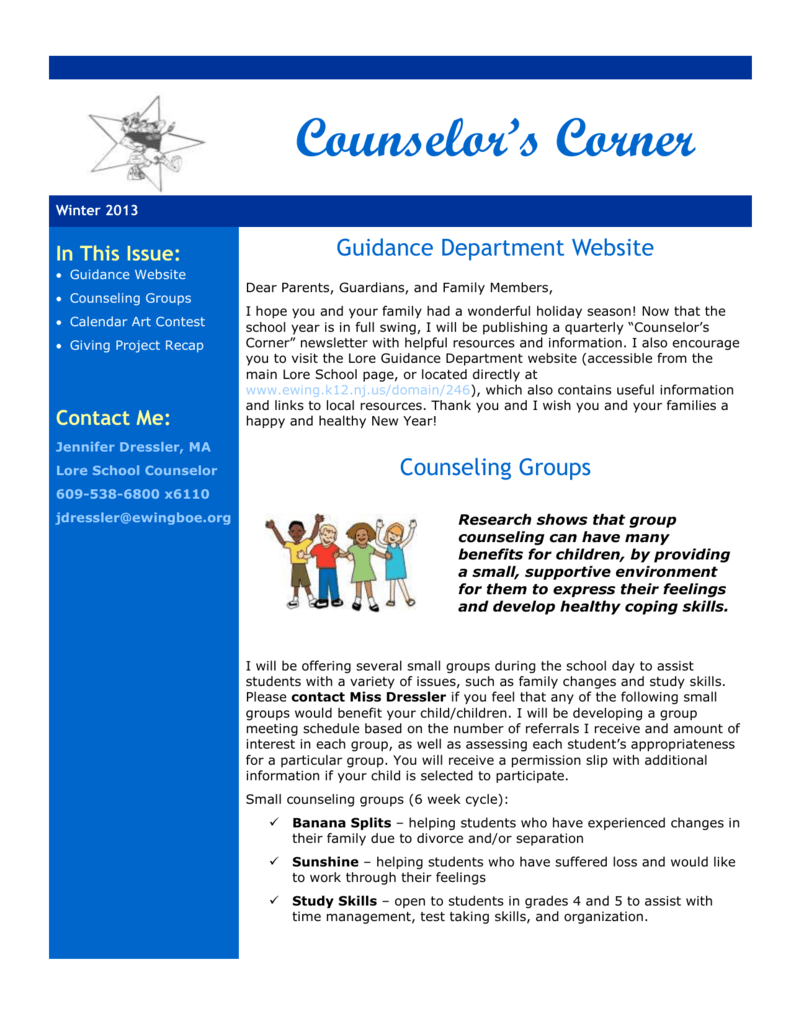 Counselor's Corner
Winter 2013
Guidance Department Website
In This Issue:
 Guidance Website
 Counseling Groups
 Calendar Art Contest
 Giving Project Recap
Contact Me:
Dear Parents, Guardians, and Family Members,
I hope you and your family had a wonderful holiday season! Now that the
school year is in full swing, I will be publishing a quarterly "Counselor's
Corner" newsletter with helpful resources and information. I also encourage
you to visit the Lore Guidance Department website (accessible from the
main Lore School page, or located directly at
www.ewing.k12.nj.us/domain/246), which also contains useful information
and links to local resources. Thank you and I wish you and your families a
happy and healthy New Year!
Jennifer Dressler, MA
Counseling Groups
Lore School Counselor
609-538-6800 x6110
[email protected]
Research shows that group
counseling can have many
benefits for children, by providing
a small, supportive environment
for them to express their feelings
and develop healthy coping skills.
I will be offering several small groups during the school day to assist
students with a variety of issues, such as family changes and study skills.
Please contact Miss Dressler if you feel that any of the following small
groups would benefit your child/children. I will be developing a group
meeting schedule based on the number of referrals I receive and amount of
interest in each group, as well as assessing each student's appropriateness
for a particular group. You will receive a permission slip with additional
information if your child is selected to participate.
Small counseling groups (6 week cycle):

Banana Splits – helping students who have experienced changes in
their family due to divorce and/or separation

Sunshine – helping students who have suffered loss and would like
to work through their feelings

Study Skills – open to students in grades 4 and 5 to assist with
time management, test taking skills, and organization.
Showcase your creativity!
The Creative Therapy Store is
currently accepting entries for its
2014 Calendar Art Contest!
Become a published artist and win
prizes for yourself and for your
school!
The Creative Therapy Store showcases student art in their annual calendar.
This year, students should create an original piece of artwork around the
theme of a past accomplishment or future goal. Students can use
crayon, watercolor, finger paint, colored pencil, pen and ink, or collage.
Artwork must be done on 81/2" by 11" paper oriented horizontally.
The contest is open to students ages 6 and older. One grand prize winner
and 13 additional winning artists will be chosen by CTS. Winning entries
earn a cash prize and a CTS gift certificate for their school!
If you are interested in submitting an entry to the contest, please send in
your artwork to Miss Dressler by February 22, 2013. For more
information, or to order a free 2013 calendar, visit
www.creativetherapystore.com.
Thank You from the Giving Committee!
The Giving Committee would like to
extend warm thanks and
appreciation to those who donated
items to this year's Giving Project.
This year for our annual Giving Project, we collected "Getting Ready for
Bed" items such as pajamas and toiletries. These items were lovingly
wrapped by students during our December Unity Meeting, and were sent to
an agency called One Simple Wish to be used to help foster children in
Mercer County. We collected enough items to create 60 pillowcases full of
things to help foster children get a good night's sleep – with lots of extra
boxes of items to spare!! These pillowcases were decorated by our students
and handmade cards were added. Our school family really showcased the
spirit of giving during this holiday season!
For more information on One Simple Wish, visit www.onesimplewish.org.