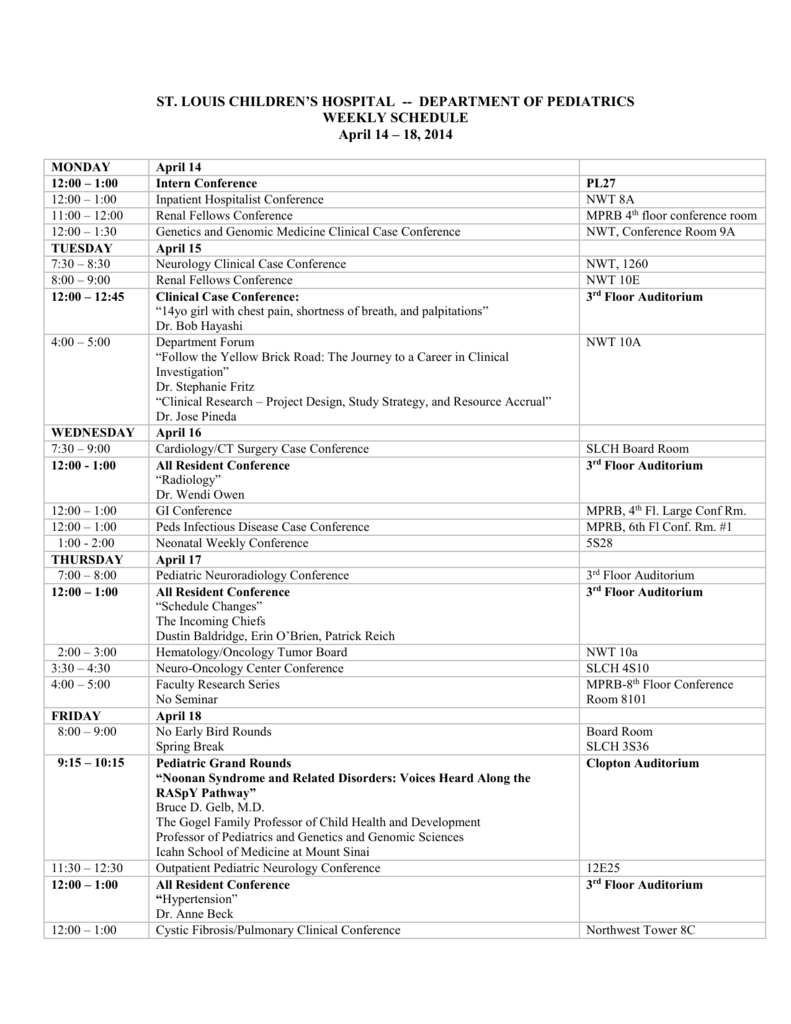 ST. LOUIS CHILDREN'S HOSPITAL -- DEPARTMENT OF PEDIATRICS
WEEKLY SCHEDULE
April 14 – 18, 2014
MONDAY
12:00 – 1:00
12:00 – 1:00
11:00 – 12:00
12:00 – 1:30
TUESDAY
7:30 – 8:30
8:00 – 9:00
12:00 – 12:45
4:00 – 5:00
WEDNESDAY
7:30 – 9:00
12:00 - 1:00
12:00 – 1:00
12:00 – 1:00
1:00 - 2:00
THURSDAY
7:00 – 8:00
12:00 – 1:00
2:00 – 3:00
3:30 – 4:30
4:00 – 5:00
FRIDAY
8:00 – 9:00
9:15 – 10:15
11:30 – 12:30
12:00 – 1:00
12:00 – 1:00
April 14
Intern Conference
Inpatient Hospitalist Conference
Renal Fellows Conference
Genetics and Genomic Medicine Clinical Case Conference
April 15
Neurology Clinical Case Conference
Renal Fellows Conference
Clinical Case Conference:
"14yo girl with chest pain, shortness of breath, and palpitations"
Dr. Bob Hayashi
Department Forum
"Follow the Yellow Brick Road: The Journey to a Career in Clinical
Investigation"
Dr. Stephanie Fritz
"Clinical Research – Project Design, Study Strategy, and Resource Accrual"
Dr. Jose Pineda
April 16
Cardiology/CT Surgery Case Conference
All Resident Conference
"Radiology"
Dr. Wendi Owen
GI Conference
Peds Infectious Disease Case Conference
Neonatal Weekly Conference
April 17
Pediatric Neuroradiology Conference
All Resident Conference
"Schedule Changes"
The Incoming Chiefs
Dustin Baldridge, Erin O'Brien, Patrick Reich
Hematology/Oncology Tumor Board
Neuro-Oncology Center Conference
Faculty Research Series
No Seminar
April 18
No Early Bird Rounds
Spring Break
Pediatric Grand Rounds
"Noonan Syndrome and Related Disorders: Voices Heard Along the
RASpY Pathway"
Bruce D. Gelb, M.D.
The Gogel Family Professor of Child Health and Development
Professor of Pediatrics and Genetics and Genomic Sciences
Icahn School of Medicine at Mount Sinai
Outpatient Pediatric Neurology Conference
All Resident Conference
"Hypertension"
Dr. Anne Beck
Cystic Fibrosis/Pulmonary Clinical Conference
PL27
NWT 8A
MPRB 4th floor conference room
NWT, Conference Room 9A
NWT, 1260
NWT 10E
3rd Floor Auditorium
NWT 10A
SLCH Board Room
3rd Floor Auditorium
MPRB, 4th Fl. Large Conf Rm.
MPRB, 6th Fl Conf. Rm. #1
5S28
3rd Floor Auditorium
3rd Floor Auditorium
NWT 10a
SLCH 4S10
MPRB-8th Floor Conference
Room 8101
Board Room
SLCH 3S36
Clopton Auditorium
12E25
3rd Floor Auditorium
Northwest Tower 8C
Washington University is accredited by the Accreditation Council of Continuing Medical Education to sponsor continuing medical education for physicians. Washington University designates CLIN CASE CONF and PED GRAND ROUNDS for a maximum of 1.0 hours each and EARLY BIRD
ROUNDS for 1.0 hour in Category 1 credit toward the AMA Physicians' Recognition Award. Physicians should claim only those hours of credit that they actually spend in the education activity. This activity is being sponsored by Washington University School of Medicine, Continuing
Medical Education.
DISCLOSURE POLICY
It is the policy of Washington University School of Medicine, Continuing Medical Education, to ensure balance, independence, objectivity and scientific rigor in all its educational activities. All faculty participating in this activity are expected to disclose to the audience any significant financial
interest or other relationship he/she has with the manufacturer(s) of any commercial product(s) discussed in an educational presentation.