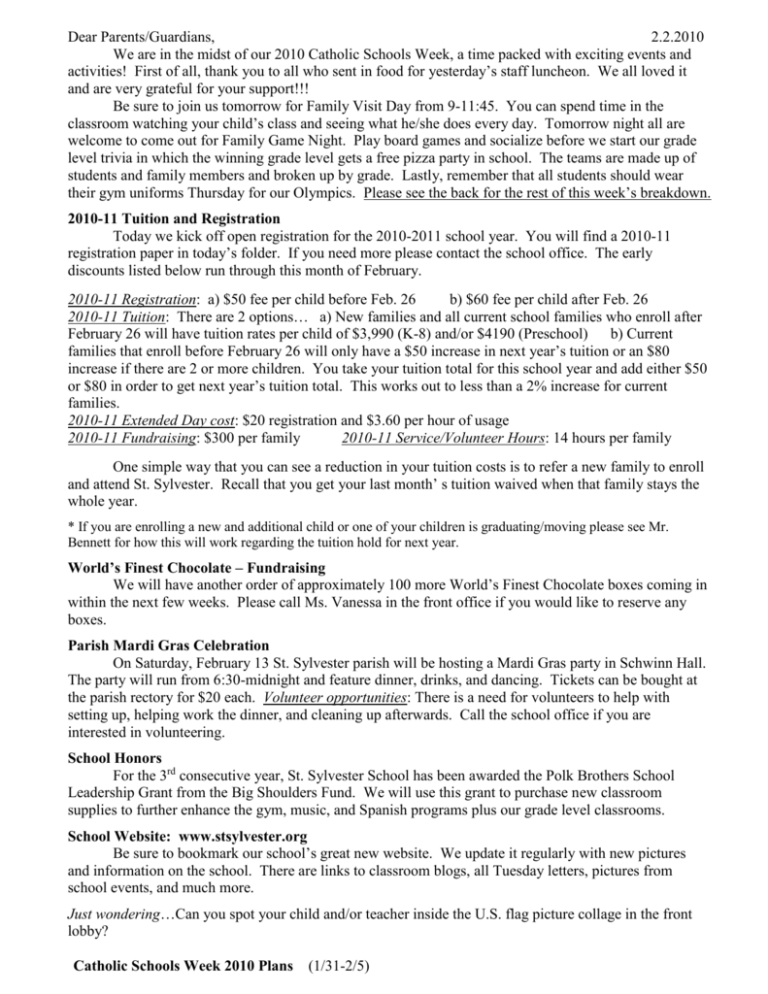 Dear Parents/Guardians,
2.2.2010
We are in the midst of our 2010 Catholic Schools Week, a time packed with exciting events and
activities! First of all, thank you to all who sent in food for yesterday's staff luncheon. We all loved it
and are very grateful for your support!!!
Be sure to join us tomorrow for Family Visit Day from 9-11:45. You can spend time in the
classroom watching your child's class and seeing what he/she does every day. Tomorrow night all are
welcome to come out for Family Game Night. Play board games and socialize before we start our grade
level trivia in which the winning grade level gets a free pizza party in school. The teams are made up of
students and family members and broken up by grade. Lastly, remember that all students should wear
their gym uniforms Thursday for our Olympics. Please see the back for the rest of this week's breakdown.
2010-11 Tuition and Registration
Today we kick off open registration for the 2010-2011 school year. You will find a 2010-11
registration paper in today's folder. If you need more please contact the school office. The early
discounts listed below run through this month of February.
2010-11 Registration: a) $50 fee per child before Feb. 26
b) $60 fee per child after Feb. 26
2010-11 Tuition: There are 2 options… a) New families and all current school families who enroll after
February 26 will have tuition rates per child of $3,990 (K-8) and/or $4190 (Preschool)
b) Current
families that enroll before February 26 will only have a $50 increase in next year's tuition or an $80
increase if there are 2 or more children. You take your tuition total for this school year and add either $50
or $80 in order to get next year's tuition total. This works out to less than a 2% increase for current
families.
2010-11 Extended Day cost: $20 registration and $3.60 per hour of usage
2010-11 Fundraising: $300 per family
2010-11 Service/Volunteer Hours: 14 hours per family
One simple way that you can see a reduction in your tuition costs is to refer a new family to enroll
and attend St. Sylvester. Recall that you get your last month' s tuition waived when that family stays the
whole year.
* If you are enrolling a new and additional child or one of your children is graduating/moving please see Mr.
Bennett for how this will work regarding the tuition hold for next year.
World's Finest Chocolate – Fundraising
We will have another order of approximately 100 more World's Finest Chocolate boxes coming in
within the next few weeks. Please call Ms. Vanessa in the front office if you would like to reserve any
boxes.
Parish Mardi Gras Celebration
On Saturday, February 13 St. Sylvester parish will be hosting a Mardi Gras party in Schwinn Hall.
The party will run from 6:30-midnight and feature dinner, drinks, and dancing. Tickets can be bought at
the parish rectory for $20 each. Volunteer opportunities: There is a need for volunteers to help with
setting up, helping work the dinner, and cleaning up afterwards. Call the school office if you are
interested in volunteering.
School Honors
For the 3rd consecutive year, St. Sylvester School has been awarded the Polk Brothers School
Leadership Grant from the Big Shoulders Fund. We will use this grant to purchase new classroom
supplies to further enhance the gym, music, and Spanish programs plus our grade level classrooms.
School Website: www.stsylvester.org
Be sure to bookmark our school's great new website. We update it regularly with new pictures
and information on the school. There are links to classroom blogs, all Tuesday letters, pictures from
school events, and much more.
Just wondering…Can you spot your child and/or teacher inside the U.S. flag picture collage in the front
lobby?
Catholic Schools Week 2010 Plans
(1/31-2/5)
Wednesday: Family Day
We will have coffee and treats in the front lobby today at 8:00 for all visitors. All families are invited to
visit their children's classrooms today from 9:00-11:45 to observe a regular school day. Everyone is
welcome to stay and have lunch with their child too up until 11:45.
Family Game Night from 6:30 – 8:30 in Schwinn: We will have board games and a trivia contest open to
all students and families. The winning grade level will get a free pizza lunch in school next week.
Thursday: Student Day
School Olympics - All students should dress in the gym uniform today
Friday: Awards Day
All School Mass at 8:30 - All families are welcome to join us in church.
Assembly to announce junior high honor roll students and poetry/poster contest winners plus winners of
first semester's Effort and Peacemaker Awards
THANK YOU for all of the great food that was
brought in for our staff luncheon on Monday!! It was
great to have a rare relaxing lunch and all of the food was
delicious. We are very grateful to all who contributed!!!