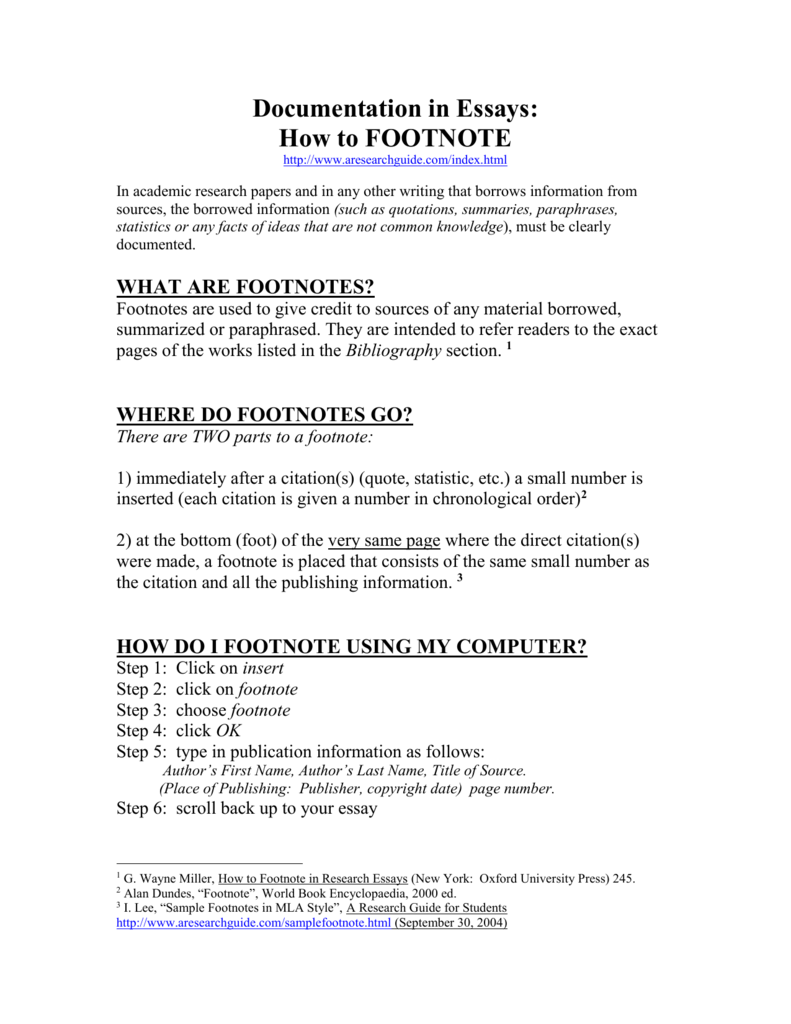 Documentation in Essays:
How to FOOTNOTE
http://www.aresearchguide.com/index.html
In academic research papers and in any other writing that borrows information from
sources, the borrowed information (such as quotations, summaries, paraphrases,
statistics or any facts of ideas that are not common knowledge), must be clearly
documented.
WHAT ARE FOOTNOTES?
Footnotes are used to give credit to sources of any material borrowed,
summarized or paraphrased. They are intended to refer readers to the exact
pages of the works listed in the Bibliography section. 1
WHERE DO FOOTNOTES GO?
There are TWO parts to a footnote:
1) immediately after a citation(s) (quote, statistic, etc.) a small number is
inserted (each citation is given a number in chronological order)2
2) at the bottom (foot) of the very same page where the direct citation(s)
were made, a footnote is placed that consists of the same small number as
the citation and all the publishing information. 3
HOW DO I FOOTNOTE USING MY COMPUTER?
Step 1:
Step 2:
Step 3:
Step 4:
Step 5:
Click on insert
click on footnote
choose footnote
click OK
type in publication information as follows:
Author's First Name, Author's Last Name, Title of Source.
(Place of Publishing: Publisher, copyright date) page number.
Step 6: scroll back up to your essay
1
G. Wayne Miller, How to Footnote in Research Essays (New York: Oxford University Press) 245.
Alan Dundes, "Footnote", World Book Encyclopaedia, 2000 ed.
3
I. Lee, "Sample Footnotes in MLA Style", A Research Guide for Students
http://www.aresearchguide.com/samplefootnote.html (September 30, 2004)
2
HOW DO I EMBED QUOTATIONS IN MY ESSAY?
1) If the citation (quote, summary etc.) is 3 lines or LESS, then it is placed
within the essay itself with quotations marks.
EXAMPLE:
The high tariffs were put in place in order to protect the industries within the
country but unfortunately, they also "choked off international trade".4
2) If the citation is more than three lines, then it must be set off by indenting
the citation five spaces on left margin and five spaces on right margin
without quotation marks.
EXAMPLE:
Through the 1920's many people bought items on credit. Due to the fact
that this was something new to society, many people went above their
budget.
The piano that cost $445 cash was purchased with $15
down and $12 a month for the next four or five years.
With the interest payments, it ended up costing far more
than it was worth. Sometimes by the time the purchases
were paid for, they were ready for the junk pile.5
4
5
Bradley, Cruxton. Spotlight Canada: Fourth Edition. (Ontario: Oxford University Press, 2000) 185.
Bradley, Cruxton. Spotlight Canada: Fourth Edition. (Ontario: Oxford University Press, 2000) 226.