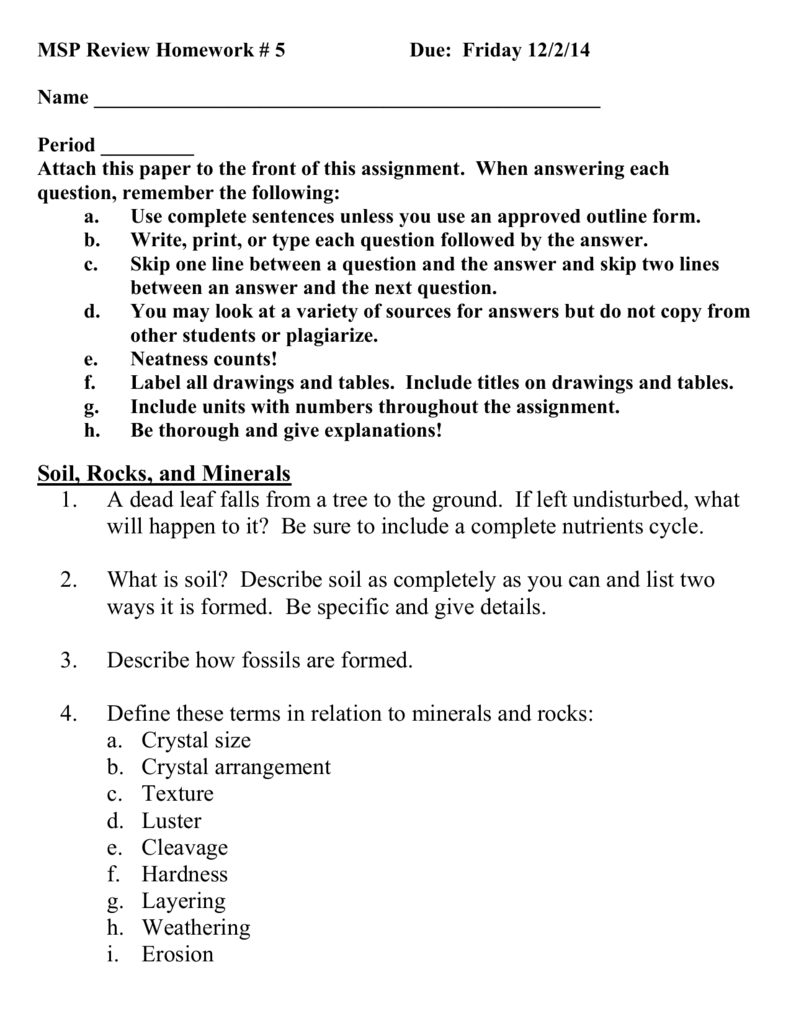 MSP Review Homework # 5
Due: Friday 12/2/14
Name _________________________________________________
Period _________
Attach this paper to the front of this assignment. When answering each
question, remember the following:
a.
Use complete sentences unless you use an approved outline form.
b. Write, print, or type each question followed by the answer.
c.
Skip one line between a question and the answer and skip two lines
between an answer and the next question.
d. You may look at a variety of sources for answers but do not copy from
other students or plagiarize.
e.
Neatness counts!
f.
Label all drawings and tables. Include titles on drawings and tables.
g.
Include units with numbers throughout the assignment.
h. Be thorough and give explanations!
Soil, Rocks, and Minerals
1. A dead leaf falls from a tree to the ground. If left undisturbed, what
will happen to it? Be sure to include a complete nutrients cycle.
2.
What is soil? Describe soil as completely as you can and list two
ways it is formed. Be specific and give details.
3.
Describe how fossils are formed.
4.
Define these terms in relation to minerals and rocks:
a. Crystal size
b. Crystal arrangement
c. Texture
d. Luster
e. Cleavage
f. Hardness
g. Layering
h. Weathering
i. Erosion
j.
k.
l.
m.
n.
Reaction to acid
Streak
Color
Density
Fracture
5.
Describe the processes involved in the rock cycle. How are each of
the rock types (igneous, sedimentary, and metamorphic) formed?
Explain how one kind of rock could eventually become a different
kind of rock.
6.
Which rock type is closely related to weathering and erosion? How?
7.
Explain why younger layers of sedimentary rocks are usually on top
of older layers. What geologic events could have caused huge
blocks of horizontal sedimentary layers to be tipped? What geologic
events could have caused older rock layers to be on top of younger
rock layers?
8.
How can studying the number and thickness of rock layers help
scientists estimate the age of landforms?
9.
How can studying the fossils found within rock layers help scientists
estimate the age of landforms?