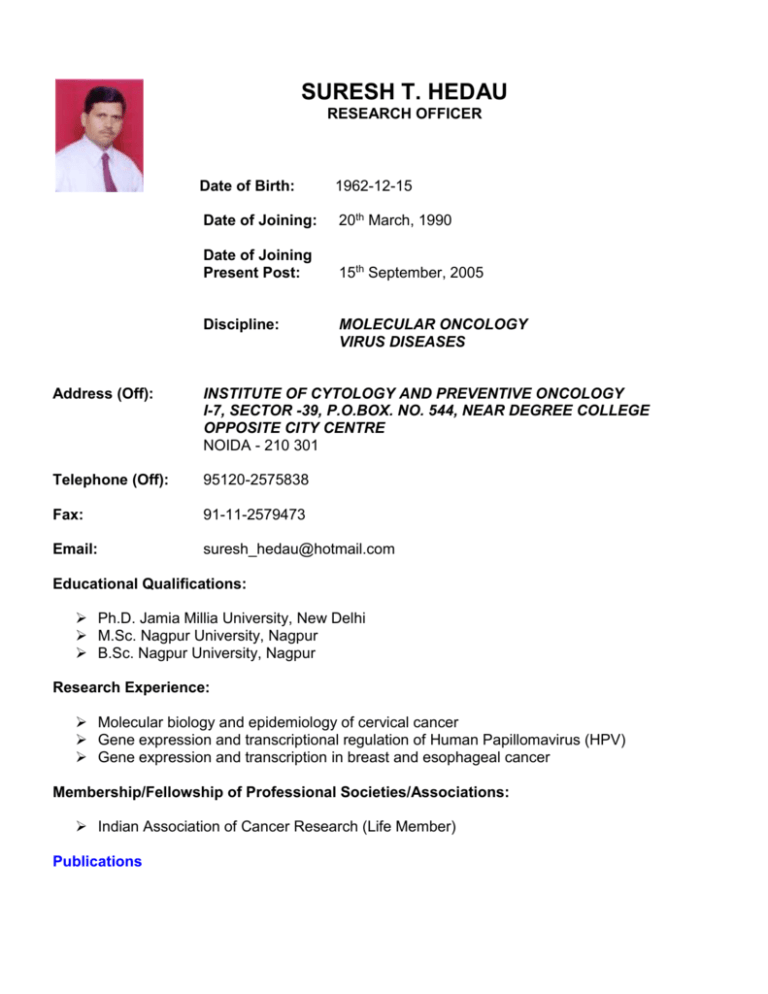 SURESH T. HEDAU
RESEARCH OFFICER
Date of Birth:
1962-12-15
Date of Joining:
20th March, 1990
Date of Joining
Present Post:
15th September, 2005
Discipline:
MOLECULAR ONCOLOGY
VIRUS DISEASES
Address (Off):
INSTITUTE OF CYTOLOGY AND PREVENTIVE ONCOLOGY
I-7, SECTOR -39, P.O.BOX. NO. 544, NEAR DEGREE COLLEGE
OPPOSITE CITY CENTRE
NOIDA - 210 301
Telephone (Off):
95120-2575838
Fax:
91-11-2579473
Email:
suresh_hedau@hotmail.com
Educational Qualifications:
 Ph.D. Jamia Millia University, New Delhi
 M.Sc. Nagpur University, Nagpur
 B.Sc. Nagpur University, Nagpur
Research Experience:
 Molecular biology and epidemiology of cervical cancer
 Gene expression and transcriptional regulation of Human Papillomavirus (HPV)
 Gene expression and transcription in breast and esophageal cancer
Membership/Fellowship of Professional Societies/Associations:
 Indian Association of Cancer Research (Life Member)
Publications
Research publications
1.
Prusty BK, Hedau S, Singh A, Kar P, Das BC. "Selective suppression of NFkBp65 in hepatitis virus-infected pregnant women manifesting severe liver
damage and high mortality". Mol Med. 13 (9-10) 518-526, 2007.
2.
Ruchika Gupta, Sompal Singh, Suresh Hedau, Sonu Nigam, Ishwar Singh, B C
Das and Ashish Kumar Mandal. "Spindle cell carcinoma of head and neck: an
immunohistochemical and molecular approach to its origin". J Clin. Pathology,
60(5):472-5, 2007.
3.
Neeraj Jain, Vikram Singh, Suresh Hedau, S Kumar, M Daga, R Dewan, N S
Murthy, S A Husain and B C Das. "Infection of human papillomavirus (HPV)
type 18 and p53 codon 72 polymorphism in lung cancer in India". Chest, 128:
3999-4007, 2005.
4.
Ruma Pahwa, Suresh Hedau, Shyama Jain, Neeraj Jain, Vivek M Arora, Neeta
Kumar and B C Das. "Diagnosis of tuberculous lymphadenopathy by
polymerase chain reaction in comparison with conventional methods". J
Medical Microbiology, 2005.
5.
Poddar NK, Saha R, Hedau S, Ray A. "Adrenocorticotropic hormone
production in breast cancer". Indian J Exp Biol, 43: 35-39, 2005.
6.
Katiyar S, Hedau S, Jain N, Kar P, Khuroo MS, Mohanta J, Kumar S,
Gopalkrishna V, Kumar N, Das BC. "p53 gene mutation and human
papillomavirus(HPV) infection in esophageal carcinoma from three different
endemic geographic regions of India". Cancer Lett, 218 (1): 69-79, 2005.
7.
Hedau S, Jain N, Husain SA, Mondal AK, Ray G, Shahid M, Kant R, Gupta V,
Shukla NK, Deo SS, Das BC. "Novel germline mutations in breast cancer
susceptibility genes BRCA1, BRCA2 and p53 gene in breast cancer patients
from India". Breast Cancer Res. & Treatment, 88:177-186, 2004.
8.
Shahid M, Dhillion VS, Jain N, Hedau S, Diwakar S, Sachdeva P, Batra S, Das
BC, Husain SA. "Two new novel point mutations localized upstream and
downstream of the HMG box region of the SRY gene in three Indian 46, XY
females with sex reversal and gonadal tumour formation". Molecular Human
Reproduction, 10: 521-526, 2004.
9.
Katiyar S, Thelma BK, Murthy NS, Hedau S, Gopalkrishna V, Jain N, Husain
SA, Das BC. "Polymorphism of the p53 codon 72 Arg/ Pro and the risk of HPV
type 16/18-associated and oral cancer in India". Molecular and Cellular
Biochemistry, 252: 117-124, 2003.
10.
B C Das, Uma Kailash, Suresh Hedau, Neeraj Jain, Alok Mishra and Bhupesh K
Prusty. "Human papillomavirus infection and cervical cancer". Obs. & Gynae
Today, 8: 347-353, 2003.
11.
Kailash U, Hedau S, Gopalkrishna V, Katiyar S, Das BC. "A simple 'paper
smear' method for dry collection, transport and storage of cervical cytological
specimens for rapid screening of HPV infection by PCR". J Med Microbiol, 51:
606-610, 2002.
12.
B C Das, V Gopalkrishna, Suresh Hedau and Sanjay Katiyar. "Cancer of the
uterine cervix and human papillomavirus infection". Current Science, 78: 5263, 2000.
13.
Sanjay Katiyar, V Gopalkrishna, Suresh Hedau, J K Sharma and B C Das. "Role
of tumour suppressor genes and human papillomavirus (HPV) in the
development of cancer of the uterine cervix in women". Perspectives in
Cytology and Genetics, 9: 187-201, 1998.
14.
Gopalkrishna V, Singh UR, Sodhani P, Sharma JK, Hedau ST, Mondal AK, Das
BC. "Absence of human papillomavirus DNA in breast cancer as revealed by
polymerase chain reaction". Breast Cancer Res & Treatment, 39: 197-202, 1996.
15.
Gopalkrishna V, Srivastava AN, Hedau S, Sharma JK, Das BC. "Detection of
human papillomavirus DNA sequences in cancer of the urinary bladder by insitu-hybridization and polymerase chain reaction". Genitourin Med, 71: 231233, 1995.
16.
Das DK, Bhambhani S, Pant JN, Prakash S, Murthy NS, Hedau S, Sodhani P,
Pant CS. "Superficial and deep-seated tuberculosis lesions: fine-needle
aspiration cytology diagnosis of 574 cases". Diagnostic Cytopathology, 8: 211215, 1992.