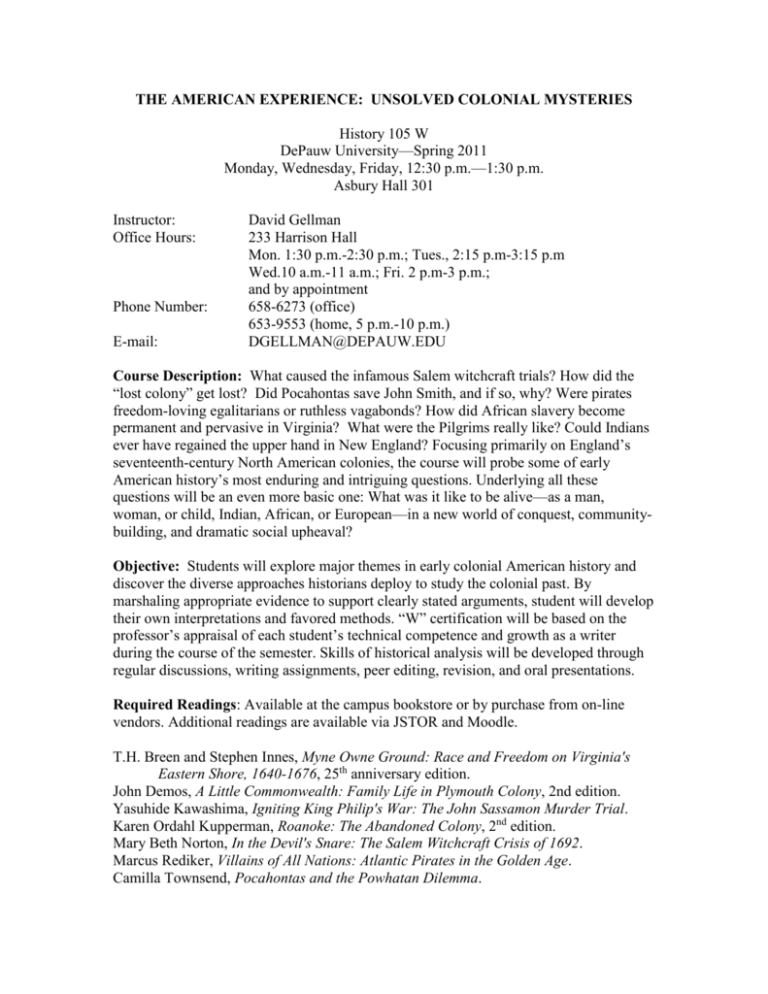 THE AMERICAN EXPERIENCE: UNSOLVED COLONIAL MYSTERIES
History 105 W
DePauw University—Spring 2011
Monday, Wednesday, Friday, 12:30 p.m.—1:30 p.m.
Asbury Hall 301
Instructor:
Office Hours:
Phone Number:
E-mail:
David Gellman
233 Harrison Hall
Mon. 1:30 p.m.-2:30 p.m.; Tues., 2:15 p.m-3:15 p.m
Wed.10 a.m.-11 a.m.; Fri. 2 p.m-3 p.m.;
and by appointment
658-6273 (office)
653-9553 (home, 5 p.m.-10 p.m.)
DGELLMAN@DEPAUW.EDU
Course Description: What caused the infamous Salem witchcraft trials? How did the
"lost colony" get lost? Did Pocahontas save John Smith, and if so, why? Were pirates
freedom-loving egalitarians or ruthless vagabonds? How did African slavery become
permanent and pervasive in Virginia? What were the Pilgrims really like? Could Indians
ever have regained the upper hand in New England? Focusing primarily on England's
seventeenth-century North American colonies, the course will probe some of early
American history's most enduring and intriguing questions. Underlying all these
questions will be an even more basic one: What was it like to be alive—as a man,
woman, or child, Indian, African, or European—in a new world of conquest, communitybuilding, and dramatic social upheaval?
Objective: Students will explore major themes in early colonial American history and
discover the diverse approaches historians deploy to study the colonial past. By
marshaling appropriate evidence to support clearly stated arguments, student will develop
their own interpretations and favored methods. "W" certification will be based on the
professor's appraisal of each student's technical competence and growth as a writer
during the course of the semester. Skills of historical analysis will be developed through
regular discussions, writing assignments, peer editing, revision, and oral presentations.
Required Readings: Available at the campus bookstore or by purchase from on-line
vendors. Additional readings are available via JSTOR and Moodle.
T.H. Breen and Stephen Innes, Myne Owne Ground: Race and Freedom on Virginia's
Eastern Shore, 1640-1676, 25th anniversary edition.
John Demos, A Little Commonwealth: Family Life in Plymouth Colony, 2nd edition.
Yasuhide Kawashima, Igniting King Philip's War: The John Sassamon Murder Trial.
Karen Ordahl Kupperman, Roanoke: The Abandoned Colony, 2nd edition.
Mary Beth Norton, In the Devil's Snare: The Salem Witchcraft Crisis of 1692.
Marcus Rediker, Villains of All Nations: Atlantic Pirates in the Golden Age.
Camilla Townsend, Pocahontas and the Powhatan Dilemma.
2
If you can think it, you can say it; and if you can say it, you can write it.
--Tom Gerety, a former college president
Meeting Course Objectives: This course emphasizes class discussion and writing.
Thus, completion of all reading and writing assignments, full attendance, and
participation by as many students as possible in every meeting are essential to its success.
Although I will lecture on occasion, my major role will be to provoke discourse.
Students should regularly challenge the assertions of the readings, of the instructor, and
of each other. Small group work, role playing, and debates will facilitate this process.
Writings and Assignments: Students will write several graded papers and give a graded
two-person research report. The papers will ask students to respond directly to the
reading on the syllabus and require no additional research. Team report pairs will deliver
brief, well-rehearsed graded presentations toward the end of the semester. Each team will
hand-in a brief annotated bibliography in support of their report, which will be part of the
grade.
Students should feel free to discuss assignments with each other and the instructor in
preparation for writing the papers. You, however, must write the papers in your own
words. In all your writing, you must acknowledge debts to the written work of others and
provide precise, properly formatted endnotes to all quotations, paraphrases, and data. All
endnote citations should follow the Chicago Manual of Style format. Guides to this
format can be found on the W-center website, as well as in readily available style
manuals by Diana Hacker, Kate Turabian, and Charles Lipson. Mastery of citation format
is a prerequisite for receiving your W certification.
All students should refer to the DePauw University Academic Handbook for the high
standards of academic integrity to be upheld in this course, online at
http://www.depauw.edu/univ/handbooks/dpuhandbooks.asp?ID=101&parentid=100
We will incorporate discussion of these standards as part of the course's W component.
Students must keep their papers within the prescribed length. All papers should be typed,
double-spaced, with one inch margins, and 12-point Times New Roman font. Title pages
and endnote pages do not count as part of the page total. All citations should be gathered
at the end of the paper on a separate page from the text.
Evaluation: All papers will be evaluated on five criteria: introduction & thesis,
evidence, organization, writing mechanics, and citation.
3
Assignments will be weighted toward the final grade as follows:
Paper #1 (3 pgs.)
10%
Paper #2 (3-4 pgs.)
10%
Paper #3 (4 pgs.)
10%
Paper #4 (4 pgs.)
10%
Paper #5 (4 pgs.)
10%
Paper #6 (6 pgs.)
20%
Team Report w/ annotated bibliography
10%
Class Participation
20%
Students may rewrite one of the first three papers for a new grade. You may do a rewrite
at any time up to April 20. Students receiving a C+ or lower on either the first or second
paper must rewrite one of those papers. Students who receive a C+ or lower on the third
paper and did not rewrite the first or second paper, must rewrite that paper. For everyone
else, a rewrite is entirely optional. Please hand in the original along with the rewrite.
In evaluating class participation, I will emphasize the thoughtfulness of your engagement
with the topics and your fellow students rather than merely gauging the quantity of
participation. Students who miss more than two classes during the course of the semester
can expect to see their class participation lowered accordingly.
Meeting with the Instructor: Students are encouraged to meet with me to discuss
papers, drafts, and course materials as often as they wish. Each student is required to do
so, in order to discuss your writing, at least once before and at least once after spring
break.
COURSE SCHEDULE
Jan. 31
Introductions
I. HOW DID ROANOKE GET LOST? ENGLAND'S FALSE START
Feb. 2
Kupperman, Roanoke, 1-39.
Townsend, Pocahontas, 25-36.
Feb. 4
Kupperman, Roanoke, 41-103.
Feb. 7
Kupperman, 105-157, 169-178.
Feb. 9
Paper #1 due at the beginning of class.
4
II. WHO WAS POCAHONTAS?—READING ACROSS CULTURES
Feb. 11
Townsend, Pocahontas, map, Preface, and 3-24, 37-43.
Feb. 14
Townsend, Pocahontas, 44-65.
Capt. John Smith, The Generall Historie of Virginia, New
England and the Summer Isles . . . (1624; Glasgow, 1907),
91-104, 138-144, 174-179, 215-223 [e-reserve].
John Smith, "A True Relation" (1608), in Narratives of Early Virginia,
1606-1625, ed. Lyon Gardiner Tyler (New York, 1907), 37-51 [moodle].
Feb. 16
Townsend, Pocahontas, 66-106.
Feb. 18
Townsend, Pocahontas, 107-123.
Discuss film Pocahontas [shown Roy O. West Library, tba.; or watch film
on reserve from circulation desk]
Feb. 21
Townsend, Pocahontas, 124-178.
III. WHAT WERE THE PILGRIMS REALLY LIKE?—
DIGGING THROUGH EVERYDAY LIFE
Feb. 23
James Deetz & Patricia Scott Deetz, The Times of Their
Lives: Life, Love, and Death in Plymouth Colony (New
York, 2000), 1-29 [e-reserve].
William Bradford, Bradford's History of Plymouth Plantation, 1606-1646,
ed. William T. Davis (New York, 1908), 106-115, 119-121 [e-reserve].
Feb. 25
Paper #2 due at the beginning of class.
Feb. 28
Demos, Little Commonwealth, 1-58.
Mar. 2
Demos, Little Commonwealth, 59-117.
Mar. 4
Demos, Little Commonwealth, 118-190
5
IV. WHEN DID AMERICAN SLAVERY BEGIN?—
HISTORY AS ARGUMENT
Mar. 7
Oscar and Mary F. Handlin, "Origins of the Southern Labor
System," William and Mary Quarterly, 3rd Ser., 7 (1950):
199-222 [JSTOR].
Carl N. Degler, "Slavery and the Genesis of American
Race Prejudice," Comparative Studies in Society and
History 2 (1959): 49-66 [JSTOR].
Mar. 9
Breen & Innes, "Myne Owne Ground," 2-45
Mar. 11
Breen & Innes, "Myne Owne Ground," 45-114
Mar. 14
Alden T. Vaughan, "The Origins Debate: Slavery and
Racism in Seventeenth-Century Virginia," in Roots of
American Racism: Essays on the Colonial Experience
(New York, 1995), 136-174 [e-reserve].
Ira Berlin, "From Creole to African: Atlantic Creoles and
the Origins of African American Society in Mainland North
America," William and Mary Quarterly, 3rd Ser., 53 (1996):
251-288 [JSTOR].
Breen & Innes, "Myne Owne Ground," Preface to the 25th
Anniversary Edition, ix-xxiii
V. WHAT OPTIONS DID NEW ENGLAND INDIANS HAVE?
FIGHTING BACK IN LAW AND MEMORY
Mar. 16
Kawashima, Igniting, 1-50 (see map, viii, in front of book
and Chronology, 159-164, for further guidance).
Mar. 18
Paper #3 due at the beginning of class.
March 21-25 SPRING BREAK
Mar. 28
Kawashima, Igniting, 51-101.
Mar. 30
Kawashima, Igniting, 102-151.
Apr. 1
Kawashima, Igniting, 152-157.
William Apess, "Eulogy on King Philip, as Pronounced at
the Odeon, in Federal Street, Boston," in On Our Own
6
Ground: The Complete Writings of William Apess, a
Pequot, ed. Barry O'Connell (Amherst, 1992), 275-310 [ereserve; or read as an e-book from Roy O. West online
catalog.]
VI. WHAT CAUSED THE SALEM WITCHCRAFT CRISIS?—
CONJURING WITH CONTEXT
Apr. 4
Brian P. Levack, The Witch-Hunt in Early Modern Europe,
3rd ed., (New York, 2006), 1-29 [e-reserve].
John Demos, "Underlying Themes in the Witchcraft of SeventeenthCentury New England," American Historical Review 75 (1970): 13111326 [JSTOR].
Samuel Willard, "A Brief Account of a Strange and
Unusual Providence of God Befallen Elizabeth Knapp of
Groton," in David D. Hall, ed., Witch-Hunting in
Seventeenth-Century New England: A Documentary
History, 1638-1692 (Boston: Northeastern University
Press, 1991), 197-212 [e-reserve].
Apr. 6
Paper #4 due at the beginning of class.
Apr. 8
Norton, In the Devil's Snare, 3-43.
Apr. 11
Norton, In the Devil's Snare, 44-111.
Apr. 13
Norton, In the Devil's Snare, 112-193.
Apr. 15
Norton, In the Devil's Snare, 194-265.
Apr. 18
Norton, In the Devil's Snare, 266-313.
Apr. 20
Discuss film The Crucible in class [shown Roy O. West Library, tba.; or
watch film on reserve from circulation desk]
Rewrite of Paper #1, #2, or #3 due no later than the
beginning of class on this day.
VII. DID PIRACY HAVE A GOLDEN AGE?—MYTH AND HISTORY
ON THE HIGH SEAS
Apr. 22
Rediker, Villains of All Nations, 1-37.
Apr. 25
Rediker, Villains of All Nations, 38-102.
7
Apr. 27
Rediker, Villains of All Nations, 103-147.
Apr. 29
Rediker, Villains of All Nations, 148-176.
VIII. CAN WE RELIVE THE COLONIAL PAST?—HISTORY AS
"REALITY"
May 2
Paper #5 due at the beginning of class.
"Colonial House"
May 4
Deetz & Deetz, The Times of Their Lives, 273-291 [ereserve]
Student Reports 1 & 2
"Colonial House"
May 6
Student Reports 3, 4, 5, 6
"Colonial House"
May 9
"Colonial House."
Student Reports 7 & 8
May 11
"Colonial House."
Student Reports 9 & 10
May 18 (Wednesday) Paper #6 due no later than 10:00 a.m. in my office.