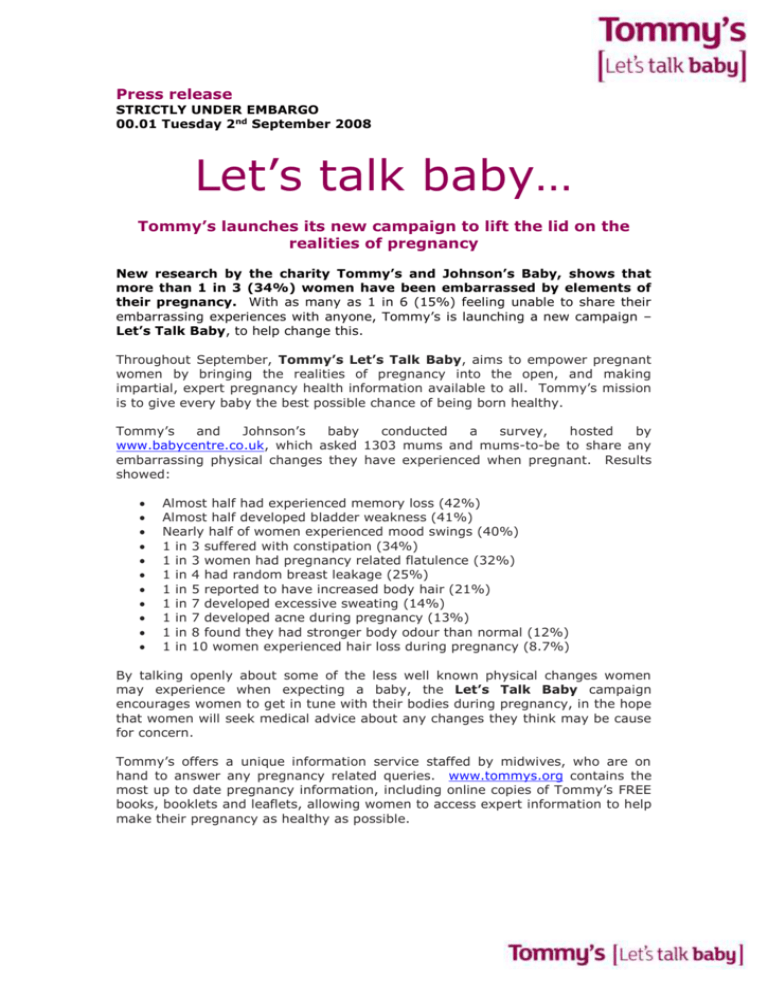 Press release
STRICTLY UNDER EMBARGO
00.01 Tuesday 2nd September 2008
Let's talk baby…
Tommy's launches its new campaign to lift the lid on the
realities of pregnancy
New research by the charity Tommy's and Johnson's Baby, shows that
more than 1 in 3 (34%) women have been embarrassed by elements of
their pregnancy. With as many as 1 in 6 (15%) feeling unable to share their
embarrassing experiences with anyone, Tommy's is launching a new campaign –
Let's Talk Baby, to help change this.
Throughout September, Tommy's Let's Talk Baby, aims to empower pregnant
women by bringing the realities of pregnancy into the open, and making
impartial, expert pregnancy health information available to all. Tommy's mission
is to give every baby the best possible chance of being born healthy.
Tommy's
and
Johnson's
baby
conducted
a
survey,
hosted
by
www.babycentre.co.uk, which asked 1303 mums and mums-to-be to share any
embarrassing physical changes they have experienced when pregnant. Results
showed:











Almost half had experienced memory loss (42%)
Almost half developed bladder weakness (41%)
Nearly half of women experienced mood swings (40%)
1 in 3 suffered with constipation (34%)
1 in 3 women had pregnancy related flatulence (32%)
1 in 4 had random breast leakage (25%)
1 in 5 reported to have increased body hair (21%)
1 in 7 developed excessive sweating (14%)
1 in 7 developed acne during pregnancy (13%)
1 in 8 found they had stronger body odour than normal (12%)
1 in 10 women experienced hair loss during pregnancy (8.7%)
By talking openly about some of the less well known physical changes women
may experience when expecting a baby, the Let's Talk Baby campaign
encourages women to get in tune with their bodies during pregnancy, in the hope
that women will seek medical advice about any changes they think may be cause
for concern.
Tommy's offers a unique information service staffed by midwives, who are on
hand to answer any pregnancy related queries. www.tommys.org contains the
most up to date pregnancy information, including online copies of Tommy's FREE
books, booklets and leaflets, allowing women to access expert information to help
make their pregnancy as healthy as possible.
Tommy's midwife, Sharon Simms commented,
"Being pregnant is one of the biggest changes the body goes through, bringing
with it a wealth of new, and sometimes unexpected, experiences. Whilst most
are harmless, it is important that women are paying attention to these changes,
as they can provide vital early warning signs if something is wrong.
Changes such as itching, bleeding or pain, should never be ignored, and you must
always contact a health professional if you have any concerns. No question is
ever too small or too trivial when it comes to pregnancy, it is always better to ask
even if it is just to put your mind at rest."
Tommy's and Johnson's Baby survey also revealed widespread confusion
amongst mums-to-be, as almost half of women (45%) complained of
receiving conflicting information about their pregnancy.








1 in 3 women were confused by what you can and can't eat during
pregnancy (40%)
One third of women were confused about whether or not it is safe to
colour your hair when pregnant (29%)
1 in 3 respondents were confused about which prescription drugs are safe
to take during pregnancy (31%)
1 in 4 women did not know what exercise is considered safe when
pregnant (22%)
1 in 7 are confused by how much alcohol, if any, they can drink during
pregnancy (15%)
1 in 7 were confused about whether it is safe to travel by plane (15%)
1 in 14 did not know whether or not you can have sex when pregnant
(7%)
1 in 20 women did not understand why they needed to take folic acid
when pregnant (5%)
Tommy's midwife Sharon Simms added, "Research is revealing new findings
all the time about the best ways for women to keep their babies healthy, so it is
vital that mums-to-be get the most up to date information from both their
midwife and other credible sources such as www.tommys.org. Whilst it is
reassuring for women to speak to family and friends about their pregnancy, times
have moved on. What was considered right for our parents' generation may no
longer still be the case."
Actress and mum of two, Angela Griffin who is supporting the campaign also
commented,
"Finding out you are going to be a mum is just the most fantastic feeling, but
pregnancy itself can be a complete minefield. You want to do the best for your
baby, and with that comes about a million questions of whether or not you're
doing the right thing, what's normal and what isn't.
There is so much conflicting information out there, and everyone from your work
colleagues, to random people in the street, has an opinion. I think it's great that
with Tommy's you know that the information you're getting is coming straight
from the professionals, and is an answer you can trust."
Other celebrities supporting Tommy's [Let's talk baby] include: Lucy
Benjamin, Aimee and Sara Berman, Lauren Laverne and Debra Stephenson.
To speak directly to a Tommy's midwife, call 0870 777 3060, or visit
www.tommys.org for more information.
ASDA will be lending its support to Let's talk baby throughout September.
Tommy's midwives will be appearing in selected ASDA stores during the
month, with FREE Tommy's pregnancy information booklets available. ASDA will
also be running an exclusive mother and baby photography competition in
conjunction with Tommy's [Let's Talk Baby] & Johnson's Baby with the chance to
win £500 worth of baby shopping at ASDA. More details are available at
www.asda-tommys.co.uk
– ENDS –
NOTES TO EDITORS:
For further information about Tommy's [Let's talk baby] please contact:
Kristy MacLeod
Tommy's Press Office
kmacleod@tommys.org
020 7398 3440
Tommy's [Let's talk baby] campaign:
The campaign is designed to empower women, by bringing the realities of pregnancy into the open, and provide
access to free pregnancy health information, so that more babies can be given the best chance of being born
healthy.
Tommy's survey was carried out on www.babycentre.co.uk in May 2008, 1303 women took part.
Tommy's, the baby charity
At Tommy's we believe it is unacceptable that one in four women loses a baby every year.
We want to give every baby the best chance of being born healthy, so we work to fund medical research into the
causes of premature birth, stillbirth and miscarriage, and provide a free information service that educates all
parents-to-be about health in pregnancy.
Our information service is informed by our medical research and includes a telephone midwife service, a
comprehensive website and free books and leaflets promoting health in pregnancy.
By 2020 we want to halve the number of babies who die during pregnancy or birth.
Tommy's registered charity number is 1060508.
Johnson's Baby
With over 100 years of baby care expertise, Johnson's Baby understands the craving pregnant women have for
knowledge and information. Johnson's Baby is delighted to support Tommy's again this year.
ASDA
ASDA recently became the first supermarket to fine drivers who misuse parent and child bays. This has resulted in a
60% increase in spaces available for those mums and dads who really need them. 50% of this goes directly to
Tommy's
ASDA offers baby changing facilities with free nappies, free baby food in all ASDA cafes, feeding rooms and a wide
variety of parent and baby trolleys.
Tommy's is one of ASDA's chosen charities for 2008. Through a combination of in-store promotions, activities and
events ASDA are hoping to raise in excess of £400,000 for Tommy's.