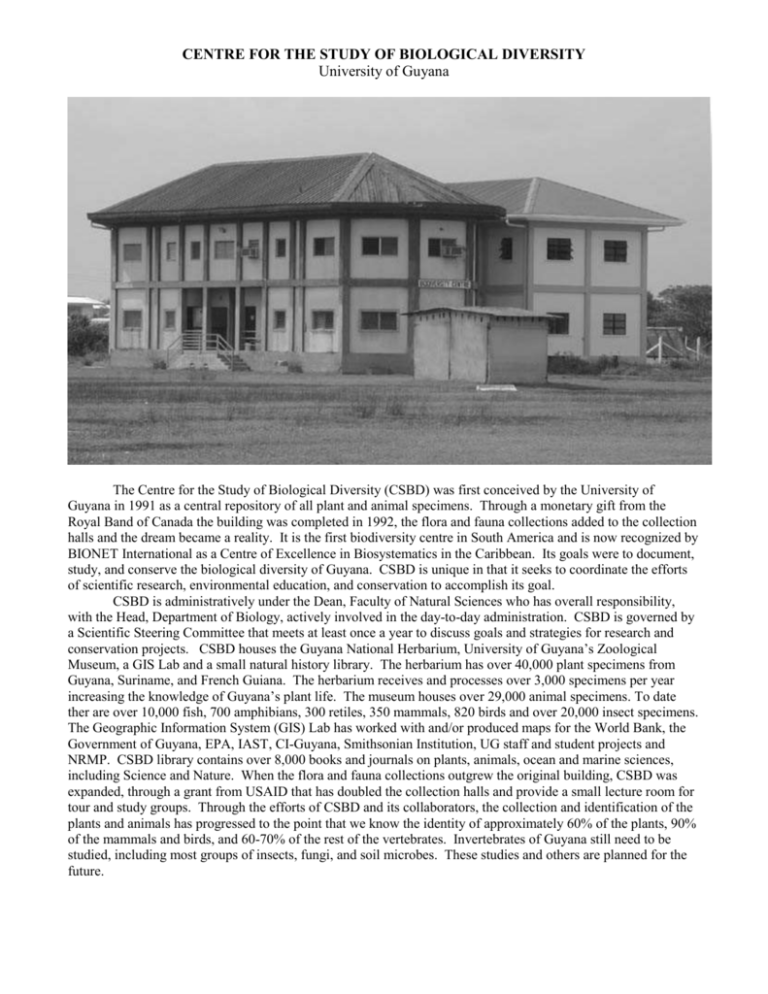 CENTRE FOR THE STUDY OF BIOLOGICAL DIVERSITY
University of Guyana
The Centre for the Study of Biological Diversity (CSBD) was first conceived by the University of
Guyana in 1991 as a central repository of all plant and animal specimens. Through a monetary gift from the
Royal Band of Canada the building was completed in 1992, the flora and fauna collections added to the collection
halls and the dream became a reality. It is the first biodiversity centre in South America and is now recognized by
BIONET International as a Centre of Excellence in Biosystematics in the Caribbean. Its goals were to document,
study, and conserve the biological diversity of Guyana. CSBD is unique in that it seeks to coordinate the efforts
of scientific research, environmental education, and conservation to accomplish its goal.
CSBD is administratively under the Dean, Faculty of Natural Sciences who has overall responsibility,
with the Head, Department of Biology, actively involved in the day-to-day administration. CSBD is governed by
a Scientific Steering Committee that meets at least once a year to discuss goals and strategies for research and
conservation projects. CSBD houses the Guyana National Herbarium, University of Guyana's Zoological
Museum, a GIS Lab and a small natural history library. The herbarium has over 40,000 plant specimens from
Guyana, Suriname, and French Guiana. The herbarium receives and processes over 3,000 specimens per year
increasing the knowledge of Guyana's plant life. The museum houses over 29,000 animal specimens. To date
ther are over 10,000 fish, 700 amphibians, 300 retiles, 350 mammals, 820 birds and over 20,000 insect specimens.
The Geographic Information System (GIS) Lab has worked with and/or produced maps for the World Bank, the
Government of Guyana, EPA, IAST, CI-Guyana, Smithsonian Institution, UG staff and student projects and
NRMP. CSBD library contains over 8,000 books and journals on plants, animals, ocean and marine sciences,
including Science and Nature. When the flora and fauna collections outgrew the original building, CSBD was
expanded, through a grant from USAID that has doubled the collection halls and provide a small lecture room for
tour and study groups. Through the efforts of CSBD and its collaborators, the collection and identification of the
plants and animals has progressed to the point that we know the identity of approximately 60% of the plants, 90%
of the mammals and birds, and 60-70% of the rest of the vertebrates. Invertebrates of Guyana still need to be
studied, including most groups of insects, fungi, and soil microbes. These studies and others are planned for the
future.