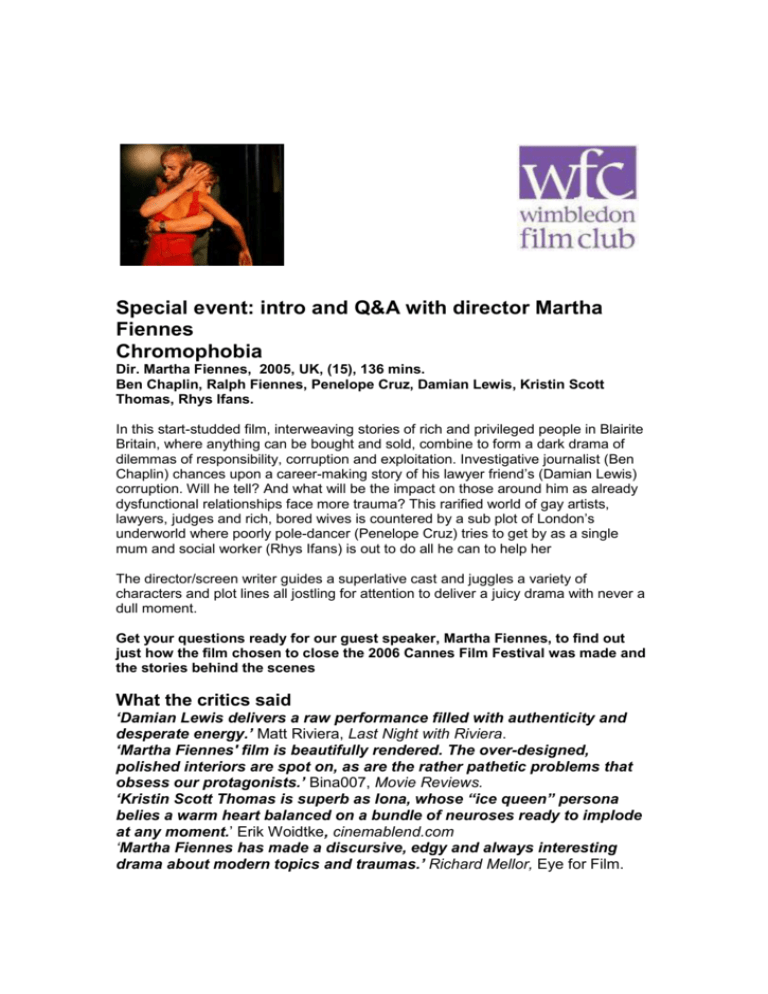 Special event: intro and Q&A with director Martha
Fiennes
Chromophobia
Dir. Martha Fiennes, 2005, UK, (15), 136 mins.
Ben Chaplin, Ralph Fiennes, Penelope Cruz, Damian Lewis, Kristin Scott
Thomas, Rhys Ifans.
In this start-studded film, interweaving stories of rich and privileged people in Blairite
Britain, where anything can be bought and sold, combine to form a dark drama of
dilemmas of responsibility, corruption and exploitation. Investigative journalist (Ben
Chaplin) chances upon a career-making story of his lawyer friend's (Damian Lewis)
corruption. Will he tell? And what will be the impact on those around him as already
dysfunctional relationships face more trauma? This rarified world of gay artists,
lawyers, judges and rich, bored wives is countered by a sub plot of London's
underworld where poorly pole-dancer (Penelope Cruz) tries to get by as a single
mum and social worker (Rhys Ifans) is out to do all he can to help her
The director/screen writer guides a superlative cast and juggles a variety of
characters and plot lines all jostling for attention to deliver a juicy drama with never a
dull moment.
Get your questions ready for our guest speaker, Martha Fiennes, to find out
just how the film chosen to close the 2006 Cannes Film Festival was made and
the stories behind the scenes
What the critics said
'Damian Lewis delivers a raw performance filled with authenticity and
desperate energy.' Matt Riviera, Last Night with Riviera.
'Martha Fiennes' film is beautifully rendered. The over-designed,
polished interiors are spot on, as are the rather pathetic problems that
obsess our protagonists.' Bina007, Movie Reviews.
'Kristin Scott Thomas is superb as Iona, whose "ice queen" persona
belies a warm heart balanced on a bundle of neuroses ready to implode
at any moment.' Erik Woidtke, cinemablend.com
'Martha Fiennes has made a discursive, edgy and always interesting
drama about modern topics and traumas.' Richard Mellor, Eye for Film.