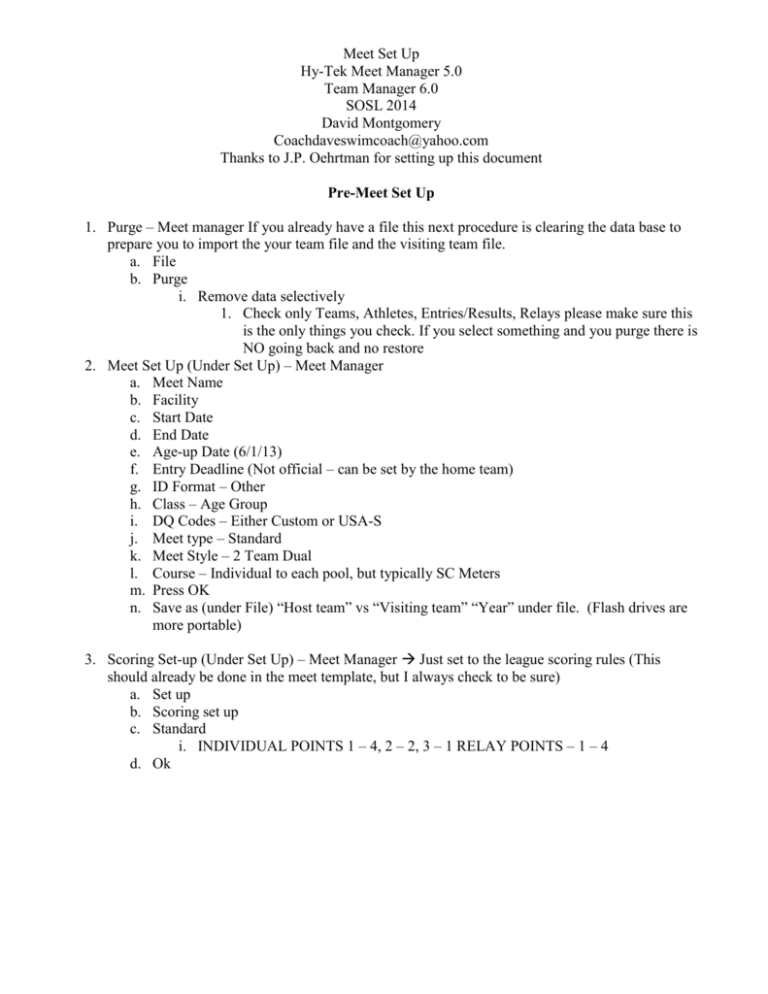 Meet Set Up
Hy-Tek Meet Manager 5.0
Team Manager 6.0
SOSL 2014
David Montgomery
Coachdaveswimcoach@yahoo.com
Thanks to J.P. Oehrtman for setting up this document
Pre-Meet Set Up
1. Purge – Meet manager If you already have a file this next procedure is clearing the data base to
prepare you to import the your team file and the visiting team file.
a. File
b. Purge
i. Remove data selectively
1. Check only Teams, Athletes, Entries/Results, Relays please make sure this
is the only things you check. If you select something and you purge there is
NO going back and no restore
2. Meet Set Up (Under Set Up) – Meet Manager
a. Meet Name
b. Facility
c. Start Date
d. End Date
e. Age-up Date (6/1/13)
f. Entry Deadline (Not official – can be set by the home team)
g. ID Format – Other
h. Class – Age Group
i. DQ Codes – Either Custom or USA-S
j. Meet type – Standard
k. Meet Style – 2 Team Dual
l. Course – Individual to each pool, but typically SC Meters
m. Press OK
n. Save as (under File) "Host team" vs "Visiting team" "Year" under file. (Flash drives are
more portable)
3. Scoring Set-up (Under Set Up) – Meet Manager  Just set to the league scoring rules (This
should already be done in the meet template, but I always check to be sure)
a. Set up
b. Scoring set up
c. Standard
i. INDIVIDUAL POINTS 1 – 4, 2 – 2, 3 – 1 RELAY POINTS – 1 – 4
d. Ok
4. Entry and scoring preference
a. Set-up
b. Entry/scoring Preferences
c. Maximum scores per team per event(blank for no limit) Individual – 2 relay – 1
d. Top how many for awards labels for Age Group Individual – 6 relay – 3
e. Ok
f. Same pull down menu
g. Entries/entry limits
i. Check box – Warn if entry limits exceeded
ii. Maximum entries per athlete including relays – 5
iii. Maximum individual entries per athlete – 3
iv. Maximum relay entries per athlete – 2
5. Events (Also already done in the meet template) – Meet Manager
If not done:
a. Click Add
b. Type event #
c. Select Individual/Relay
d. Select Gender
e. Select Age Group
f. Select Distance
g. Select Stroke
h. Adjust number of lanes for your pool
i. Assign lanes  Standard
j. Heat order  Fast to Slow
k. Make sure score event is checked except for the 6 & Under events
l. Click Ok
m. After clicking Ok, the program will automatically increase the number by 1 and switch the
gender…this makes it easier to add events
6. Sessions – Meet Manager
a. Click Events Tab
b. Click Sessions
c. Click Add
d. Session 1
e. Determine start time (I always liked to make the start time 10 min after the official start
time to account for delays, National Anthem, etc.)
f. Determine interval (This helps to set your timeline – can give extra time for backstroke)
g. Press Ok
h. Click Move All Tab
7. Export Events – Meet Manager
a. Click File
b. Click Export
c. Events for TM (remember where you save this)
d. Email to the visiting team coach/entry chairperson
8. Entries – Team Manager
a. Import file into Team Manager (File  Import  Meet events  Select File  Open 
OK  Double Click event file)
b. Enter all entries
c. Export file for Meet manager (File  Export  Meet entries  Select meet and location
for file  Email file to home team or save if the host)
9. Import entries into meet manager – Team Manager
a. File  Import entries  Select file
b. Host team should import entries from both host and visiting teams
10. Seeding – Meet Manager
a. Set-Up  Seeding Preferences
b. Click Dual Meets Tab
c. Assign Lanes
d. Check Use Lane Assignments Above
e. Click OK (This should take you back to the home screen)
f. Click Seeding Tab
g. Choose the meet session
h. Click Select All Tab
i. Click Start Seeding
11. Meet Program (Heat sheets) – Meet Manager
a. Click Reports
b. Meet Program
c. Choose the session
d. Press Select all Tab
e. Choose Create Report
f. Press Print
g. Options:
i. Number of columns
ii. Time Stamp
iii. Include in Meet Program Tab:
iv. Entry times
v. Line for results
vi. Empty lanes
vii. heat start times (Warning: gives projected timeline)
viii. Relay names (Warning: not always accurate once meet starts)
12. Timer Sheets – Meet Manager
a. Reports Tab
b. Lane/Timer sheets
c. Choose Session
d. Select All
e. Choose Continuous and then # Events Break for Continuous
f. Include Entry Time
g. All Heats
h. Sort by: (Lane then Event is easier to sort)
i. Create Report
j. Print
13. Relay Sheets – Meet Manager
a. Reports Tab
b. Entry Lists Tab
c. Choose Session
d. Report Type: By Team
e. Options: Relays Only
f. Format: Event Description and Time AND Separate Page Each Team
g. Print and Give to coaches for Relay Changes
h. This allows correct relay swimmers to receive correct ribbons
Running the Meet
1.
2.
3.
4.
All officials/coaches/clerk of course/bullpen parents are provided with heat sheets
Timers have timer sheets
Timers write in time on sheets as meet progresses
Officials can either write individual DQ slips during the meet, write DQ's on the timer sheets, or
both.
5. Runners collect timer sheets following number of events on each sheet and take to scorers
Scoring the Meet – Meet Manager
1. Click Run
2. On the score page at the top I would check the ENTRE RESULTS BY LANE box. It allows you
to go thru one sheet at a time
3. Relay changes:
a. Click Relay tabs
b. Click relay to be corrected
c. Insert correct swimmers in order (You may have to remove swimmers from other relays if
they are moving from B to A, etc.)
d. Click Swim-ups for athletes moving up age groups
4. Type in Final Time under Finals Time
5. Check DQ if necessary
6. If there is more then one heat, then click the heat number in the middle-right of the page
7. Once all times have been recorded, press score
8. Double check results
9. Print ribbon labels
a. Labels tab
b. Select events that have been scored (you may want to run several events at once to save
labels/ink)
c. Check to make sure the label selection matches your printer and individual and relay
places are all correct
d. Award Type
i. Standard Award Label: Placement labels
ii. Participation Labels: Non placing competitors
e. can check the events that have already been printed
After the Meet – Meet Manager
1. Back the meet up
a. File
b. Backup
c. Select and Save
2. Send meet results
a. File
b. Export
c. Results for Team Manager, etc.
d. Save
e. Email to visiting team results and (if requested) meet backup
f. send meet backup to league (if desired)
3. To import results into Team manager:
a. File
b. Import
c. Meet Results
Number of meets a swimmer has swam – Team Manager
1.
2.
3.
4.
5.
6.
7.
8.
Reports
Meet reports
Number of meets attended/splash
Select the date filter and select the date range
Pick you team
Under Sort select "Meets Attended"
Create report
Hit save and send to SOSL
Adding a heat to any event – Meet manager
Seeding a meet
Select the event
Preview
Add heat
Any Questions?