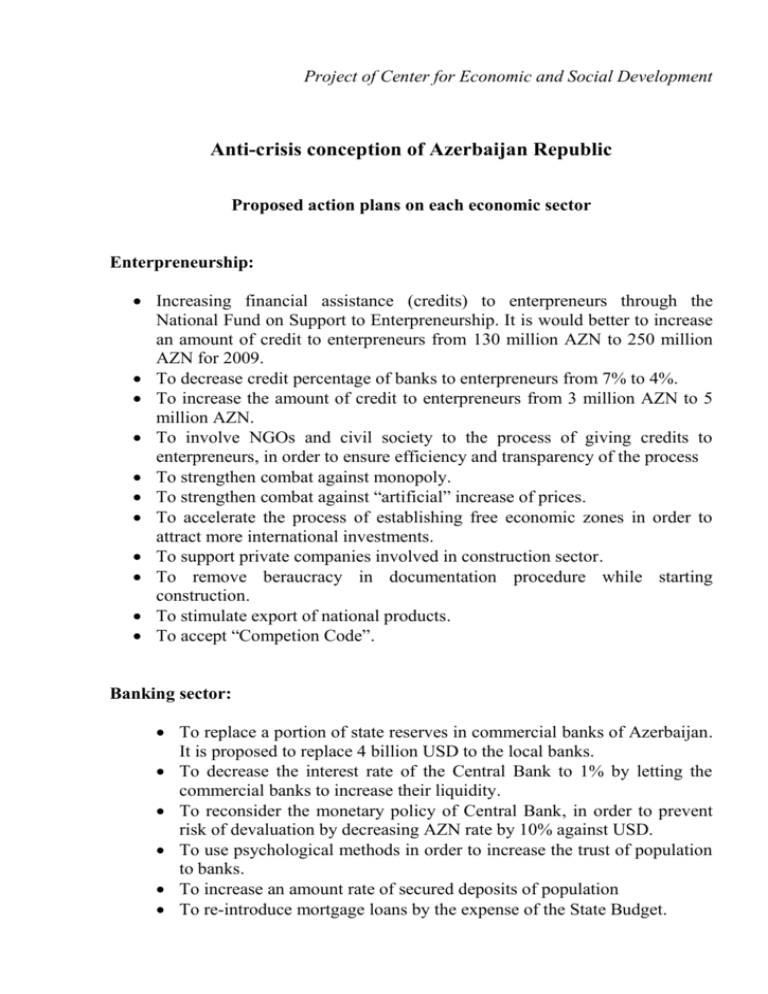 Project of Center for Economic and Social Development
Anti-crisis conception of Azerbaijan Republic
Proposed action plans on each economic sector
Enterpreneurship:
 Increasing financial assistance (credits) to enterpreneurs through the
National Fund on Support to Enterpreneurship. It is would better to increase
an amount of credit to enterpreneurs from 130 million AZN to 250 million
AZN for 2009.
 To decrease credit percentage of banks to enterpreneurs from 7% to 4%.
 To increase the amount of credit to enterpreneurs from 3 million AZN to 5
million AZN.
 To involve NGOs and civil society to the process of giving credits to
enterpreneurs, in order to ensure efficiency and transparency of the process
 To strengthen combat against monopoly.
 To strengthen combat against "artificial" increase of prices.
 To accelerate the process of establishing free economic zones in order to
attract more international investments.
 To support private companies involved in construction sector.
 To remove beraucracy in documentation procedure while starting
construction.
 To stimulate export of national products.
 To accept "Competion Code".
Banking sector:
 To replace a portion of state reserves in commercial banks of Azerbaijan.
It is proposed to replace 4 billion USD to the local banks.
 To decrease the interest rate of the Central Bank to 1% by letting the
commercial banks to increase their liquidity.
 To reconsider the monetary policy of Central Bank, in order to prevent
risk of devaluation by decreasing AZN rate by 10% against USD.
 To use psychological methods in order to increase the trust of population
to banks.
 To increase an amount rate of secured deposits of population
 To re-introduce mortgage loans by the expense of the State Budget.
Tax sector:
 To decrease tax rates: Profit tax from 22% to 20%; VAT from 18% to
16%; Simplified tax from 4% to 2% in Baku and from 2% to 1% in
regions.
 To assist and encourage local enterprises by reducing tax rates.
Finance and budget sector:
 To make changes to the Budget for 2009 by decreasing setted oil price for
one barrel from $70 to $50.
 To cut some budgetary expenses on the basis of changed oil price.
 To strengthen financial control.
 To conduct "Expense-Income Analysis" on budget sponsored projects.
 To allocate approx. 380 million AZN from the State Budget for financing
anti-crisis activities
 To economize the spending of budgetarty incomes.
Agricultural sector:
 To increase export potential of agricultural enterprises. Unfortunately, only
1% of the country's annual export falls in this sector.
 To provide access of farmers to information resources.
 To develop a report system regarding the how to use credits ot National
Fund on Support to Enterpreneurship.
 To increase the volume of subsidies to farmers.
 To remove some barriers in ensuring delivery of agricultural products to
Baku markets.
 To build agrucultural storages.