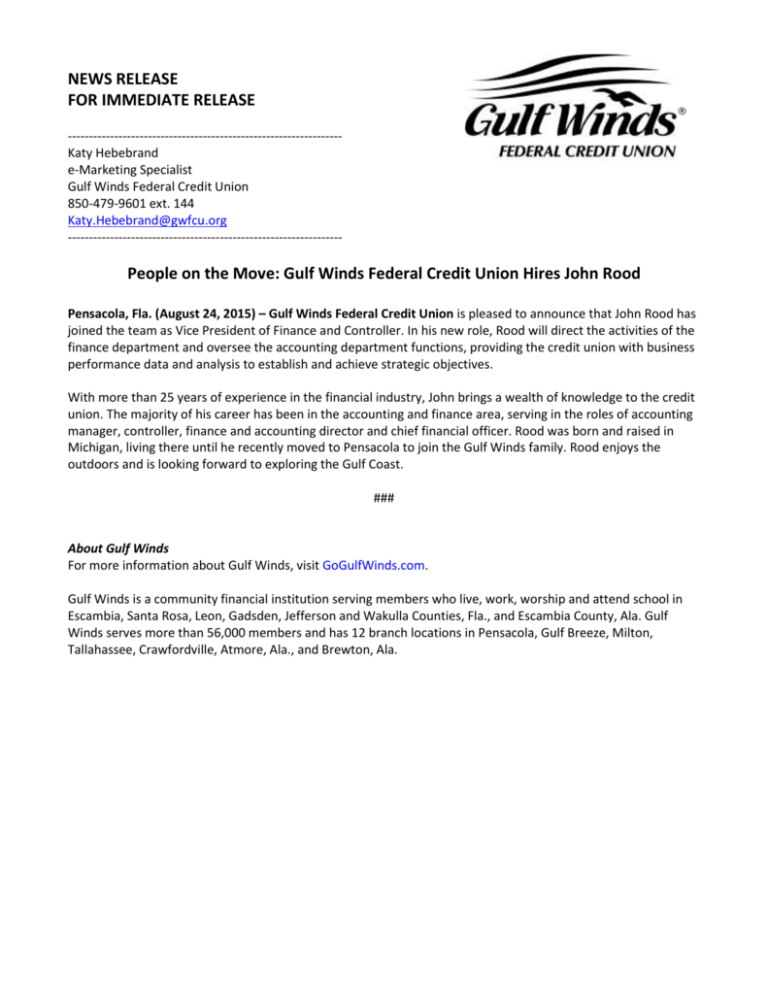 NEWS RELEASE
FOR IMMEDIATE RELEASE
----------------------------------------------------------------Katy Hebebrand
e-Marketing Specialist
Gulf Winds Federal Credit Union
850-479-9601 ext. 144
Katy.Hebebrand@gwfcu.org
-----------------------------------------------------------------
People on the Move: Gulf Winds Federal Credit Union Hires John Rood
Pensacola, Fla. (August 24, 2015) – Gulf Winds Federal Credit Union is pleased to announce that John Rood has
joined the team as Vice President of Finance and Controller. In his new role, Rood will direct the activities of the
finance department and oversee the accounting department functions, providing the credit union with business
performance data and analysis to establish and achieve strategic objectives.
With more than 25 years of experience in the financial industry, John brings a wealth of knowledge to the credit
union. The majority of his career has been in the accounting and finance area, serving in the roles of accounting
manager, controller, finance and accounting director and chief financial officer. Rood was born and raised in
Michigan, living there until he recently moved to Pensacola to join the Gulf Winds family. Rood enjoys the
outdoors and is looking forward to exploring the Gulf Coast.
###
About Gulf Winds
For more information about Gulf Winds, visit GoGulfWinds.com.
Gulf Winds is a community financial institution serving members who live, work, worship and attend school in
Escambia, Santa Rosa, Leon, Gadsden, Jefferson and Wakulla Counties, Fla., and Escambia County, Ala. Gulf
Winds serves more than 56,000 members and has 12 branch locations in Pensacola, Gulf Breeze, Milton,
Tallahassee, Crawfordville, Atmore, Ala., and Brewton, Ala.